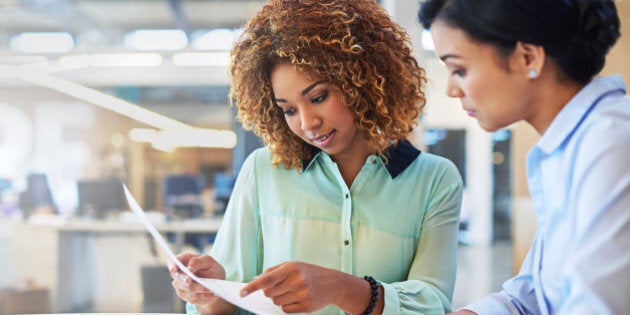 International Women's Day provides us with an opportunity to reflect on the achievements and contributions of women and how they continue to shape the future of women in leadership. The near-election of the first female president of the United States was a remarkable achievement, but also served to remind us of the difficult challenges that still lie ahead as we continue to push for change.
In Canada, the recognition of civil rights pioneer Viola Desmond as the first woman to appear on a Canadian bank note in 2018 is another cause for celebration in terms of gender and cultural diversity. These events, and many others from the past year, underscore why we must continue to find tangible ways to promote the advancement of women.
There are two key areas that stand out in my mind that are crucial to moving the needle for women in leadership in the future.
First, the inclusion of men in the conversation. The advocacy of male allies for gender equality -- while not a new concept -- is an idea that has been gaining traction in recent years. Notably, the HeforShe solidarity campaign was launched in 2014 by UN Women to promote the advancement of women around the world. Based on the idea that gender equality is an issue that affects everyone, it seeks to engage men and boys as agents of change by encouraging them to take action against negative inequalities faced by women and girls.
Another online community -- MARC (Men Advocating Real Change) -- is a forum for men committed to achieving gender equality in the workplace. An initiative of Catalyst, MARC's website invites men to share and learn about best practices as well as gain access to tools and resources that can help close the gender gap in their organizations.
Second, we need more leaders -- both women and men -- to take on a sponsorship role with the future female leaders in our organizations. It's about sponsorship versus mentorship. While mentorship is useful to guide and share knowledge with up-and-coming talent, sponsorship goes a step further by actively advocating on behalf of the sponsoree, ensuring they have highly visible assignments and truly helping them secure the necessary opportunities to develop and to move up. Sponsors use their influence with other executives, especially at the time of deciding career progressions. And ideally, we will try to focus on capturing women earlier in career and nurture them.
Because the personal nature of sponsorship generally requires a close working relationship -- and this can take time to develop and must be authentic -- it's not a fast or easy fix. But we can't overstate the value of a sponsor who will champion someone's career advancement, commit to their success and take risks to ensure it. Without it, women will have less support to reach for and ultimately get the top roles. The recently launched #gosponsorher social media campaign shines a light on this important relationship, recognizing leaders by inviting them to publicly declare their support of specific women while challenging others to do the same.
I've had the pleasure of mentoring and sponsoring many women (and men) during my tenure, and have always found it to be mutually-satisfying and incredibly enriching. In fact, I would have to say it has been a highlight and a privilege of my career to watch people I have mentored and sponsored progress in their careers.
I'm proud to say that diversity and inclusion is a core value at RBC, and is ingrained in how we think, act and operate. We speak up for inclusion and believe that achieving gender equity is not only critical to our long-term success but it's the right thing to do. In the current global climate that surrounds this International Women's Day, it feels like it's never before been more relevant and worth fighting for and with the heightened awareness perhaps we will finally achieve the breakthrough we have been working towards.
Follow HuffPost Canada Blogs on Facebook