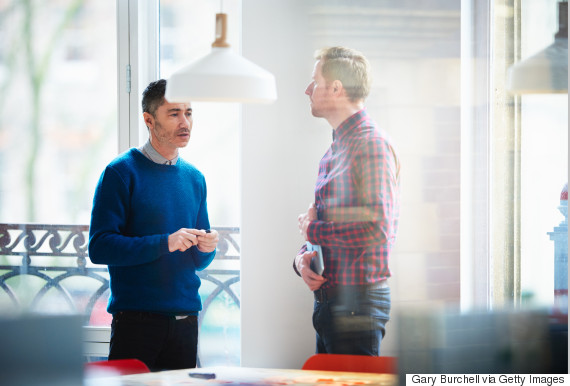 In the LGBTQ community, "coming out" means the voluntary self-disclosure of one's sexual orientation and/or gender identity. I believe that coming out means a person feels they can be completely free to be true to themselves and live authentically. It's a fundamental right, and one that everyone deserves equally.
As we approach National Coming Out Day and acknowledge the coming out journeys of our LGBTQ friends, family and colleagues -- whether you identify as gay or straight -- it's a great time to reflect on how we can be more inclusive.
Coming out at work can be even more difficult than coming out to friends and family as some people may feel that their careers might be limited if they reveal their orientation. In 2016, it's sad to think that this is the case, but in some workplace environments and organizations, it is indeed true.
I have a particularly close colleague who shared his own story of coming out at work, for the benefit of other LGBT colleagues. What I learned from this individual -- who came out later in life when he was in his 40s -- was that we need visible LGBTQ role models at all levels, but especially those in senior leadership positions, and strong allies who can support LGBTQ employees and provide a work place that is inclusive and welcoming.
In my experience as an ally -- both at work and in my personal life -- there are a few simple but deliberate behaviours that everyone can incorporate into our daily lives to show our support of LGBT friends and colleagues.
Make your commitment known -- share why you're an out ally by being open about your own connections to the LGBTQ community, where appropriate and without breaching anyone's confidence.
Get to know the issues and opportunities -- start a dialogue by talking to LGBTQ friends and colleagues and listen to what they say about what you can do to help.
Don't be worried about saying the wrong thing -- if you're making an earnest attempt to join the conversation, that's a great first step.
Stand up for inclusion -- if you witness inappropriate comments or discriminatory behaviour -- don't hesitate to let people know it's offensive.
Use conscious language -- without meaning to sometimes our language can exclude people. If we use more inclusive language this lets people know that their work environment is inclusive and supportive of the LGBTQ community. This sets the stage for letting everyone know they are free to bring their whole selves to work.
Put your values into action and join the conversation -- lead by example and you'll inspire others to do the same, so show up at events and be in the moment with LBGTQ friends and colleagues.
National Coming Out Day can shine a light on a subject, that for some people is a big decision and huge step in their lives, and encourage others to have thoughtful conversations. This is a day to celebrate inclusiveness, inspire everyone to provide an open and welcoming environment so individuals feel free to come out, and encourage allies to be visible in their support of the LGBTQ community.
We're working hard at RBC to support the full inclusion of members of the LGBTQ community and are an advocate for LGBTQ equality and rights. We take great pride in our progress as we continue to build a culture where everyone feels respected, appreciated and accepted for who they are. This includes providing a welcoming environment for LGBTQ colleagues who want to come out. We still have work to do.
Follow HuffPost Canada Blogs on Facebook
Also on HuffPost:
Celebrity Coming Out Stories