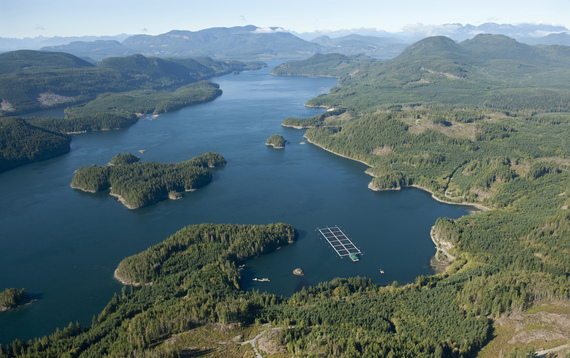 A recent opinion piece published on the Huffington Post Seals and Sea Lions Pay the Price for B.C. Salmon Farming was very critical of salmon farmers and their practices. The author uses an incident from this past December 2015 to highlight his arguments.
The incident at Cermaq Canada's Binns Island Salmon farm in Clayoquot Sound was publicly reported on December 22nd, less than a week after it occurred. 15 California Sea Lions were killed after the large, aggressive animals broke through control barriers, entered the salmon farm and threatened the safety of farmers. While Fisheries and Oceans Canada has defined it as "appropriate action," salmon farmers share the sentiments of many in saying that it's not OK.
At the time of the incident, Cermaq immediately launched an investigation, as did Fisheries and Oceans Canada. Many improvements have been made in recent years to passively keep seals and sea lions out of farms but, as this recent event has shown, more steps need to be put in place to ensure incidents like this do not happen in the future.
Since this was the single largest incident on a farm in B.C. in almost five years - one incident is one too many - Cermaq is making it a priority to find better ways they can safeguard their farms. Investments are being made in farm employee training, site setup procedures, and in infrastructure in order to keep animals away. In addition, salmon farmers are also seeking to understand more about how climate change is affecting the food supply, behaviour and range of marine mammals on the Pacific coast. It is a challenge, but one that will be solved through innovation, ingenuity and a commitment to operating in an environment shared with an amazing abundance of wild animals.
The population of California sea lions has been on a steady climb since the end of commercial hunting in the 1970's, and are now estimated to number around 240,000. Climate change is adding to the challenge and has played havoc with the sea lions' natural food supply, resulting in the death and stranding of thousands of sea lions and pups along the entire Pacific Coast.
Conservation scientists agree that the species has reached "carrying capacity" - it is at the point where the environment can no longer sustain any more growth in the California sea lion population on the Pacific coast.
Harbour Seal populations are on the rise as well, and now number over 100,000 and there have been suggestions that the rise in their population may be leading to a drop in juvenile salmon stocks in the Strait of Georgia.
It is part of the culture of each salmon farming company to have minimal environmental impacts, including on marine mammals. For example, Cermaq Canada has an annual target of zero marine mammal deaths. This is built in to the company's Environmental Management System, which is certified to ISO 14001 standards. The company also works to abide by the standards set by the Aquaculture Stewardship Council (ASC certification standard) and the Global Aquaculture Alliance (Best Aquaculture Practices certification standard), which are very strict in specifying how to interact with marine mammals.
Salmon farmers are continuing to advance their practices at a rapid pace and are regularly reporting out on progress. Public tours are offered every summer and British Columbians are encouraged to learn more about how their neighbours in coastal B.C. are growing healthy fish that are in great demand around the globe.