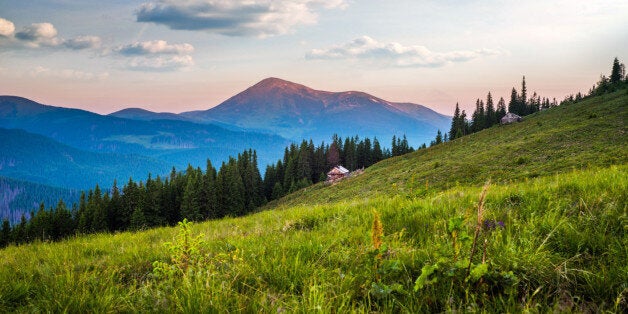 After the World War 2, we lost all contact with our many relatives in Ukraine, dozens of them.
My father and mother were both born in the village of Lopushna, not far from Lviv, in what was then Polish occupied Ukraine. They each came from peasant families of at least a dozen siblings each. While serving his compulsory service in the Polish army, my father heard stories of how Canada was welcoming hard working peasants of the Ukrainian steppes to open up the western Canadian prairies.
After being discharged, he decided to emigrate to Canada. He went to his p church in Lviv, entered a confessional booth, confessed his sins and asked the priest to give his blessing to emigrate to Canada. The priest was indignant and demanded he return to his village and support his farming family. In shock, he left the booth, and then as he stood bewildered and confused, he noticed a young priest enter another confessional booth. He bolted for the curtain and again confessed and asked the priest for his blessing. "Of course! Go, young man! Work hard and send money home to support your family." He went to Canada and sent home money for years .
When he emigrated to Canada he was 18, a village 'bon vivant' and my mother, then a 13 year old pest with a crush on him, stayed behind. Though there was a 5 year age difference, their families were close. But when he met her by coincidence in Toronto five years later, when she was 23, he married his 18 year old village neighbour .
They kept close contact with home, bringing several siblings to Canada before the outbreak of war. The war however disrupted family communication. News dribbled back that many of my dad's siblings were sent to Siberia for supporting anticommunists. By the end of the war, communication with all relatives was lost.
At 80 in 2016, 70 years later, I decided to find them. While I spoke no English till I entered kindergarten, I no longer spoke a word of Ukrainian. I hired Igor, a genealogist in Ukraine to see if he could do a family tree. He traced both families back to the same village of Lopushna in the 1730s. My mother and father were the first generation to leave the village as part of the Ukrainian diaspora to Canada. Igor was also able to find a living first cousin from each parent. I decided to go to the Ukraine to find them.
Oddly, I was quite dispassionate about my visit. This was somehow a simple academic research project, in my mind. It is what I do normally, nothing more.
After arriving in Lviv, I set off with Igor the genealogist, and Oxana, the interpreter, to the suburbs to locate and pick up my cousin Yaroslav. When I got out of the car to meet him, we both erupted into tears as we embraced. His resemblance to my father and brother was staggering. Out of the deep recesses of my lost Ukrainian brain, one long forgotten word emerged as we embraced, and I said, "brotcheko", or dear brother. I was overwhelmed! As we drove the 100 km to Lopushna we both rattled on with stories of our families and shared memories. Oxana interpreted so seemlessly that I lost the feeling we were speaking through a third person.
At my mother's family house we met up with 79 year old Anna, another first cousin, and her son, Igor. From out of nowhere again a torrent of tears emerged for both Anna and me as we embraced and kissed and embraced and embraced. We walked to the school nearby and also to the church where my parents were baptized and the cemetary where generations of Diakiws were buried. The locations of ancestors were long lost, as wooden crosses rotted. We continued to walk uphill a kilometre or two into the foothills of the Carpathians towards the Diakiw farm. I was surprised how high up the family farm was set, looking down on the rest of the village. As I looked down over that valley I was struck with deep emotion. I had found my roots. Yaroslaw explained that all the forests and fields, now covered in scrub were all farmed when he was a boy but the land has returning to nature slowly as it has become too much work, for too little return.
We sat in the cold kitchen of the unoccupied house and shared photos each of us had brought. Anna proudly pointed out the steel roof of the barn and explained that her father, Myhylo, was able to replace the rotted thatched roof with money my father had sent home from Canada in the 1930s. We went into the garden and they picked dozens of ripe cultivated wild strawberries which they forced me to eat and wouldn't share with themselves. The apples too, were ripe and delicious and I saved one apple to bring home with me for its seeds to be planted at home. I have planted those four seeds now, hoping to germinate at least one of them.
We returned to Lviv and Yaroslaw asked me up to meet his wife. There I met another cousin, Maria, a spitting image of my aunt Mary in Buffalo. Yet again the embraces and tears flowed. Maria had a daughter and grandchild who had recently emigrated to Surrey BC and Maria is now waiting for Canadian permanent status to join them. The diaspora spreads.
We entered the living room and I was stunned to see a table laden with about 15 familiar Ukrainian dishes, and they just kept coming. It was just so overwhelming. The vodka and cognac came out for endless 'di' bozhas ' and 'nazdroviahs', or as my father always said, - ' goodbye brain'. I felt right at home.
What started as a simple academic exercise for me turned into one of the most emotional experiences of my life. When we departed, the endless hugs continued and tears flowed. I found my roots in Ukraine.
Follow HuffPost Canada Blogs on Facebook