In 1962, once a week, a rickety train travelled across Baluchistan from Quetta, Pakistan, to Zahedan, Iran for 26 hours. Before I could get on the train for the Monday 10 a.m. departure I needed a visa for Iran. The visa office opened at 9 a.m., I waited patiently in line and obtained a visa at 10. Too late, the train had left. The visa officer was sympathetic and said he had a friend that would take me to the next stop by car. We raced off and ended up catching up and driving along the road beside the train till it stopped at the first stop. I jumped out as two other backpackers I had met months back in Malaya, yelled out from their train car "Hey Jerry, join us here." I threw my backpack in and clamoured up to join them.
The car was filled with a mixed variety of tribal families, and the three of us backpackers. I had no ticket as I never bought a ticket. I had just travelled all over India for over a month and had not bought a single ticket while travelling with holy men. I was thrown off only twice. I only had a few dollars left from selling some of my blood at a hospital in Lahore and certainly could not afford to waste it on this train ticket. My two Austrian buddies were loud, rude and offensive. It was embarrassing being with them. They pretended that they were the king and prime Minister of Katchenbona, some fictitious Himalayan country, demanding to be treated as such.
After five or six hours the elderly train conductor made his way through our car, checking for tickets. He came to our threesome and they started their routine about being king and prime minister, not needing tickets but eventually showed him their tickets. The conductor was clearly disturbed by his exchange with them and then turned to me. I turned my head down and whispered I had no ticket and no money for a ticket. He became agitated and aggressive, shouting at me and the king jumped to my defence screaming in his face, "He doesn't need a ticket! he is the foreign minister of Katchenbona."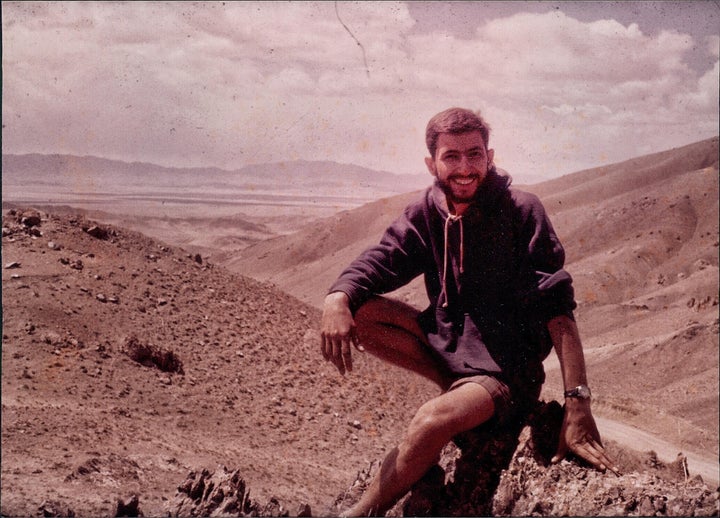 The conductor was shaking and shouting and yanked the emergency pulley and the train came to a screeching halt in the middle of the Baluchistan desert. He ordered me off the train and we all piled out while the train engineer and other staff joined and put together my story. They told me I could not get back on the train. As I looked around at the bleakness of the desert, contemplating the next stage of my journey, some passengers from the car spoke to the authorities and showed that they had gathered money from the other passengers to pay for my ticket. Not my backpacker friends, but the local inhabitants.
They had obviously noted my respectful behaviour from our six hours together and that I was very different from my two companions. I almost wept in gratitude as we all climbed back on to the train and carried on with our journey. I spent the remainder of the trip with the families and not the backpackers. They plied me with figs, dates, water and other delicacies, the rest of the journey. We passed through visa control into Iran uneventfully and we disembarked in Zahidan.
The next thing I recall was being on the outskirts of town hitchhiking to Meshed. I recall fainting and falling to the ground and all I remembered next were two American engineers helping me into a Jeep. They asked me about my journey so far. Took me back into town, put me up in a hotel, took me to a restaurant and fed me and warned me to be careful on the road. They returned to their hydro engineering project way out of town.
The next morning I woke up and wondered "what now?" Deep in my backpack, I pulled out a little treasure I had carried with me since I began my journey but had never used. It was a fancy gold-plated sheriff's badge, inscribed with the words, "Honorary Chief of Police, Toronto". My father ran a beer parlour near police station number one. He befriended many of the police there and had a shooting range in his basement. They enjoyed using it while having a draft beer. On one occasion he was honoured for his service with this honour. Before I left, he gave it to me and said, "you never know when it will be useful."
It was the time of the Shah in Iran and all the towns were under military/police governorships. I made my way to the governor's headquarters and requested an audience with the governor. French was the second language in Iran then, after Parsi. After waiting in line for hours I finally was presented to the governor. He was in full parade dress with a brilliant blue uniform with gold epaulets and gold stripes and a gold sash. Such a stark contrast to all the grey, beige and white robes that everyone else was wearing. Along with an interpreter, I explained to him that I was a student from Canada. I presented my gold chief of police badge from my father and explained that in Canada it was customary that when we had foreign students visiting our country, if they came to the chief of police requiring assistance to get to the next town, my father would call up a trucking company and ask if they could take the student on the next trip. Could he arrange a truck ride for me? Well! This governor was not going to be outdone by a chief of police in Canada. He ordered a bus to go to Meshed. There were so few departures that it quickly filled up and it came to the governor's quarters to pick me up!
Obviously there had been some story shared with everyone on board about a special VIP or something that warranted this special trip. When this ratty looking backpacker got on the bus, the look on their faces was something to behold. As well, the governor/chief provided me with a letter of introduction to the chief of police in Meshed. When I arrived there, he was not going to be outdone by some governor from the dusty oasis of Zahidan and put me up in a modest hotel and made arrangements for me to travel free by bus to Tehran, as well as another letter of introduction. From my dad's little badge, I travelled in comparative luxury across the breadth of Iran from Pakistan to Turkey.
(In all, my total cost for all transportation and accommodation from Singapore to Beirut in about nine months' travel was $3.41. Though I lost about 25 pounds.)