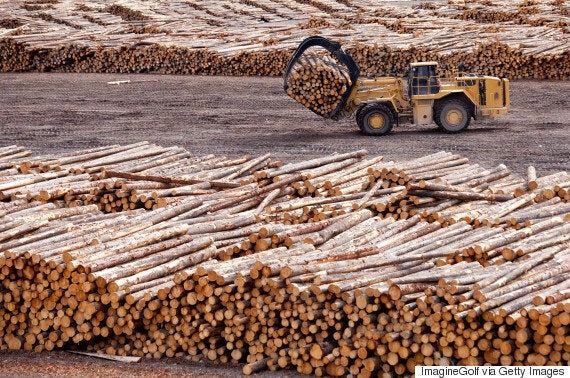 But before that happens, jobs will be lost. Lives will be disrupted. Families and their communities will struggle. The cuts that result from these tariffs could have lasting impact, which will still be felt across this country by the time the next federal election comes along. This is about protecting and saving thousands of jobs across Canada.
Strong and decisive action needs to be taken to show that our government not only stands by this vital industry, but the workers and communities that depend on it.
Make no mistake, this threatens to be a long fight.
Besides fighting back to get the tariffs reversed and negotiating a longer-term fair trading protocol with the U.S., our federal government needs to move quickly to bring in loan guarantees and federal assistance to ensure the industry and the communities where softwood lumber companies are located survive the fight ahead.
Make no mistake, this threatens to be a long fight. Bashing Canadian softwood has made for good politics in the U.S. The U.S. industry has consistently made the ridiculous claim that our system of stumpage fees for trees grown on Crown land is unfair.
Now that there's a president in the White House who considers anything he's not winning to be unfair, they have the receptive ear of a man desperate to show he's taking action on trade. His erratic behaviour on other trade files such as NAFTA and dairy shows we could be in for a difficult and ugly fight over this issue.
With 24,000 members at 134 employers across the country, Unifor is Canada's leading union in the forestry sector, but the entire labour movement has expressed its solidarity because it knows how important this industry is to this country.
Our analysis at Unifor indicates up to 25,000 good jobs could be lost if no swift action is taken.
It is no surprise, then, that delegates to the Canadian Labour Congress convention adopted a resolution Wednesday committing the CLC to push the federal government to vigorously defend the industry.
It also calls on the federal government to adopt measures to help workers and their communities until the tariffs are reduced -- including Employment Insurance changes and labour, industry and aboriginal representation on the federal-provincial softwood task force.
The widespread support for the motion shows that this is a concern that cuts across the main sectors of our economy, and unites all working people.
Softwood disputes with the U.S. are a perennial issue between our two countries. In fact, the tariffs imposed this time, at about 20 per cent, are almost identical to those in place before Canada and the U.S. signed a deal in 2006 to settle the issue -- after numerous tribunal loses by the U.S.
When that deal expired, it exposed workers to the same old problems we had before and the tariffs came back.
Back then, the tariff on Canadian softwood led to 15,000 Canadians being laid off within months.
Cuts due to these new tariffs will hurt our entire economy.
Already, we are seeing the impact of the latest round of tariffs, with saw mills in New Brunswick and Ontario talking about possible cutbacks. Forestry giant Resolute has warned that job cuts are "unavoidable." Our analysis at Unifor indicates up to 25,000 good jobs could be lost if no swift action is taken.
Our federal government, whose first two budgets have been dedicated to building the middle class, cannot sit by while good jobs are lost to petty squabbles with the U.S.
Forestry accounts for 202,000 good jobs across every region of this country. It's $24-billion trade surplus represents a quarter of Canada's total trade surplus. Cuts due to these new tariffs will hurt our entire economy.
Loan guarantees to the companies hit by the tariffs and assistance to forestry communities would go a long way to lessen that impact. It would help families get through the difficult times ahead, and help the local businesses to weather the coming storm.
Expressing outrage at the U.S. actions, and vowing to defeat them -- again -- at the tribunal level is good, but not enough and certainly not what is needed in the short run. Ottawa must provide practical and workable solutions for the industry, its workers and their communities in the short term, as well.
We need to make sure there is a strong and viable industry still in Canada when that victory comes. Achieving that requires action now.
Follow HuffPost Canada Blogs on Facebook