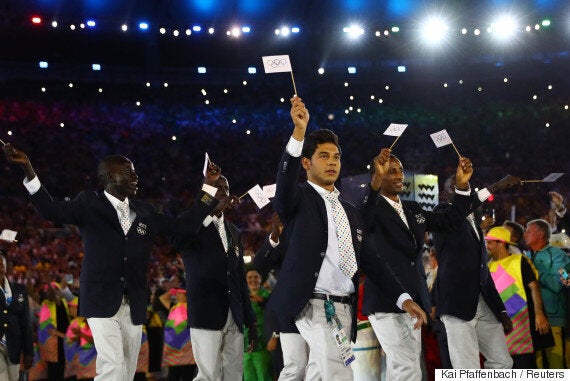 The Refugee Olympic Athletes' team arrives for the opening ceremony. (Photo: REUTERS/Kai Pfaffenbach)
There are some compelling reasons that we loved Team Refugee at the 2016 Summer Olympics.
First, it was the stories. We were in awe of the grit: one day running barefoot through a crowded refugee camp in Kenya, the next, running the 800m in Rio. The guts: swimming your own rescue boat to shore and then winning your heat at the world's most celebrated games.
Then it was the public acknowledgement of a painful year for the 65 million refugees who have crossed dangerous borders in overcrowded boats, carried all their belonging in their arms and left loved ones behind.
And, I believe, we loved Team Refugee because it taught us a new way to talk about the refugee crisis. It showed us that we need to be innovative in our storytelling, space-making and nation building if we ever hope to make change. Team Refugee encouraged us to learn from the refugees themselves and to ask the questions: Do we have what it takes? We can't all be Olympic athletes, but how can we display courage, strength and stamina in a crisis of Olympic proportions?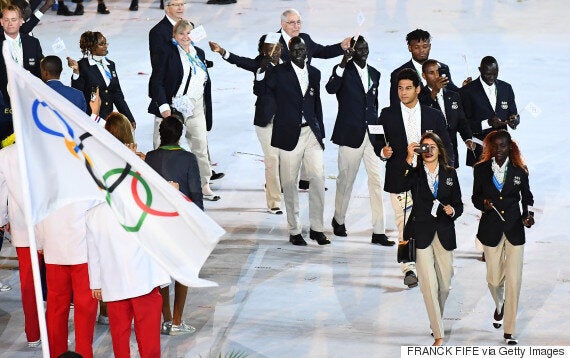 The Refugee Olympic team members take part in the opening ceremony of the Rio 2016 Olympic Games. (Photo: FRANCK FIFE/AFP/Getty Images)
While praised for being one of the best places to be a refugee, Uganda is arguably just as hazardous for women refugees as anywhere else. Women face sexual violence as they go about their day, many risk being married off as children, and female genital mutilation (FGM) is practiced on girls as young as six years old.
Clare Ayebare, a staff member with a women-led legal organization in Uganda, recently noticed a disturbing trend. Though FGM has been outlawed in Uganda since 2009, rates of FGM were increasing alongside the influx of refugees from places where FGM is still legal.
Clare and her team spoke to the women refugees themselves. They learned that despite the high prevalence of violence and FGM in the refugee camps, no one in Uganda was doing anything about it. The women told them that, because they are refugees who are still trying to resettle, they receive no other kinds of support.
Clare and her team are now training the women in the camps to share and document their stories. This data, soon to be gathered by the refugee women themselves, will be used to influence the Ugandan government to provide the support the women need.
Refugees have much to teach us about resilience, endurance and inclusion. And we have much to learn.
Clare and her team have demonstrated the importance of asking questions, finding the gaps and taking action. They will not win any Olympic medals, but they are re-shaping the reality for thousands of refugee women. They have found a way to include these women's voices in a conversation that is often disproportionately skewed toward men and boys.
Refugees have much to teach us about resilience, endurance and inclusion. And we have much to learn. By early 2016, Canadian citizens had privately sponsored 11,000 Syrian refugees. Entire communities came together, making space in their own homes, coordinating resources and bringing government ministers, landlords, health-care workers and technology geeks to the table.
Team Refugee showed us how to approach the refugee crisis with the heart of an Olympian: By rigorously collecting stories and data to uncover hard truths, by building deliberate strategies over time, by training government and civil society to implement compassionate policies, and by training our hearts and minds to think outside of the box.
We do, indeed, have what it takes to end the world's refugee crisis. But, as any athlete would tell us, the real work takes years. It happens behind the scenes. It happens when we reveal the blind spots. And, most importantly, it happens when we listen to the voices that can be the hardest to hear.
Follow HuffPost Canada Blogs on Facebook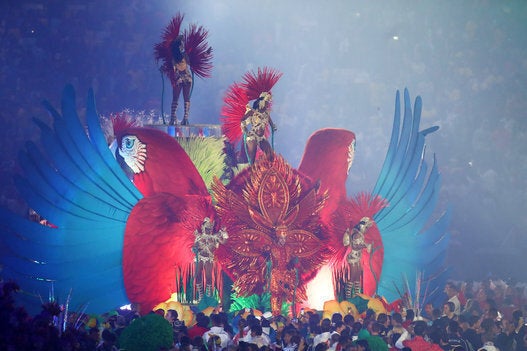 Mesmerizing Photos From Rio Olympics 2016