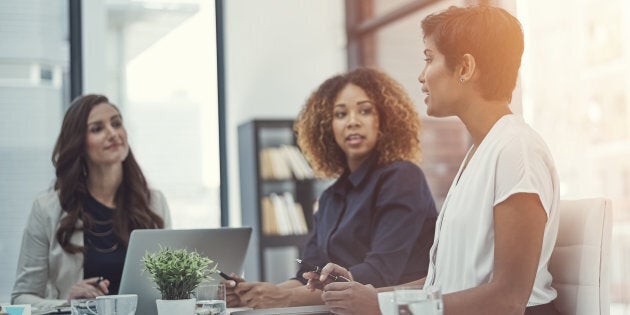 This month, my colleagues, Wariri Muhungi and Erin E. Edwards, penned a piece in the Stanford Social Innovation Review, Supporting Women's Rights in Troubled Times. This piece points out the great and increasing need for funding women's rights innovations, concluding,
"At this moment, we must put money where it matters and not shy away from complexity, but, rather, invest in the courageous activists who have the most to lose. Alongside a courageous and creative women's movement, this effort may rewire the status quo."
I'd like to echo their call to action. Call it "she-peating." (Amplifying really smart women by spreading the message far and wide.)
Because, of course, women have been backing each other for decades, even when it felt like we were shouting into an echo chamber. One of my latest blog posts explored the reasons that women can hold other women back (hint: the patriarchy) but, of course, women are also the primary force behind — and the singularly important funder of — dismantling these harmful practices and structures.
Around the world, we have seen some extremely powerful examples of this. Look no further than the vast network of women's funds. Women's funds amplify the voices and actions of women and girls at the local level. They are uniquely positioned to find the most effective grassroots groups, leverage philanthropic support and channel resources directly to organizations at the grassroots.
Today, there are 168 women's funds on six continents around the world. Global, regional and local women's funds have provided nearly US$1 billion in the last 30 years to women's rights organizations, making them one of the biggest financial backers of the women's movement globally.
I could wax poetic about the value of funding women in their communities (and I have) but I'd like to take a minute to highlight a less-discussed aspect of this work: For years, women have funded their own change.
For example, The MATCH International Women's Fund began around a kitchen table in 1976 when two Canadian women saw a gap in Canada's support for women globally and took up the charge. The Astraea Lesbian Foundation for Justice launched 40 years ago when women in New York City realized that there was little-to-no support for LGBT folks around the world. The Congolese Women's Fund, this year, celebrates a decade of funding the women and women-led work in the DRC that no one else would fund.
Women are investing in each other because history has shown us that, if they don't, no one will.
This is especially true in the tech and innovation sector. Women launched more than half of the businesses in Canada last year, and 68 per cent of them did so without any external support. Women had to self fund because, to she-peat another fierce woman, look at the odds: less than four per cent of venture financing goes to women.
Platforms like SheEO in Canada and Female Funders in the States are both cultivating women angel investors and investing in women's innovations. This is extremely valuable work.
And what of the social innovations happening below the radar in places like the slums of Nairobi or the impoverished migrant neighborhoods of Buenos Aires? From these underserved, underrepresented areas come the most cutting-edge ideas for changing the lives of women and girls. Erin and Wariri's article is full of examples. Women's funds around the world can give you thousands more. These are the innovations that movements are made of.
No one idea will ever save the world. No one gadget or tool. But movements — movements have the power to crack even the highest ceilings.
Women have always and will continue to fund their movements — because they have the most to lose if things remain status quo. My own call to action is to the men, the corporations, and the bureaucrats. The work of social change belongs to us all, not just those most impacted. Invest in women and girls as if your life depends upon it.