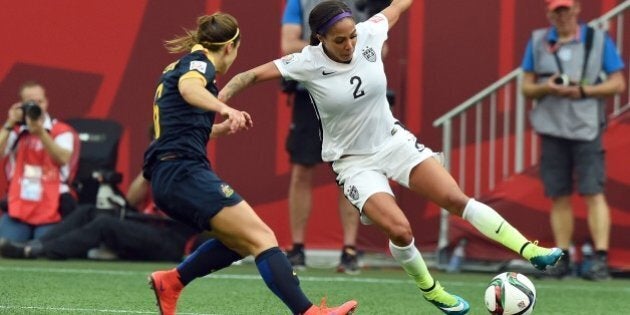 Last week, my six-year-old daughter -- decked in blue from head to toe -- cheered France to victory at the FIFA Women's World Cup. In our house, we will continue to root for France in this Friday's quarter finals. And we're also cheering for something bigger: a female athlete's freedom to play.
A freedom that not all women enjoy.
But first, the good news: Even in my own life, I have seen positive change when it comes to womens' rights in sports. The year I was born, Brazilian women were still banned from playing soccer, a sport that was considered too masculine for women to watch, let alone play. Yet, in the 2015 Women's World Cup, the Brazilian women's soccer team finished amongst the top 16 women's teams in the world. In many ways, this is a success story -- a sign that the times have changed for women and girls.
It is imperative that we leverage this moment of international attention to female athletes to highlight the women and girls who are denied access to sports. Most importantly, we must view women's global engagement in sports as a human rights issue.
To be sure, the right to attend a volleyball game and the right to report one's own rape (all crimes in some countries) are not equal injustices. We must (and, at The MATCH International Women's Fund, we do) advocate for a woman's right to sexual and reproductive health and the right to live free of violence. But I argue that the ban on attending a sporting event is a mirror for larger injustices against women that, like volleyball and soccer, are a part of everyday life.
But, as a mother and also as the Executive Director of Canada's only international women's fund, I do remain hopeful.
Despite threats, bans, and persistent inequality, women continue to innovate and inspire through sports. When bicycles are banned on the streets of Kabul, girls pick up skateboards and shred in their headscarves. In the slums of Nairobi, girls don boxing gloves, not only to develop a wicked right jab but also to knock out threats like early forced marriage and sexual assault. Women from Saudi Arabia emerge from underground gyms to participate in the Olympics, and North American organizations like Women Deliver have teamed up with experts around the world to ensure that girls are in the game, addressing global concerns about the health, nutrition, and safety of women and girls.
At my house, we may be cheering for les bleus during the quarter finals but, every day, we are champions for much larger, life or death wins for women's rights. I ask that you join us in this pursuit.
After all, on and off the soccer field, these are the goals and the wins that truly count.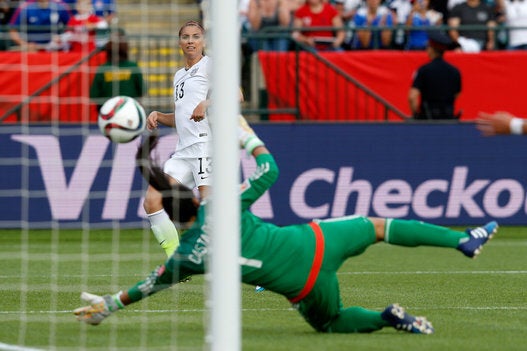 FIFA Women's World Cup 2015