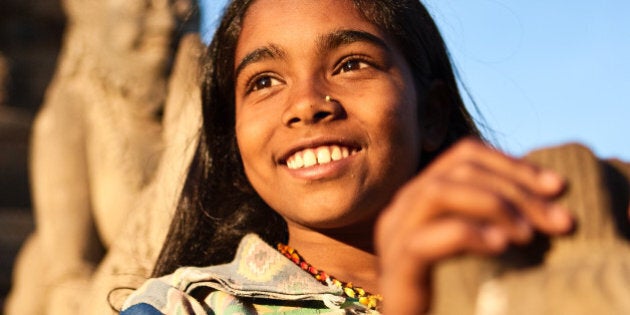 To celebrate the Nepali New Year (April 13), I would like to introduce a guest blogger--Erin Edwards--who traveled to Nepal last month to visit The MATCH Fund's partners on the ground. This piece describes her experience visiting with girls in a rural school and discussing what it means to be a girl today in rural Nepal.
She is just a normal girl. That's what Radha -- a Nepali social worker in her 20s - -tells us about her namesake, the goddess. "She doesn't really have any powers."
Out the jeep window, we can see the world's tallest statue of Lord Shiva looming over the fields as we pass by. Now there's a god with powers. "Girls are supposed to pray to find a husband like him," Radha says. She points and shouts over the noise of the traffic. "I don't know why. He's kind of... mean."
So I'm in a jeep full of normal girls. Case in point: our group of non-profit nerds bonds over Mumford & Sons and The Weepies as we drive up, up, up from Kathmandu to the Sindhupalchowk District. We're on our way to meet with the girls of Dhuskun Primary School. These nine- to 13-year-old students have just completed a four-week workshop where they learned about self-esteem, menstruation and how to protect their rights as girls.
When we arrive, they are full of energy. School will soon be out for the quarter -- a two-week break to celebrate the Nepali New Year. These pre-teen girls in their matching blue shirts sit on cushions on the floor of the one-room building. (There used to be desks, but not since the earthquake destroyed the school a year ago.)
When we talk with the girls, I just can't stop thinking about how young they are. At first the girls are shy, but when we ask them what they like to play, they speak over each other: "Skipping! Soccer! Seven stone!" (They look at me hopefully to see if I know how to play seven stone. Sadly, I don't.)
Pravati, a tall 13-year-old who is always the first to speak and the last to smile, says, "all the responsibilities in Nepal are on a woman's shoulders."
We ask them what they like most about being a girl. And it strikes me that -- at first -- their answers ("Music! Friends! New clothes!") aren't really unique to being a girl at all. Who doesn't like music, friends and new clothes?
But these girls who giggle, play with each other's hair, and can't wait for recess are acutely aware of what it means to be a girl in rural Nepal. In fact, having just completed the workshop, they are more articulate about it than most.
Pravati, a tall 13-year-old who is always the first to speak and the last to smile, says, "all the responsibilities in Nepal are on a woman's shoulders." The girls, in chorus, tell us that they dream of staying in school. Solina, a sixth grader, tells us that she knows not to get married yet. "If I have a baby now," she says, "the baby and I might die because my body is still too small." And she worries about trafficking. She tells us that she is careful around strangers just in case.
I think about this village. I think about what it took for me -- a stranger -- to get here: three and a half hours in a jeep from the city, driving on mountain roads studded with boulders. A mandatory stop at the roadside police checkpoint.
I think about these young girls walking for hours to get to school, rushing home afterward to help their mothers, waiting on the money from their fathers who are migrants living in very poor working conditions in the Gulf States.
It's not easy to be a girl here. And it's clear to me that it's not the strangers who are the biggest threat. It's poverty. It's the lack of good options. It's the prevalence of sexual violence, especially for Nepal's Dalit and Indigenous girls.
And it's something else, too. It's the lack of programs for men and boys. I'm not just saying this because the research backs it up. I'm saying it because the girls of Dhuskun Primary School, who have never read the research, they told me. "The boys need to learn not to bully," they said. "They need to learn not to be violent against women."
I can't help but think that, perhaps, we've just put more on the shoulders of these kids. Is this what it means to be a normal girl in Dhuskun: teaching their brothers to respect women, spending a week banished to the cow shed when then have their period, teaching their male classmates the consequences of going a little too far behind the bushes, and convincing their parents that, no, they shouldn't be married at age 12?
As Nepal celebrates the New Year -- nearly one year after the earthquake -- I'm rooting for a new normal for women and girls. I'm rooting for grassroots women's organizations that are incorporating programming for men and boys into their girls' leadership curriculum. I'm rooting for girls to be able to finish their education, to have control over their own bodies and to have options for their future.
Isn't that, after all, what it actually means for girls to have powers?
Erin Edwards works in Communications at The MATCH International Women's Fund. She is most definitely a nonprofit nerd and has worked in Canada, the United States, and Haiti.
Follow HuffPost Canada Blogs on Facebook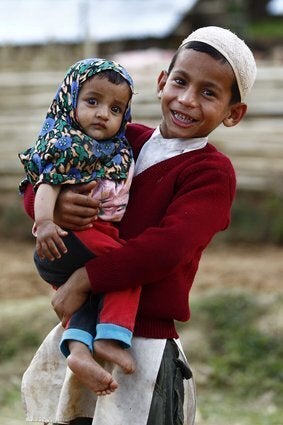 Nepal Earthquake - 32 Pictures of hope from