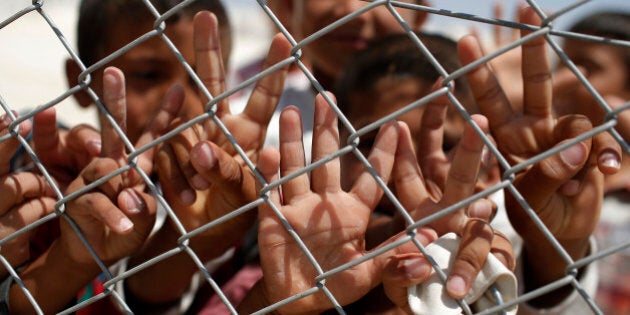 Only the hardest hearts are unmoved by that photo of three-year-old Alan Kurdi on the beach in Turkey. Some will wonder what they can do so that more people do not suffer such tragedy as they try to escape from war and repression I have two ideas about what you can do.
The first is to sponsor a refugee. I will write more about that in a moment. The second is to press your candidates in the federal election so that Canada will increase the numbers of refugees that can be sponsored and speed up processing times.
I work in the national office of the United Church of Canada where I coordinate the church's partnerships in Latin America and the Caribbean. And, more than occasionally, I work with other staff colleagues and with local United Church congregations in support of refugees.
Together with about 90 other churches and community groups, the United Church is a "sponsorship agreement holder." That means we have an ongoing agreement with the federal government to help support refugees when they resettle in Canada. We can also work with other groups to sponsor refugees, and share advice-based on our experience.
What usually happens is that a local congregation tells us that it is willing to sponsor a refugee family (this can happen together with another group or a family). Meanwhile, the government, together with the United Nations High Commission for Refugees (or similar referral organization abroad), has identified a person or family. These cases are called "visa office referrals" (VOR). A sort of match-making takes places, linking the sponsor with the people to be sponsored.
A variant of this is what we always hope for -- something called a "blended VOR." That means the government will pay part of the cost. The refugees receive income support during the first six months after arrival, and they are covered by the Interim Federal Health Program for 12 months (in addition to provincial health coverage). The sponsor is responsible for "start-up" costs (bedding, linens, household items, etc.) and the final six months of financial support.
While the government used to fully fund some refugees, it now clearly prefers private sponsorship.
Because we are part of global networks of churches and humanitarian organizations, sometimes we know about specific individuals and families that need sponsorship to come to Canada. These become "sponsor referrals," and normally, the sponsor covers the full cost.
If you are not part of an organization that holds a sponsorship agreement (or don't wish to team up with one), you can still sponsor a refugee. Even if you go one of these more independent routes, it's still good to seek advice from people who have been involved in previous sponsorships. A drawback is that privately-sponsored refugees are no longer eligible for Interim Federal Health Program coverage -- and paperwork for private sponsorships is daunting.
Taking on partial or full financial responsibility for a sponsorship will likely mean some fundraising -- another reason to work with others. Costs vary from place to place in Canada, but the United Church offers some estimates to help you make plans. Income support for a family of four over 12 months would run to about $20,000 and start-up costs (like furnishing an apartment) might run to $6,000. But frequently, you can find donated furniture and clothing to ease these initial costs.
There are also options for joint assistance to refugees with special needs, and programs to support LGBT refugees -- people who are fleeing persecution because of their sexual orientation and gender identities.
More than four million refugees have fled Syria since 2011. Most are in Lebanon, Turkey and Jordan, but many have become frustrated by excessively long wait times in temporary camps and undertake perilous journeys to Europe.
If the sponsorship process is slow, it's partly because United Nations and other agencies working with millions of Syrian refugees in Turkey, Lebanon and Jordan are overwhelmed. Referrals of Syrian refugees to the Canadian sponsorship system come slowly -- and refugees from other places are not getting the attention they need either.
Canada could do more by further increasing support to UN agencies and by considering Syrian refugees beyond existing commitments. Recent announcements of plans to receive more Syrians simply reduce the numbers that Canada accepts from other places like Colombia or Sudan.
The Canadian Council for Refugees (CCR) has called for flexible measures (such as temporary resident permits) for Syrians with family in Canada. (The Kurdi family had a relative in British Columbia.)
The CCR also called for a commitment to a minimum of 10,000 government-assisted resettlement places for Syrians to be brought to Canada immediately. These would be funded by the government and additional to Canada's regular resettlement numbers.
In 2012, in a deficit reduction move, the federal government made cuts to its Interim Federal Health Program (IFHP). This program covers basic health care for refugees, refugee claimants, and other non-citizens. In July 2014, the Federal Court struck down the cuts to the IFHP as unconstitutional. But the government appealed the decision and extended coverage for only some groups. Meanwhile, the burden has been transferred to the sponsors.
You can ask your candidates to press for a more generous, flexible and timely response to refugees fleeing Syria, Iraq, North Africa and elsewhere. Many churches and community groups
have election kits to help prepare for all-candidates meetings, write letters and use social media.
The United Church's election kit is here.
In past refugee crises, Canada has responded swiftly and assertively. From the aftermath of World War II, through crises in Hungary in 1956, Chile in 1973, and Southeast Asia in the late 1970s, Canadians responded generously, receiving on each of those occasions tens of thousands of refugees into our communities. In 1999, Canada took extraordinary measures to evacuate thousands of refugees from Kosovo. Why should we do less now?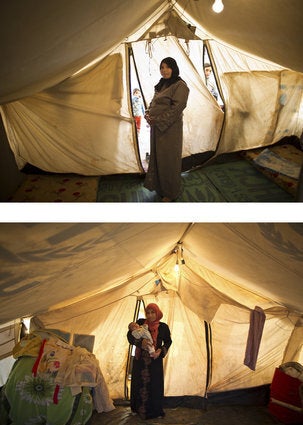 Syrian refugees who gave birth in camps