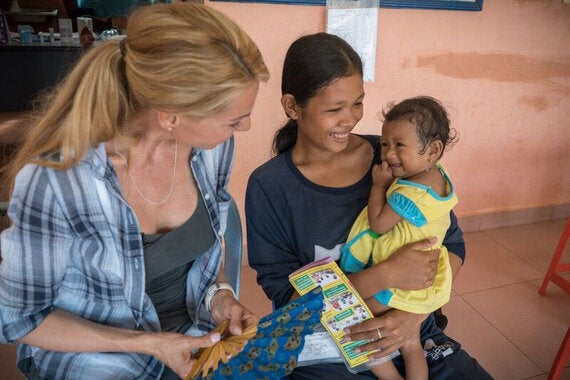 When it comes to malnutrition, babies are among the world's most vulnerable people. In places like Cambodia, World Vision's Starting Strong program protects little ones from life-long stunting and death. Photo: World Vision
As a child advocate, I recently had the opportunity to travel to Cambodia to see some of the work World Vision is doing to make a difference. It was the first time I took my sons to see how many people in developing countries live. I tracked my experience in this travel journal. This is the first of three parts.
This morning my 14-year-old son held my hand on our way to the airport. I cherish these moments as he is growing so fast. I know he is excited about our trip, and maybe a bit apprehensive.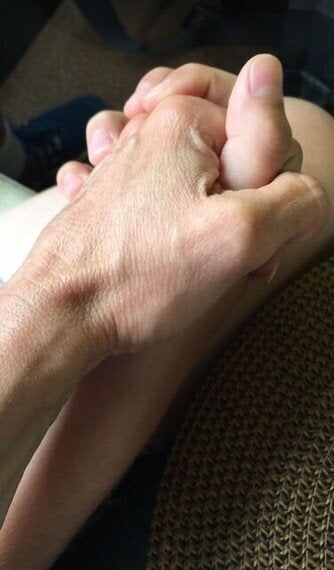 Photo: Joan Kelley Weisshaar Walker
We are going to Cambodia to see a new World Vision program that we are supporters of called Starting Strong. It is staggering to realize that in Cambodia, a reported 32 per cent of children are stunted. Due to a lack of proper nutrition and medical care, they didn't grow as well as they could have. No matter what is done to address it, after the age of two, they will have to live with the effects of stunting - both physically and mentally.
The Starting Strong program cares for little ones in those critical first years of life. It focuses on pre- and post-natal care, and infant care for the first 1,000 days of life and provides families and communities with education on nutrition to prevent stunting.
I am taking my own children for the first time to see the work we support with World Vision. My kids will be exposed to many things foreign to them like extreme poverty and malnutrition.
My dream is for my kids to learn about how other people live and to embrace the good work that World Vision is doing to make positive changes for people who need our help.
Day 2: Overcoming Tragedy
I know how important this work is, but I am learning a great deal more about the situation that drew us here. Our driver today, known as "Red", was only 10 years old when he was separated from his family, and forced to work hard labor to support the Khmer Rouge.
It's very complicated but in a nutshell, the Khmer Rouge drove everyone out of the city of Phnom Penh and started a dictatorship and genocide that split families, robbed identities, coerced the world with propaganda and killed millions.
Red was given a new name, a new identity and brain washed into thinking he was on the right side.
Red walked us around the Tuol Sleng Genocide Museum, a former high school and the actual location where many prisoners were tortured, forced into false confessions and killed. He explained how he came to remember his actual name, how he survived by his obedience and how he was reunited with surviving family members.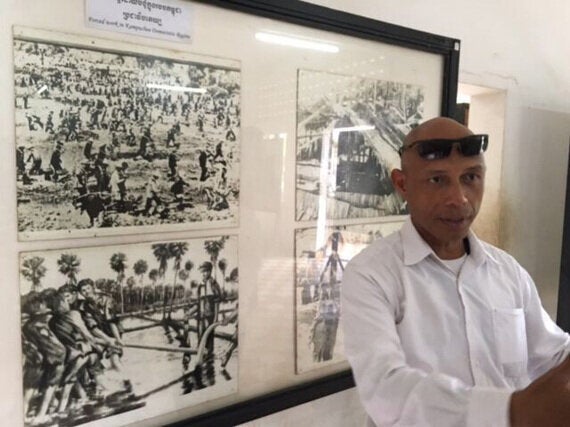 Red took us around the genocide museum, sharing painful stories of Cambodia's past. Photo: Joan Kelley Weisshaar Walker
I could see the pain and worn feeling on Red's face as he talked about it, even today.
"Do you think your son understands what happened here?" I ask.
Red responds, "That's difficult."
Many students visit this museum and they still don't understand exactly what happened and why. The survivors are still asking too. It's been about 30 years since the Khmer Rouge left Cambodia broken and desolate.
After this long struggle, millions of Cambodians still suffer from the loss of their youth, family and identity. Cambodia still has a long way to go to recover.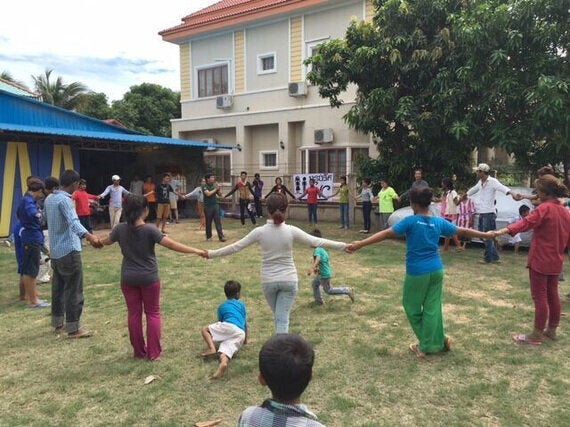 Visiting this World Vision Urban Hub, I was reminded of the role children's laughter plays in keeping a society going. Photo: Joan Kelley Weisshaar Walker
What a joy! We are visiting a World Vision Urban Hub in the city of Phnom Penh in Cambodia.
We were greeted by many smiling, laughing children and some parents and caregivers. These children have a new outlook on life, there is hope for them, something Cambodians have not enjoyed for years.
But now with World Vision's help, Urban Hubs like this create a place for community. It's a safe place where people can meet each other, make friends, play, learn and talk.
I felt welcome there, too. I coloured. I hula-hooped. I was adorned with paper necklaces. I met a lot of wonderful people and made memories my own children and I will cherish forever.
Still, the pain of genocide is never far away. One adult who had lived through it said that Cambodians lost their childhoods because of war. This is not acceptable.
"I have a dream for Cambodia that one day Cambodians will be able to help and sponsor other children in other countries," he said, referring to the way Canadians sponsor children in developing countries through World Vision. And to be honest, that is my dream too!
Caring for Cambodia's youngest
It's hard to believe malnutrition is still linked to about 45 per cent of all child deaths globally. In 2015 alone 5.9 million children around the world died before the age of five.
Some of the most vulnerable are newborns and World Vision has launched Starting Strong to address these issues around the world. My husband and I support the Starting Strong program in Cambodia. We take this issue very seriously and have come all this way from Canada to see the need and the work for ourselves.
My observation is that the poverty level is much worse than I anticipated. The good work done by World Vision is faced with many big challenges, but people's lives are better because World Vision is here.
Would you like to learn more? Check back here in the next few days, to read the second and third parts of my Cambodian travel journal.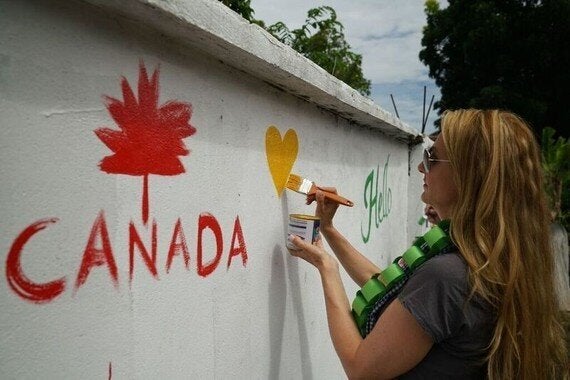 At the World Vision Urban Hub in Cambodia I painted "We ♡ You" on a wall. Photo: Joan Kelley Weisshaar Walker
Follow HuffPost Canada Blogs on Facebook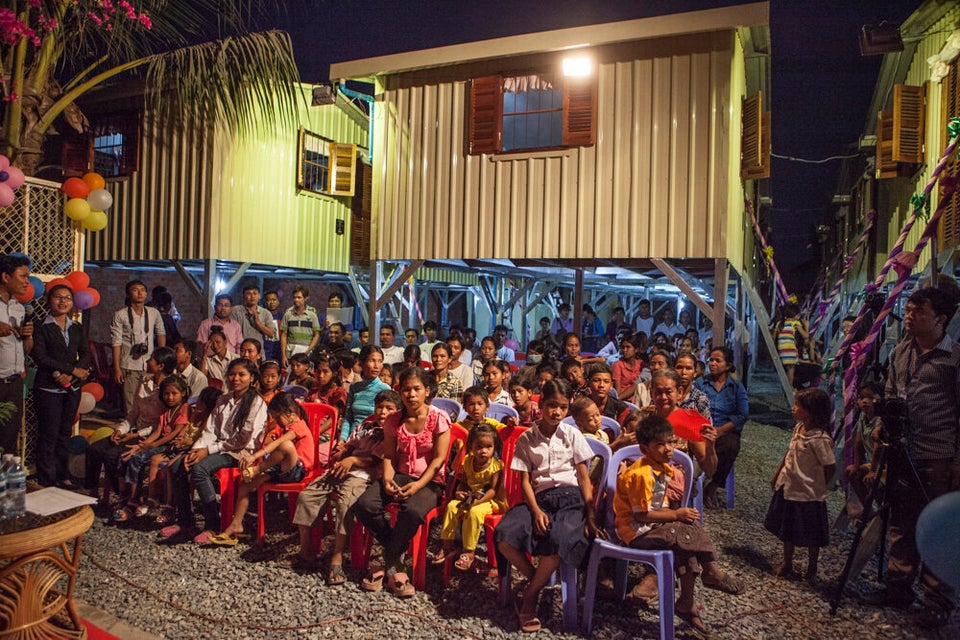 World Housing In Cambodia And Philippines