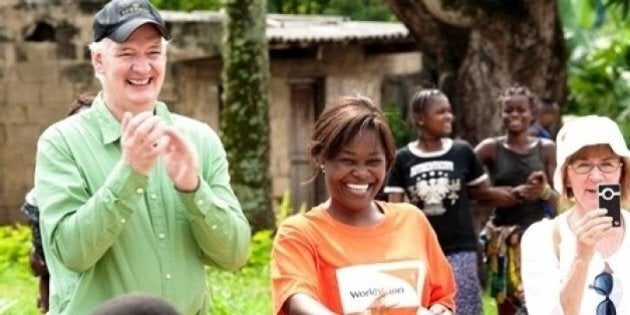 Canadian funny couple Colin Mochrie (left) and Debra McGrath (far right) share more than world-class comedic talent. They love spending time with some of the poorest children on the planet. Joan Kelley talked with them recently.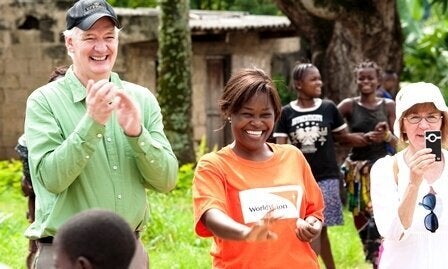 Joan: The two of you have been called "Canada's most beloved comedic couple." What do you think of that?
Deb: We figure our moms started the rumour. It's lovely, but there are many beloved couples we could name. That, and we can't take the pressure!
Colin: Do we get a trophy for that? I really think we should get a trophy.
Joan: Colin you've had a long and full career, but are perhaps best known for the British and U.S. versions of Whose Line is it Anyway? How much fun did you have working on it?
Colin: It's a hard gig to beat. Everyone on the show is good friends, and the shooting schedule is just three weekends, so really, no hard work. Just getting together to laugh, have fun and make tons of people happy.
Joan: Do you have a favorite segment you can share with us from Whose Line is it Anyway?
Colin: The scene with Richard Simmons was a highlight. It was fun to perform, and the audience laughed so long and hard that they actually had to edit it down for broadcast. It's the scene that gets talked about the most by the fans.
Joan: Deb, you are an actress, writer and comedian. You and Colin have worked together for many years and have even done a sitcom, Getting Along Famously, where you play husband and wife. Is it hard to work with your spouse? I mean, that's a lot of togetherness!
Deb: We love working together. No pressure at all! It's our favourite. We just wish we got to do it more.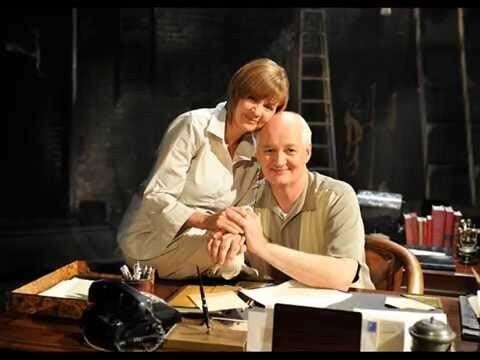 Joan: Do you crack each other up all the time? Do you laugh a lot at home?
Deb: Yes. So much laughter at our home. We kill each other.
Colin: After 25 years of marriage, you need to keep the laughs coming. We find each other extremely amusing.
Joan: You have a son, Luke. Is he in the business?
Deb: He is just about to get into the acting a bit. He also writes, sings, drums, plays piano and ukulele, and makes films.
Colin: It really bothers me that he's more talented than me.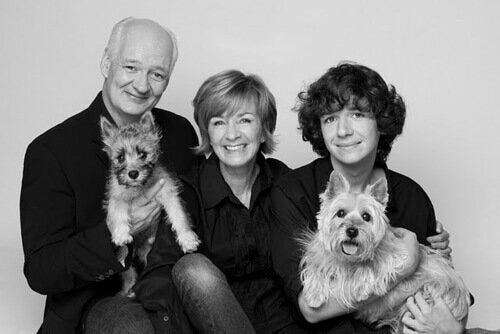 Joan: Both of you have lived and worked around the world. We Canadians are thrilled and proud that you choose to call Canada home! What do you love the most about being Canadian?
Deb: Where do I begin? I love what Canada stands for. I love this country and its history. I love that we are peaceful. I love that we don't carry guns as a nation. I love that we are proud, in a discreet way. I love that we have influences from both the U.S. and the U.K., and take what we need from both.
Colin: I don't really have anything to add from what Deb says. Oh, hockey!
Joan: I love that you give your time to "give back" in the world. You both recently received a Queen's Diamond Jubilee medal for your work with World Vision. How did you feel being recognized this way?
Deb: I have been a major royalist from day one. I love the Queen, and I love the tradition and the link we have as Canadians. I have never been so honoured (as when receiving the award). Between that and my Scarborough walk of fame, I am covered.
Colin: It was a lovely honour and one I'm very proud of.
Joan: How important is it that you use your celebrity status to encourage others to take notice of social issues?
Deb: I don't know how much my celebrity influences people such as it is, but I am happy to spread the word for any worthy cause. I hope that others are inspired and influenced, too.
Colin: Deb and I have been fortunate in many aspects of our life. So we truly believe in paying it forward. If our celebrity can help put focus on causes that will ultimately help people, we are there.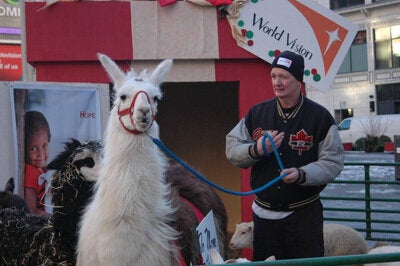 Colin braves the December cold, and the company of an ornery llama, to raise awareness for children in need and the World Vision Gift Catalogue.
Joan: Both of you have travelled with World Vision Canada to Congo. How did that trip affect you?
Deb: The Congo and the spirit of the people, including the local World Vision people, changed our lives forever.
Colin: The Congo trip, especially since it happened right after Christmas, really opened our eyes as to what poverty is. And to what the human spirit is. The people in the Congo were magical.
Joan: Is there a story you remember that you would like to share with us about your experiences there?
Deb: My favourite moment of the trip was teaching the kids to play the Hokey Pokey. We have it on video. Fun is fun anywhere. They were joy personified.
Colin: Talking to the kids, with them telling us horrific stories in such a matter-of-fact way, really stayed with me. There was no self-pity, but a lot of hope and dreams.
Joan: I've also travelled with World Vision Canada, and know it can be quite emotional. Were you able to use humour to get through it?
Deb: We used the humor of the people we met. They got us through any sadness we felt.
Colin: One of the guys brought with him a whoopee cushion. It was heartening to see that that's sort of humor is universal.
Joan: In what ways do you continue to work with World Vision Canada and other charities?
Deb: We will work with World Vision in any way they want. We are so anxious to do other trips with them and meet other people. We have a number of other organizations dear to our hearts, like Oolagen, Lupus Canada, Meagan's Walk and Gilda's Club to name a few.
Colin: Most of our work with World Vision and our other charities concerns getting the word out there -- having the message reach as many people as possible. We're all in this together.