**NOTE: This recap contains spoilers. Please do not read on unless you want to find out what happened on "Big Brother Canada"!**
"I'm not going home next week either, but I'll work my magic then."
Ah, Sabrina. What a refreshing and unapologetic player. Can everybody else in the "Big Brother Canada" house see through her constant scrambling and manipulative mouth? Yes. Does it work for her? "Hundo." Adel leaves the game by a vote of 2-0, after Heather and Neda unite to evict him -- betraying Jon, the HoH. The Newfoundlander promptly put the 27-year-old welder on the block as a pawn following the Veto ceremony, but as Adel himself says, "You go up, you go home."
And Sabrina's plan is set from the start.
"It's been no more than five minutes [since putting Adel up for eviction], and Sabrina's already starting to campaign." Cue the competitive hijinks!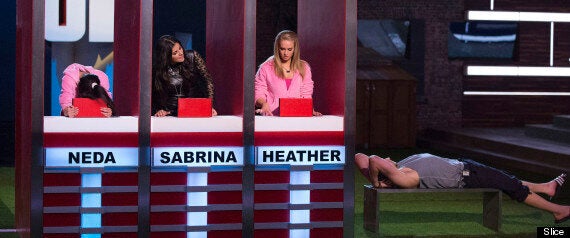 First, she goofs off with Neda in the bedroom, locking out Adel. Then, it's a totally casual invite to Heather and Neda to stay at her house in Montreal. But, of course, it's never an empty gesture.
"So, are you really considering keeping me?" asks Sabrina.
"Sabrina is so aggressive when she campaigns," says Heather. "She lets you think for maybe two seconds."
"She makes the worst arguments ever," says Neda, before admitting the Laval, Que. native's schemes are effective, though monotonous. "Sabrina might be one of those people who slips [sic] through the cracks. She has two very secure jury votes right now!"
Seriously -- after 60+ days of endless tears, shouting matches, and different contoured faces, Sabrina does have a shot to win the whole thing. Across the house, Adel tries to appeal for Neda's vote, claiming they're "bonded from [their] cultures." Neda, naturally, isn't buying it, nor should she. C'mon, Adel, she's too smart for that.
Upstairs, Jon has an epiphany while stuck in 24 hours of solitary confinement. This follows an adorable montage of Jon building an HoH-room block fort on his own and taking baths, all while dressed in a comic-sized diaper. But, it's his reflection time on his near-professional hockey career which helps him realize it's Adel, not Neda, his house BFF, who will take him to the Final Two.
"My entire life I had one dream, and that was to play hockey," says Jon. "When the opportunity's over, sometimes you're never going to get it again."
But the whole season has been building up to this moment, as Jon tries to convince Neda to keep Adel over Sabrina, the Vancouver, B.C. stylist realizes she has to finally set off on her own.
"Ever since I started playing with Jon, I knew there would be a day that we would have to go against each other, when our games would diverge."
Jon knows it, too. Neda's tearful diary room confessions are interspliced with footage of a sad, post-solitary Jon sitting in the rain, by the hot tub, drinking coffee or tea, alone.
"It sucks, but it is what it is," says Jon.
You really have to commend the producers for that scene. Excellent storytelling! The drama! The pathetic fallacy! I love it.
Is Neda still on the fast-track to win? As I've noted before, her paranoia and overwrought strategy, especially when it comes to when she'll cut Jon, could result in her demise. Plus, with whatever she's doing, Sabrina's hot on her tail, and after losing all of her "belongings" due to a bogus family punishment (is anybody going to mention how unfair Heather's punishment was compared to the rest? No HoH room privileges? Who cares! No makeup [or clothes] on TV is really as harsh as it gets. Poor Neda), maybe Neda will lose her power ... just like Samson.
[HuffPost Canada TV will be attending the "Big Brother Canada" finale on Thursday, May 8. Check out our coverage in this space.]
"Big Brother Canada" Season 2 will continue to air three nights a week on Wednesdays, Thursdays and Sundays at 9 p.m. ET/PT. "The Big Brother Canada Side Show" -- new this season -- will air Thursdays, following each eviction episode, at 10 p.m. ET/PT. In case that isn't enough, "Big Brother After Dark" will air seven days a week from 2 a.m. - 5 a.m. ET/11 p.m. - 2 a.m. PT.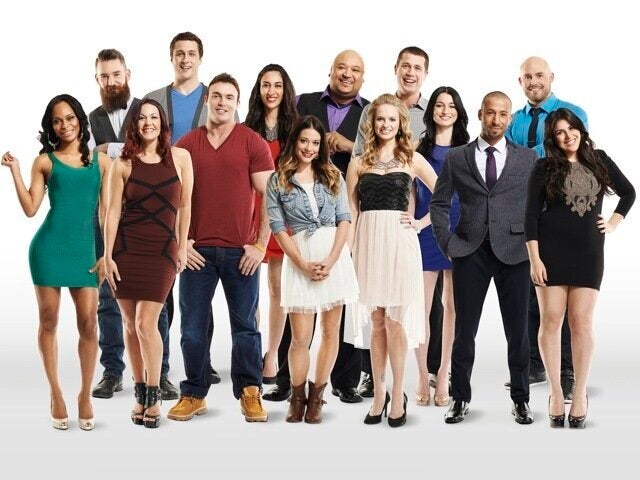 'Big Brother Canada' Season 2 Cast