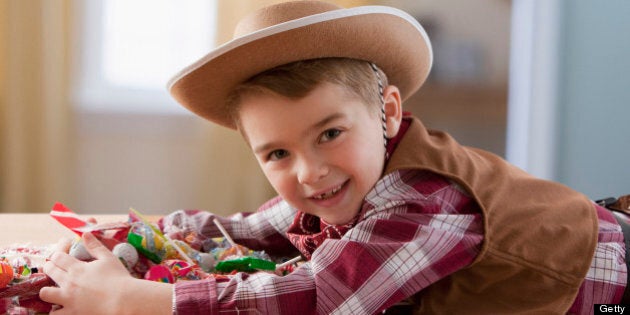 Are you going to eat that?
Your kids are headed out for a night of trick-or-treating and are determined to hit every house in the neighbourhood. What are you going to do with all that sweet stuff?
Before you disappoint your kids who think they can eat all their candy in one sitting, tell them the rules.
They can't eat anything until Mom or Dad has sorted through it for safety hazards and allergies. Maybe they can eat X number of items (you decide) that night and then you discuss the plan for the rest. Some parents like to trade excess candy for one toy or game or book to limit their children's sugar intake. It's best to have your child in agreement on this deal.
Other parents make it clear that one treat will be added to school lunchboxes daily, or just after school, and not anytime they want it. Whatever your rule is, make sure you kids know it in advance to prevent tears and cries of "It's not fair!"
Out of sight is out of mind for most kids. To prevent overeating (that includes moms, too), sort candy and chocolate into freezer bags, 30 pieces at a time, and label them per month so they last much longer. I also try to sort them as nut-free or not so I can easily add snacks to my kids' school lunches without worry later. Chocolate and most candy freezes well.
A little sweetness can encourage your children to eat the good stuff. Adding Smarties or Reese's Pieces to a homemade trail mix will get kids eating dried fruit and nuts as well. (I used a mix like this with Cheerios and raisins when I was keeping my toddlers quiet in church or on long drives.)
You can add a bit of chocolate to a healthy smoothie with yogurt and fruit to make it more appealing; broken chocolate bars baked into an oatmeal muffin make it more exciting; and crumbled cookies are a great topping for plain ice cream, yogurt or cottage cheese. There are lots of recipes online that incorporate the candies your children will be bringing home. Check them out.
Halloween candy makes a great giveaway for birthday loot bags, or you can use it to fill a piñata. You can also stuff Christmas stockings with the candy that isn't specifically for Halloween. And if you still have some candy left by spring, add it to the plastic eggs that the Easter Bunny leaves out.
The easiest way to avoid the temptation and extra calories of all that candy is to simply share it. Take some to work, have your kids share with their school friends, or even take a bag to a local retirement home. There are also some charity programs that send candy to soldiers overseas or add it to gift boxes for needy children in other countries.
Follow HuffPost Canada Blogs on Facebook