Joe Keithley
I first met the late great Brad Kent when we were both about 18 years old. Gerry "Useless" Hannah, Brian "Wimpy" Goble, Ken "Dimwit" Montgomery, Bruce "Bastard" Coleman, "Fast Eddie" and I had all moved to Lumby, B.C. to live off the land. We started one of our first bands up there, The Resurrection. One day we were practicing and a skinny kid with greasy blond hair dressed in a tattered jean jacket, came along and listened to us, when we finished the song, he told us he played guitar. We said that's cool, then he went on to say, in not so many words, that we had absolutely no idea how to rock and why are we playing that crap?
He was ballsy and he was right, we sucked! We were a bit of a hippie band. So he came along to jam with us and said why don't you play some rock n' roll? How about some Status Quo, or some Zeppelin? He told me "Joe, this is how you play 12 bar, just keep chugging along while I solo." It turned out to be a lot fun and a bit ass kicking!
It was a funny thing, that chance meeting, our gang was from north Burnaby and Brad hailed from south Burnaby and in those days we were separate. We had bad rivalries between north and south in lacrosse, hockey and now it was rock n' roll! It was the same way we felt about East Van.
We all left Lumby in early 1976 and moved back to Burnaby. We rented a big dumpy house and started a rock band called Stone Crazy. Gerry dropped out of the picture and Brad became the defacto leader of the band. We played a few high schools, but we really didn't have the chops to make any dough and we barely had enough gear to play a show.
One day Brad came running into the house huffing and puffing and carrying a brand new Les Paul guitar, which was unaffordable to all except rock stars and rich kid wannabes. Then he told us his tale, he had been eyeballing this guitar in a music store on Kingsway forever. That day he made a bold move, the store owner turned his back, and Brad grabbed the guitar and bolted across 6 lanes of rush hour traffic, almost got hit by two or three cars and ran into an alley with that guitar. Now I am not endorsing thievery, but that guitar became part of Brad's being, soul and our sound.
We soon moved onto punk rock and we formed The Skulls, Vancouver's second punk rock band. The very first version consisted of Brad, Dimwit, Wimpy, Lee (Australian lead singer) and I. We played at the band shell in White Rock B.C. in August '77 and a mini riot ensued between The Skulls and the greasy audience.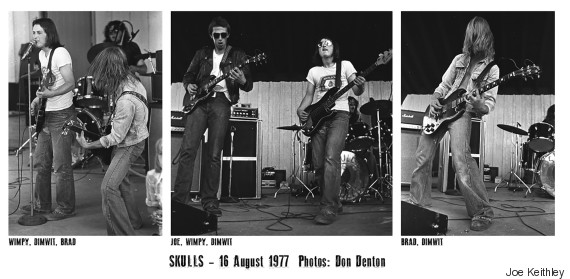 D.O.A. formed in February 1978, for the first little bit we were a three piece, then we brought Brad on board as the guitarist and I just sang. We gave Brad the rather crude nickname of Brad Kunt, I don't think he liked it that much, so I stick with Kent.
For our very first road trip I booked a weekend at the Fab Mab in San Francisco with the late great Dirk Dirksen. We had no van, so I took the train, Randy and Chuck took the hound and Brad hitched hiked the 1,000 miles with his guitar, with no case or gig bag, to SF, he made the show with one hour to spare. The two shows became some of DOA' s most famous ever. The first night, Brad broke a string on the 2nd song, so to entertain the crowd I wrapped my body in tape, while Brad changed the broken string. That's the way we were, we had nothing, so we improvised everything.
Just before we saw The Ramones in Van in '77 and witnessed real punk rock, Brad, Dimwit, Wimpy and I would all play "Gong Shows'" ala Chuck Barris. We almost always got gonged, but we won one night at the Coach House Pub in North Van. We spent our $50 first place prize on beer, no biggie, but as fate would have it, a 17 year Randy Rampage happened to be at that show. Brad, Dimwit, Dave Noga and I also formed a band called Victorian Pork, as kind of a lark, the Pork was the first of Vancouver's famous "fuck bands" where most members traded instruments for fun. Brad played guitar and I was the drummer.
Brad had a beautiful and restless rock n' roll soul that will never be completely satisfied and at the same time never extinguished.
After those two shows at the Mab, Brad hung around with The Avengers, whom DOA had opened for on that first nite. They became friends and Brad joined the Avengers and helped write the great song Corpus Christi. There's also the unfinished D.O.A song Trident (Trident nuclear subs) that he wrote, that you can see on the footage of D.O.A from the Canada Day concert at Stanley Park July 1, 1978 on YouTube. Previous to that, Brad was in Victorian Park and the very first version of the Subhumans with Wimpy and Dimwit.
Brad and I kind of lost touch along the way, but he played in a bunch of bands with Rampage like the Sick Ones, Ground Zero and some other fine outfits. Brad lived life hard and it caught up to him in the end. Just before he was hospitalized, he was coming back to Vancouver from Alberta for a show. Damn, now I would almost kill to hear him play again.
This is tough to write, but as I type, Otis Redding's immortal Sitting On the Dock of the Bay comes on the radio. It just reminds that Brad had a beautiful and restless rock n' roll soul, that will never be completely satisfied and at the same time never extinguished.
Big condolences to Mary, his family and his kids (your dad was something really special) .
Brad, you taught me how to rock and now I am shedding a lot of tears tonight. You were as talented as they come; I'm going to miss you.
My friend, you'll live on in our hearts forever.
Joe Keithley