In recent weeks, I was part of the GLOBE Capital Summit in Toronto. Leaders from both the private and public sectors came together to discuss how to mobilize and accelerate the funding necessary to transform into a lower carbon economy. I was also in Washington meeting with leaders on Capitol Hill to discuss how Canada and the United States can work together to provide responsibly produced energy.
In my conversations with senators and policy advisers, I heard that the U.S. is eager to work with Canada to develop a sustainable energy supply and how the greening of the Canadian oil sector can help facilitate that outcome.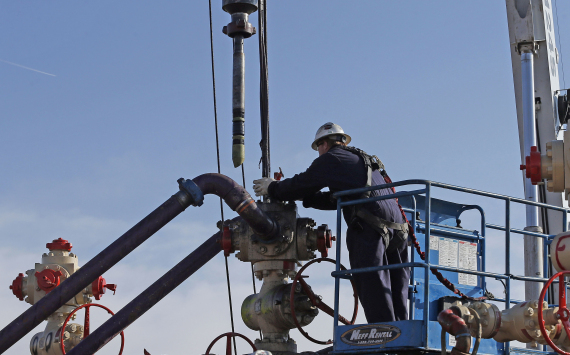 (Photo: Brennan Linsley/AP Photo)
The conversations in Washington and Toronto further validated the need for investment in Canadian infrastructure that will contribute to a greener future. We know that cleantech companies are developing and testing innovative technologies that have the potential to change the energy industry for the better. These companies, however, require buy-in from both the government and the industry to move to the next stage of implementation.
Nsolv, a made-in-Canada solution for sustainable in-situ heavy oil extraction, is one example of clean technology that has been tested and proven in the field. Its pilot plant, which is now winding down after three successful years, produced more than 125,000 barrels of oil while generating minimal greenhouse gas emissions and using no water. The solvent technology is proven and ready for a commercial-scale partnership.
We should really be worrying about the risks of not taking immediate action.
In my last post, I noted that commercialization is a major hurdle for any small or medium-sized technology company, especially in Alberta's oil and gas industry. Many companies are often content to leave their oil and gas assets underground until new technologies are de-risked by others.
This "first adopter syndrome" is detrimental to the future of our industry, and society as a whole. While it is positive that we are having conversations on a global, national and provincial scale, what we really need to see is action. The longer we wait for larger-scale adoption of cleaner technology, the longer we will have to wait to reap the benefits. While industry and government are worried about the risks of implementing these new technologies, we should really be worrying about the risks of not taking immediate action. We are missing out on the potential exponential growth of economic and environmental benefits -- and it's going to cost us in more than one way.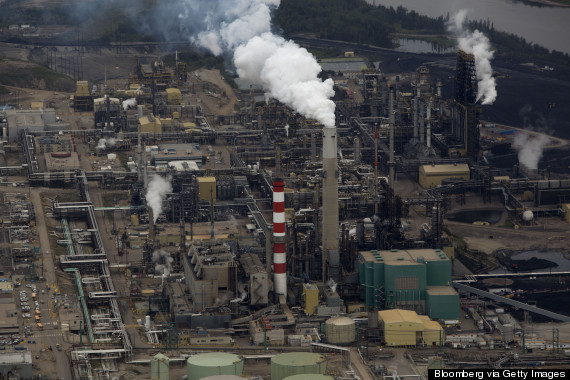 Views of Fort McMurray and the oil sands. (Photo: Brent Lewin/Bloomberg via Getty Images)
Environment
As we wait for the large-scale adoption of clean technologies, Canada continues to be among the top 12 global emitters of greenhouse gases (GHGs). Among the provinces, Alberta is by far the largest contributor of GHGs. While both the federal and provincial governments are introducing measures such as carbon caps and levies, these are punitive measures and they will not be enough to bring about change. A fundamental shift needs to happen to allow industry to continue producing the country's resources, while also significantly reducing its environmental footprint.
An example of a significant environmental risk is the use of water in the oil sands. One of the challenges of steam-assisted gravity drainage (SAGD) operations is managing the volume of water that is used to bring oil to the surface. According to the Canadian Association of Petroleum Producers, the industry uses an average of 0.4 barrels of fresh water for every barrel of in-situ bitumen produced. In 2014, that amounted to a total of 75 million barrels, or 3.17 billion gallons, of freshwater consumption.
There is a huge opportunity for companies to take bold action in cutting emissions while also reducing their supply cost in the long term.
While much of the water is recycled in the SAGD process, generating steam is both high in cost and can have a negative impact on the environment. Steam generation consumes large volumes of water and generates considerable greenhouse gas emissions. As a result, technology companies like Nsolv have developed alternative solutions that use a solvent to cut water out of the recovery process entirely while minimizing any greenhouse gas generation.
Supply costs
Supply cost is the constant dollar price needed to recover all capital expenditures, operating costs, royalties and taxes, and earn a specified return on investment. The goal for oil sands producers today is to lower their supply costs and improve their environmental footprint while also supporting oil sands development and remaining competitive.
According to a CIBC Institutional Equity Research Report, the supply cost for a SAGD project based on a 15-per-cent internal rate of return is estimated at more than US$65 per barrel. In comparison, solvent-only projects have the potential to lower supply costs to below US$50 per barrel. Based on these projections, there is a huge opportunity here for companies to take bold action in their commitment to cutting emissions while also reducing their supply cost in the long term.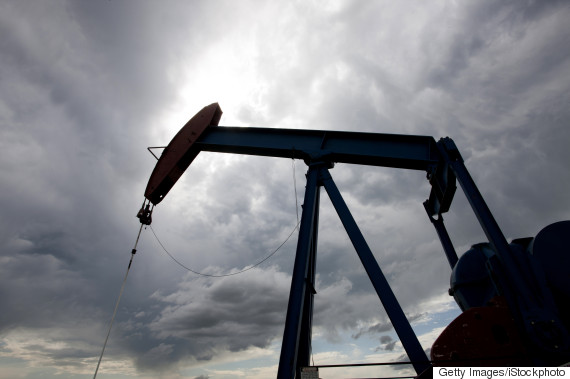 (Photo: Istockphoto via Getty Images)
Royalty revenue
While producers have an opportunity to reduce supply cost, government has an opportunity to generate more revenue in the form of royalties. Over the next 20 years, the oil sands industry is expected to pay $1.2 trillion in provincial and federal taxes which includes royalties. These royalty revenues contribute to government spending on infrastructure, social services and other important programs across the country.
According to analysis conducted by Nsolv, over the 30-year life of a 30,000-barrel-per-day plant, which is typical for a SAGD commercial-scale project, solvent-only based technology would bring in over one billion dollars more in royalty revenue than a SAGD project. Solvent-only processes would pay out faster and generate more profit for the industry. This means government would earn more in royalty revenue and would have the funds necessary to build the infrastructure our country needs.
Added revenue provides an opportunity for government to introduce tax or monetary incentives for first adopters of clean technology solutions. By working together with the industry, the government can help push our climate goals forward while also earning more revenue and providing support to small, cleantech companies.
Competitive edge
Canada as a country faces many risks if we continue on this path of slow incremental change. While many countries are taking bold action to reduce their environmental footprint, the current U.S. administration is planning to take a different approach. Canada needs to decide where we stand. Are we going to follow the U.S.? Or are we going to be leaders who use innovative technologies to cut emissions and move closer to our climate goals?
As a current leader and the most secure supplier of energy products to the U.S. including crude oil, refined petroleum, natural gas, electricity and uranium, Canada can remain competitive in this market. We have technologies that can allow Canada to lead and become more competitive with less responsible energy producers. We just need to allow industry, the government and technology providers to overcome the challenges facing first adoption.
The solution is within grasp, and Canadians should be asking the industry and government why it isn't happening.
The risks of not enacting change significantly outweigh the risks of implementing new technologies. Holding back is already costing us money and causing further damage to the environment, and the longer we wait, the worse it will get. Canada has an opportunity to be a leader and to show the world that it is possible to combat these larger-than-life challenges we face. Replacing the first adopter syndrome with a trailblazing attitude is a first step.
Government and large industry have a role to play in speeding up the adoption of technologies to solve the environmental and economic problems of heavy oil extraction. Leadership is required in this area to meet environmental objectives and create an economically sustainable oil and gas industry.
After my discussions with leaders in Washington and Toronto, I can say with confidence that there is alignment in our goals to work towards a cleaner energy future. Clean technology is the clearest path forward, and the sooner we act, the sooner we will begin to build the momentum that is needed to make significant change over time. The solution is within grasp, and Canadians should be asking the industry and government why it isn't happening.
Follow HuffPost Canada Blogs on Facebook
Also on HuffPost:
The Oil Sands and Canada's Environment