Handout
In a city where "game" is most often prefaced with the word "video," Vancouver's Giant Monster Games is going retro. They're rolling the dice on a Kickstarter campaign to bring Kingdom Bots to board game fans.
There's a huge difference between the digital and physical worlds of gaming. Video game industry sales in 2012 were nearly $21 billion. Compare that to board game giant, Hasbro, which generated $1.3 billion in sales for 2013.
The idea and design of Kingdom Bots sounds fun, and sparks the imagination. Their Kickstarter campaign is to secure backing for a limited-edition initial production run. Players will be immersed in a medieval, "low-tech" world of hack-and-slash robots. The team has hundreds of hours of dedicated experimentation and play-testing behind creating this finished, playable prototype. Kingdom Bots is ready for production and delivery to gaming fans.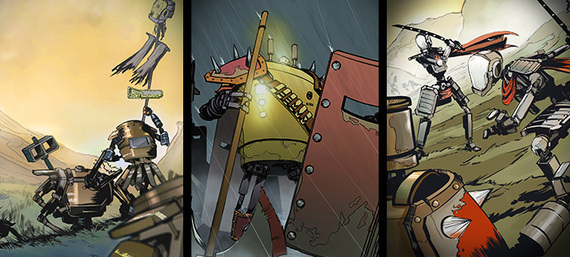 Creating a successful independent board game is challenging. It certainly isn't paved with the promise of overflowing riches either. The riches aren't what's motivating this experienced business and creative team. I spoke with art director Mike Ritchie and game creator Adrian R. Walker about what's driving them to make the project a reality.
Why did you make Kingdom Bots?
Mike Ritchie: "We were looking for something fun to do at Gloo Studios, some activity that we could do at lunchtime as a group or a cool side project that could provide a creative outlet for the team. Adrian came to us with the idea of creating a board game, which pretty much covered both of those bases so we encouraged him to bring in what he had."
Adrian R. Walker: "I made a prototype with pieces I spent a number of nights cutting out and we started play-testing. We just wanted to make something with raw creativity being spewed onto the table, and everyone picked up on it and ran with it."

Ritchie: "We were mostly just doing it for fun in our spare time, but it turns out there's a huge market for board games that I thought had died out thanks to video games. We're excited to throw our hat in the ring and see if the public will like our game as much as we do."
What kind of game design experience do you have?
Walker: "I have a pretty heavy board game background. I played a ton of board games. As a kid, that's what I did -- make board games. I started off making card games, but I transitioned to board games very smoothly. I came in with the idea of making games thinking it'd be fun and exciting. I didn't really think about anyone else's current status on board games. I just wanted to make board games!"
What is it like working with people who don't have as much experience with games as you?
Walker: "It's kind of a unique experience. It's not the fact that I went out and tried to make a game company, it's completely different. There's a group of people here who are creative and want to get involved and play stuff. So it's become this outlet for trying new games, for getting input on stuff. And people I work with are highly critical. Mike is highly, highly critical of everything. So if something sucks, he says, 'This sucks.' And it's good. It's allowed for us to make a good game, because we're not trying to sugarcoat and be nice about it. We're being serious about it."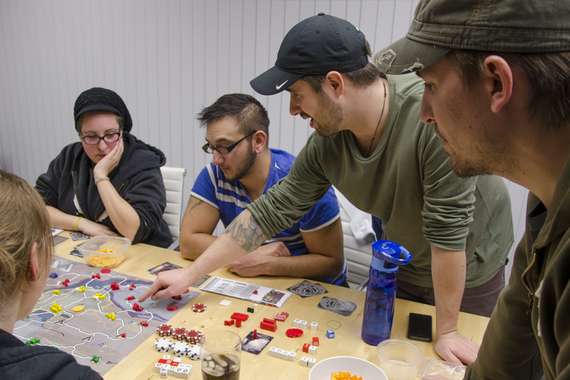 What's it like making games at the workplace?
Walker: "It's kind of like coming and hanging out with friends every single day. Our workplace isn't very serious, so it's pretty easy to transition in. These people like fun things, so let's do fun things. And board games are, by definition, fun things. You know when you meet that girl and you hit it off and you have chemistry? Gloo Studios and board games just have chemistry."
How much time is put into developing the game, and how does that play into actually being able to make a real, good game?
Walker: "If we had a ton of money, we could pay people to play-test. But we don't have the money, so it's been volunteer time. It's been 100 per cent passion time. That's the only way we found 45 hours a week of people's time in to play and make stuff. It's completely out of passion. People are excited and we want to do this. We try really hard."
What are the benefits of having an existing company behind you?
Walker: "Right from the beginning, before we started making stuff, Paul said, 'Let's use Gloo Studios as our clubhouse.' So all of a sudden, our workplace isn't really a workplace anymore. It's the place we go to hang out. It's exciting and awesome. It's being able to have a company that is willing to lend its space and everything that it can because it wants to see itself and its staff succeed. The owners aren't out to harvest as much money off of their employees. They want to see them succeed and grow as people, and they want to see a business venture with employees succeed, because it means they're going to succeed too."
Kingdom Bots might not be the next Candy Crush or Angry Birds, but the way our physical world is connecting with the digital space, significant business opportunities exist. Looking at the success a 15-person team like Days of Wonder has had in the gaming space, anything is possible.