I admit it: my kid's babysitter was the TV on more than one occasion. I owe a debt of gratitude to the Disney VHS library. I'll also admit that Super Nintendo and the Mario franchise helped too.
I'm now amazed seeing diaper-wearing, stroller-powered tots wielding smartphones and tablets with real acumen and complete engagement — and I thought Gameboy was good portable amusement. Go on, you can admit it; you're feeling a little guilty when your youngster's got a tight grip on the iPad. The pixelated babysitter, guilt-gripping you has a new remedy, and there is an app for that.
Vancouver's Nanu Interactive has just released Paint My Cat for the iPad to the Canadian and U.S. app stores.
Paint My Cat is raising the bar for an app that is creative, artistic, educational, and great family fun. This sure isn't what my kids had for coloring books.
With the initial quality assurance team being his daughters — ages four and almost two & #0151; Alex Ferrier didn't want to make something simply shiny. He set out to create something magical. With 16 years in the game development business — including nine at Electronic Arts as a technical director & #0151; Ferrier has all of the ingredients to create magic. He's also very quick to acknowledge having an incredibly supportive wife who shares his vision, and understood his leaving world of AAA game development to make something meaningful.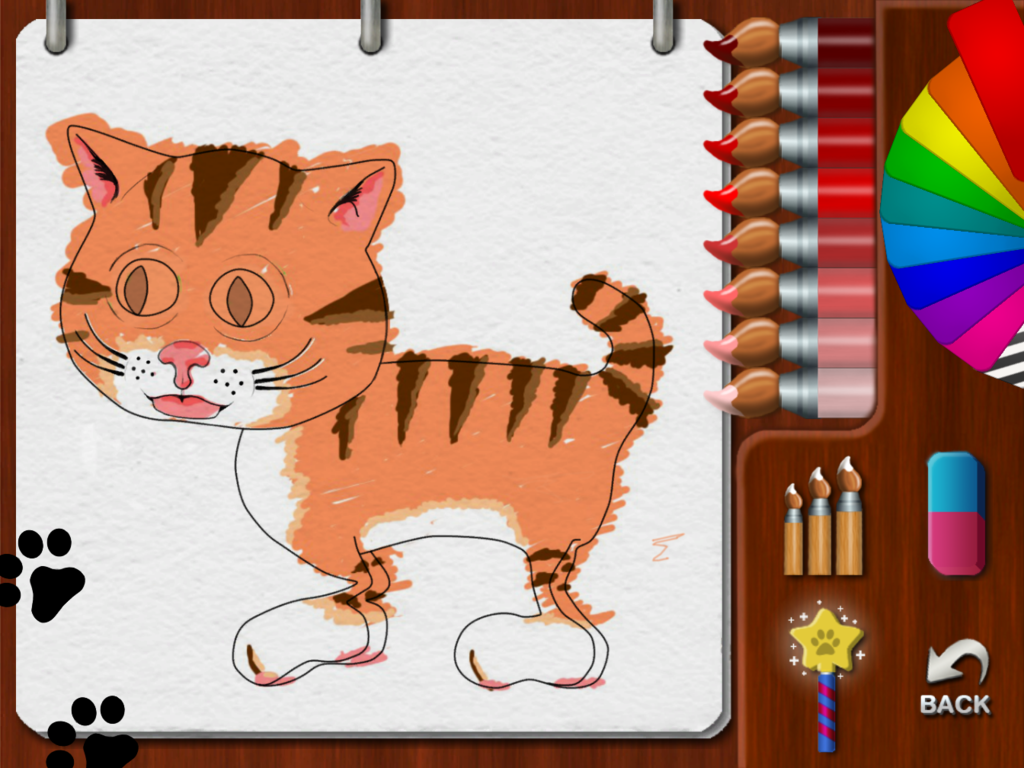 With personal family experiences as the creative canvas, he readily admits his initial observations weren't deeply profound: kids love to colour and create; kids love pets. Ferrier wanted to give them a way to cross those lines.
Creating is one thing, but actually delivering is what sets Ferrier apart from many first-time entrepreneurs. There's no shortage of ideas that never get beyond a cocktail napkin. Ferrier has realized his vision, and has shipped magic.
Part of the magic Alex envisions is how Paint My Cat can help with social development too. He seemed to notice that kids tend to beat the character up a lot in other virtual pet apps. In Paint My Cat, they'll tickle and play with their cat more. Having created their cat, they'll also have a bond and sense of ownership for their new virtual feline friend.
Not to play up the virtual colouring too much, the app itself is fun just when you're playing on the iPad. Paint My Cat essentially takes the magic of the "other world," where you bring a picture to life, and makes it as accessible as possible. Ferrier shared how they collected stones at the beach one day, and then used Augmented Reality colouring to make the cat a bed out of stone that it can sleep on. The kids knew they were collecting pretty stones to make the cat a bed.
There's no question Alex has extensively thought about the type of experience. He offers a little insight suggesting that:
"Lots of people are looking at augmented reality, but I don't particularly like the term. It sounds too technical. People don't want augmented or virtual reality. They want a magical other world that intersects this one. We want our pictures to come to life. We want a friendly monster that lives in our closet. We want Pixar, not research."
It was great meeting, and talking with a dad who sees a really big picture. From Ferrier's own family experience, Paint My Cat is takes the fun and joy of "physical colouring that can bind siblings together... Older children can help younger children, and it creates a great shared project."