"If at first, the idea is not absurd, then there is no hope for it." ~ Albert Einstein
No pressure. For the student and alumni volunteers organizing TEDxSFU2013 it could be their mantra. Only in its third year, the event has scaled from an intimate gathering of 100 guests in year one to selling 438 tickets this year. No small feat. Speaking of no pressure while attending TEDActive 2013 in Long Beach, California co-project manager Disty Winata shares how she "was ecstatic to hear that TEDxSFU 2012 was named one of the greatest TEDx events of 2012." Top that. With TED2014 coming to Vancouver in March to celebrate it's 30th anniversary, you can sprinkle in a little added sense of pressure for keeping a high degree of brand integrity.
This year's "Make It Yours" theme was focused on using the foundation of Technology, Entertainment, and Design, according to co-project manager Madhav Goyal "we decided to share ideas that the audience can embrace and make theirs." The day easily featured a speaker for everyone.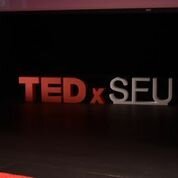 Chuck Hamilton (Virtual Learning Leader at IBM's Center for Advanced Learning) and Igor Faletski (CEO & Co-Founder of Mobify) shared conversations about the future of jobs, death of the resume, how the entrepreneur in all of us can define workplace culture and needs to make a plan for invading the US. Shelley Greundler shared her insights about typography, including how our highway signs will soon be even easier to read. Given our collective java affinity it seems more than fitting to hear coffee stories from Chris Giannakos, Partner at Revolver Coffee.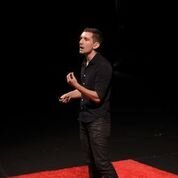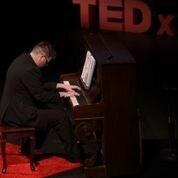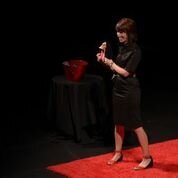 Peering into our human condition radiates a spectrum of emotion. Michael Park's (Composer and Co-Founder of Art Song Lab) performance of his Alzheimer's Variations has us thinking about how we see music. From calm and serenity, to anger and rage, to moments of silence the piano is a projector. Jane Langton (Sexual Health Educator and Owner of A Juicy Life) shares her very personal story about better connecting with ourselves and acquiring a deeper appreciation for the communication of intimacy by masturbation. Langton's key point was asserting the strong connection between pleasure and our overall health. While Amal Graafstra (Double RFID Implantee & Pioneer Of The DIY RFID Implantation Movement) shows how to be much more intimately connected to our devices courtesy of biohacking. He definitely has a unique way of reducing the size of his key-ring. It also turns out Grinders are real people not just tools for the workshop.
The day wrapped up with four presentations that left everyone thinking about the human connection. John Nightingale's (President and CEO of the Vancouver Aquarium) toilet proved to be the days most unique stage prop, as he shares how deeply connected we are with our oceans. For Leigh Boyle, (Founder and Executive Director of The Lipstick Project), sharing her experience of working with women in Ethiopia suffering from obstetric fistula, and being treated like modern day lepers is sobering. She reveals just how profound the power of touch is. It's amazing how a manicure intimately connects us and becomes a force for breaking down the fortress of loneliness.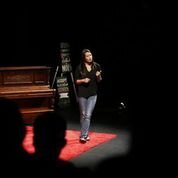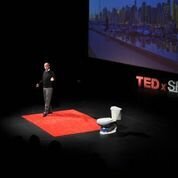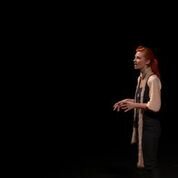 How do you want your life crafted? Stephanie Ostler, (Founder & Designer of Devil May Wear) posed one of the day's most thoughtful questions. She was exceptional in weaving a story around the connection between sustainable fibres, and needing to redefine our consuming choices. Buying cheap stuff might be good for pinching a few pennies, but cheap really turns out to bad for us and the planet on too many ways imaginable. Kahlil Ashanti, (Co-Founder of Receipt Nest & PostSecret Unheard Voices) tied up the overall theme of the day by dispelling the notion that content is king. Context rules. It's by communicating real and genuine feelings that an audience's attention is captured. He suggests it's time "we quit writing and start caring."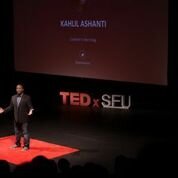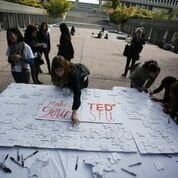 For many attendees it's all about the speakers, the inspiration, and sharing a day of ideas. I asked some how they were going to channel the words into action, and how they plan to make a difference. For a few there was no answer, and they were left with something else to ponder. Yet for attendees like Mohamed Ehab (founder of Reel Causes) who's using film to help support local charities, he says that "TEDxSFU2013 was a chance think about ways to make our organization stronger."
Talking with Chad Leaman (Director of Development at Neil Squire Society) who is helping develop enabling technologies for people with disabilities, I was left thinking about what kind of talk he could do. Another change-maker is Heather Luna-Rose, who really understands to power of human connection as someone baring witness to the stories of Canadian citizens suffering in purgatory of the Thai prison system. For her, TEDxSFU2013 is about discovering how to transform her prisoner support program into a more sustainable initiative.
The day also featured a number of past TED talks, but Ron Finley (Guerrilla Gardener) probably best sums up what we collectively need to think about, "to change the community you need to change the composition of the soil."
Good leaders can deliver inspiration, but it's great leaders that facilitate mobilization. People become citizens, and citizens become leaders. The theme "make it yours" should resonate with the spirit of individual accountability. It's up to everyone in the audience (and beyond) to take those words of inspiration and turn them into action. Make a commitment to taking action and getting connected with your neighborhoods, communities, or the global village. Make a difference!