 In just a few weeks, the latest batch of millennials will graduate from post-secondary institutions across the country in one of the most challenging job markets young Canadians have ever faced.
From an employer's perspective, narrowing down a massive pool of resumes to a few candidates is equally challenging, as a higher overall unemployment rate has resulted in applicants who would normally be considered 'over-qualified' applying for more entry level positions and demonstrating a good mix of experience and passion for the work.
Below are some tips I offer soon-to-be and recent grads as they enter the workforce. They highlight the best practices of those who have hit me up for employment at my firm.
Find the employer you want and reach out.
I get a lot of emails from people interested in working in public relations. Normally they ask to meet with me to discuss my business and career path. Typically these meetings are sold as information interviews, explaining that they hope to better understand their own interests following our meeting. In reality, these meetings almost always turn into reverse job interviews and have resulted more than once in a job offer in the short term for a position that had not yet been posted, and ultimately is not posted, because these folks fill it first.
Demonstrate an interest in the prospective employer's field of work and what distinguishes the business you're applying to from its competition.
The fact that an employer has agreed to meet with you to discuss a position tells you that you are qualified, at least on paper. It's now often down to a matter of 'fit' for the position and your suitability as a member of the team. Successful job applicants can articulate their interest in both the field of work and in what makes the employer different from others. From a personal perspective, I'm always looking for people who can meet our needs today and grow with the business as our needs change in the future. I look for people who understand what we do and how it is different than others in our field, and can demonstrate why they would be a good, long-term member of our team.
Share more than what is in your resume.
Show a prospective employer what you understand by talking about relevant experiences and education in a manner that demonstrates your abilities. Make the bullet points on your resume come alive with background, context, and analysis. The best job candidates can talk about their experiences in ways that show a high degree of knowledge that goes beyond being able to function in a position, which is what resume bullets suggest.
There's nothing wrong with having questions about the terms and conditions of the position, but don't turn the end of the discussion into one of money or benefits. These questions are important and need to be answered before you accept an offer of employment, but are premature because they will not positively affect evaluating you as a candidate. Ask questions about the work itself, the types of clients who benefit, or opportunities for growth within the organization, as these are all areas that signal an interest in the position itself.
Remember why they are there.
You need a job and that's why you're sitting across the desk -- but why are they? They have a position to fill and that position comes with a budgeted amount of resources. It's your job to convince them that that money is best spent with you fulfilling the responsibilities of the position.
Prospective employees who come on heavy with the "I need a job" message miss the opportunity to demonstrate an ability to fulfil the employer's needs in exchange for that job, and at least when I'm the decision maker, lose the opportunity to.
Obviously these aren't foolproof tips to success. Millennials face an extremely competitive job market where employers are increasingly cautious about their decisions and the competition is fierce. That said, anyone who is optimistic enough to be hiring in this economy, believes his or her business is growing and is prepared to weather the current economic storm. They are looking to the future and looking for people who will join them on their journey of success. Show them you're up for it.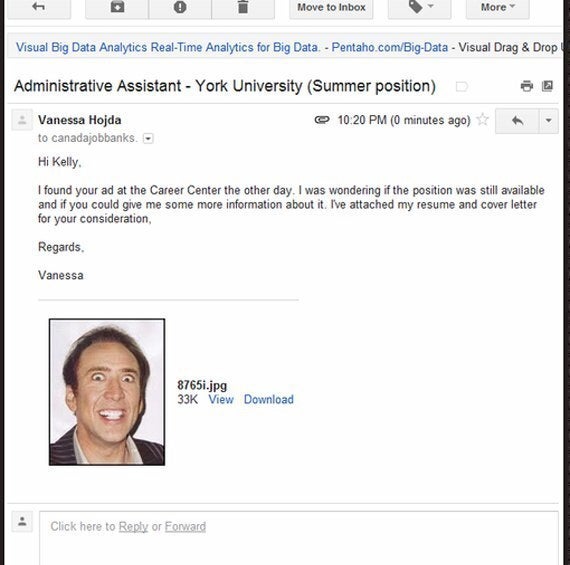 Ridiculous Resumes & Cover Letters