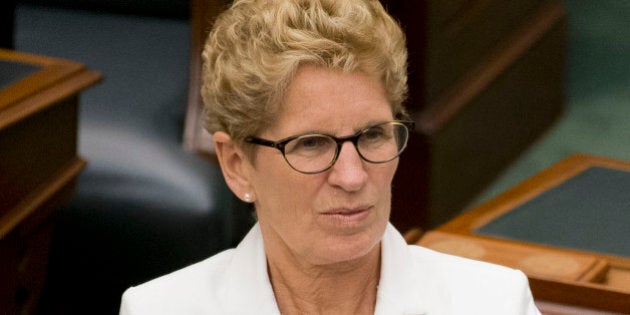 Love them or hate them, the Ontario Liberals have learned a lot about getting themselves out of trouble. They've shown it this week with how they've used their sex ed curriculum to change the channel so dramatically.
Just as the Sudbury by-election dealings were beginning to make it look like Kathleen Wynne's Deputy Chief of Staff has potentially found herself on the wrong side of the law, the provincial government announces it's introducing its proposed sex education changes.
As expected opponents pounced, including Progressive Conservative leadership candidate Monte McNaughton. He gave Wynne the moment she needed to not only change the channel on her Sudbury scandal, but also to get the upper hand on the curriculum changes.
Education Minister Liz Sandals showed how divided the PCs are by pointing out the PC's Interim Leader and Education Critic are on side with the changes, while all three candidates for the permanent leadership are not. The Minister was armed with the quotes to prove it and gleefully read them, instead of answering McNaughton's questions.
Sandals took another shot at McNaughton, who asked if she would accept school councils voting to opt out of the new curriculum, by saying that if he were Premier maybe "You could vote to opt out of teaching about evolution, too."
That is when PC MPP Rick Nicholls piped up and audibly said, "That's not a bad idea!"
Yes, at the goading of a Liberal Minister, a member of the official opposition has stated in the legislature that people voting evolution out of the curriculum isn't a bad idea...
When McNaughton turned his line of questioning on the Premier, challenging her on the scandals that she has been associated with, Wynne chose to read a quote from something McNaughton had said the day before: "it's not the premier of Ontario's job -- especially Kathleen Wynne -- to tell parents what is age-appropriate for their children."
Wynne decided to ask some questions of her own saying: "What is it that especially disqualifies me for the job that I'm doing? Is it that I'm a woman? Is it that I'm a mother? Is it that I have a master's of education? Is it that I was a school council chair? Is it that I was the minister of education? What is it exactly that the member opposite thinks disqualifies me from doing the job that I'm doing? What is that?"
So now McNaughton has been painted as homophobic by the Premier and later the Minister of Education actually stated she believes he has been making homophobic remarks of late, in case anyone missed what Wynne had done to him earlier.
His comment let Wynne off the hook from what was actually a pretty good question and gave her an opening to hammer him and the PCs hard, doing more damage to his reputation and the PC Party than I think many will admit or accept for some time yet.
Ontario faces some serious challenges as a province and would do better if the opposition appeared strong, united and was focused on issues that matter to people.
The Premier was able to paint a candidate for the party leadership as a bigot, while another MPP volunteered to out himself as anti-science and the three candidates for the party leadership were shown to be offside with the party they are seeking to lead. The Liberals were trying to show Ontarians how unready the PCs are to lead or even effectively oppose, and as someone who would welcome change, it was scary to watch.
Monday was probably the best day the Liberals have had in a very long time and if the PCs are truly going to compete and rebuild stuff like this can't be how they do it.
There just aren't enough Ontarians looking to fight over sex education or who want to stand with folks who are actually homophobic or genuinely believe evolution should not be taught if people don't want it taught. They need to clear those last two issues up, very quickly and clearly.
Having lost four elections in a row, the Progressive Conservatives need to take moments like these seriously and decide whether this is how they want to be portrayed, or whether they are prepared to clarify where they truly stand on these things.
McNaughton needs to tell us whether Wynne's sexual orientation was what he was alluding to, and if not we need to know what about Kathleen Wynne precludes her from deciding what is age appropriate.
Nicholls needs to tell us whether he genuinely believes evolution should be put to a vote, or whether this was a failed attempt at sarcasm (we can only hope).
Patrick Brown, Christine Elliott and Monte McNaughton need to tell us what exactly about the curriculum is so bad and what they want to see changed. Saying "it's up to parents to talk to their kids about this stuff" isn't good enough.
Democracy needs differences of opinion and viable alternatives. The Progressive Conservatives have a duty to themselves and the province to provide an alternative to this government and need to take that responsibly more seriously than what Tuesday showed.
Many Ontarians have wanted change for some time, but can't get it until there is something that acceptable to enough Ontarians to vote for. The PCs need to focus on being that something.