As tag-team chefs and restaurant owners, Connie and my first "Fresh Blood" blog postings stem from four days out of our kitchen. This cyber-sojourn recalls what we took in, put out and up-ended on some recent and rare time away from Calgary to Toronto and New York.
Welcome to day one of our whirlwind four days' vacation. Hello Toronto! Our trip started with support of a protest called Soup Stock at Woodbine Park in Toronto, Ontario. The "largest food protest in the world" was staged as part of a massive community food to stop the construction of a megaquarry in Ontario that sparked media, community and social frenzy. it was recently announced that the protestation worked. The quarry is a no-go. We were happy to be part of the movement.
Throngs of people, dozens of chefs, great soup and cash raised for the cause, Soup Stock is all about pairing big hearts and bellies. So we fittingly prepped and packed almost a 100lbs of salt cured beef heart pastrami with roasted pork belly garnish with us from Calgary, checked into the Fairmont Royal York and turned right around to meet our mate Matty Matheson of Parts and Labour who was idling out front with hip-hop blasting -- a sure cure for jetlag.
Our first stop was at Parts & Labour. We ran in to pick up his 100 plus litres of Ramen Broth and succeeded to get it all in the back of his truck. We arrived at Woodbine Park and were greeted by some great volunteers with Soup Stock Shirts and mini golf carts to transport us and all our soup to our stalls. Swiss clock-calibre organization by Canadian Chefs' Congress and the David Suzuki Foundation was impressive and could be deployed as a model anywhere chefs and community on a massive scale rally.
We set up alongside Group of Seven Pastry Chef Bertrand (Bert) Alépée, owner of the Tempered Chef Catering and Consulting. Bert was born in Paris and trained with super chef Guy Savoy and Alain Ducasse where he learned the wonders of French gastronomy.
At 20 Bert found himself in Northern Ontario where he worked at some of the top Toronto restaurants and was quickly recognized as one of the city's strengths in pastry. We all lined up and started to get ready for soup service. Matty in charge of the broth, Connie back-up broth and runner and me the pork belly and bison heart pastrami garnisher.
Ramen is the rage in Toronto right now and the ramen broth by Matt was the real star of the show. It was hard to add something to an already perfect balanced dish but we did our best with our roasted pork belly garnish contribution. The Bison Heart Pastrami had accents of fresh ginger and crushed coriander. We sliced it by hand thinly, almost like Carpaccio style and laid it on top of the steaming broth. Our pork belly was roasted in its own fat and a rich broth for hours until fork tender. It was slightly smoky with the soy brine it marinated in but had some delicate sweet notes from the honey. Together it was true comfort!
The setting and energy were breathtaking with more than 200 top chefs from across Canada and over 40,000 protestors stoked about food all packed into one place. After scouting the scene, we encountered Toronto's famous El Gastrónomo Vagabundo food truck a first-stop. We met owner and Chef Adam Hynam-Smith and his wife, Tamara Jensen whose story echoed our experience with the Alley Burger and our food truck. Great to see Rob Rossi, Steve Gonzales and Dusty Gallagher from season one of Top Chef Canada. Plus culinary journalists we covet -- Amy Rosen and Valerie Howes and - firecracker Anita Stewart, founder of Food Day Canada.
This event truly showed that collectively chefs can change the way we eat for the better and do make an impact. Together we made a giant corporation feel our pressure and do the right thing. They are now committed to farming the land rather than destroying it.
Post-event, we packed up and re-joined Matty for a proper Parts & Labour behind the scenes look-in at the operations, space and soul of his place. Here you'll find what we call "food chefs love to EAT!" like Grilled Octopus with Paprika, Caper Berries and Mayo, Buffalo Style Quail with Stilton Sauce and Marinated Celery and Braised Lamb Neck with Pickled Mushrooms and Sour Cream.
Plus, their cocktails are classed among the city's best. Connie's favourite was the "Hanky-panky" with Gin, Italian Vermouth and Fernet Branca. In the basement, Live Music Venue is known for hosting punk bands and hip-hop parties. It would be the perfect place for a cook to unwind on their break mid-service. The look was very raw and unexpected given the refinement of right upstairs but totally fit the intent. It kind of brought me back to my youth in Regina in the late 80's early 90's where I would use to watch bands like Dead Kennedy's and SNFU. It was a very cool surprise!
By contrast, we worked our way up a ladder at the back of the building to the roof top where we found a full-on kitchen garden. This chef's paradise is tended by Matty's friend with incredible results: heirloom tomatoes prolific herbs including stinging nettle and other wonderful vegetables just ripe for the picking.
Our day was inspiring and crazy fun at the same time.
Congratulations to all involved for successfully contributing stopping the development that would put food and farmers second to industry. Join us for part two as we hit the streets of Toronto with Chef Matty as our tour guide. We will share all the hot spots we hit and some thoughts on the Toronto food scene in comparison to ours in Calgary.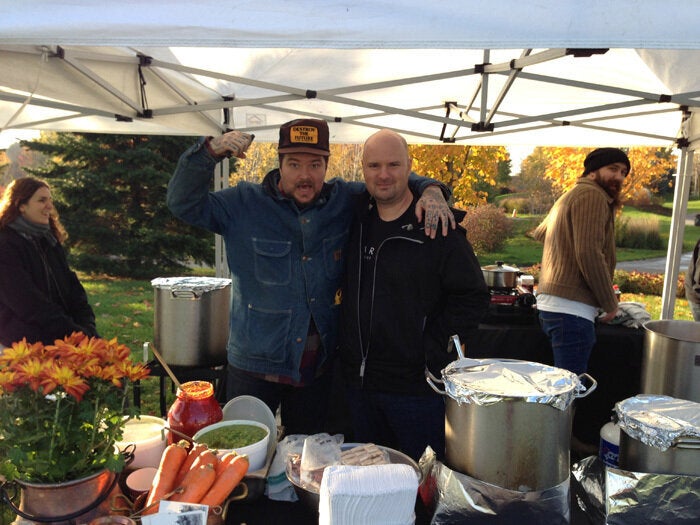 Connie and John's Roasted Pork Belly:
One whole pork belly from a Duroc Pig
1tbs cracked black pepper
1.5tbs minced ginger (rub only on flesh side)
1pc Star Anise (crushed in to powder)
Once rubbed seal pork belly in bag or plastic wrap and let sit in fridge for 24hrs
Remove from plastic and heat oven to 350F. Cook on deep sheet pan for 1hr until skin starts to blister.
Add chicken or pork broth to pan almost all the way up the pork but leave about half cm from skin so it continues to crisp. Cook for another two to three hours at 300F. Test pork by sticking a meat fork in it and if it slides out with ease you are all set!
Matty's Raman Broth Recipe:
Roast 5 lbs chicken carcass
Roast 3 large carrots it length wise, 1 chopped celery head, 5 large onions curbing half skin on
1/2 cup mixed peppercorns
1bunch thyme, rosemary, parsley
Cover with cold water bring to a simmer skim and simmer for 10 hrs
Pork neck stock do as the same as chicken
4 lbs kombu or about 10 packs of the good stuff
1 large bag dried shiitake
Handful of star anise and clove
Bring to boil and simmer for an hour.
Then the next day strain all stock and add all of them together and simmer for 3 hours. Check seasoning and acid and boom!