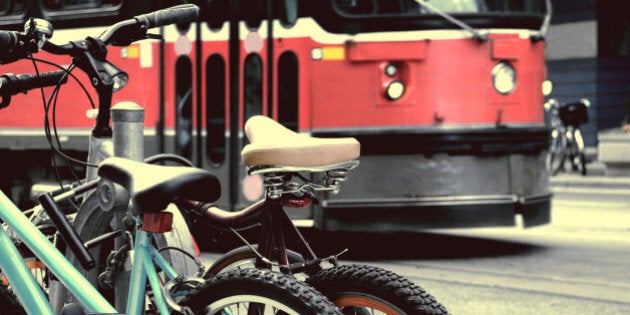 May marks what would have been the 100th birthday of renown urbanist and long-time Toronto resident Jane Jacobs. The occasion will be celebrated as thousands walk in more than 250 city tours in what may be one of the greatest citizen-led walks.
For most, it is a reminder of the values Jacobs laid out so well in her landmark book The Death and Life of Great American Cities, in which she articulated ground-breaking ideas about how cities function, grow and sometimes fail.
Jacobs interpretation of healthy cities described how the physical environment strengthens social networks of streets and communities. She believed in a less car-centred approach that brought people together to create a more intimate relationship with their city.
But a new interpretation of urban health should surely be one that also measures the well-being of its population through key health indicators like air quality and functioning, walkable environments. By this measure, city-building that focuses on walkability becomes a health issue as much as it is one of urban planning and intensification.
Design has an important part to play in this, making walking more popular through better street lighting, wider sidewalks and roads that are free of cars. A number of cities such as Paris and Hamburg have already experimented with car-free days and Oslo plans to ban all private vehicles from its city centre by 2019.
As Toronto continues its rapid growth, the limitations of travel by car are becoming ever more apparent.
Car-free cities are in fact city centres that offer limited or periodic access to vehicles on designated roads. Their primary goal is to reduce harmful emissions, but closing streets to cars also creates remarkable, impromptu neighbourhoods where people walk or cycle to their destination, increasing mobility, personal interactions and supporting local business.
In Bogota, Columbia, a city of almost 7 million people, one day a week is known as Ciclovia and sees entire streets made car-free for the day. Since 1974 this initiative has brought out over 2 million residents each week to walk, cycle, commute, socialize and celebrate their city. Ciclovia also offers an important opportunity to educate participants on health issues.
As Toronto continues its rapid growth, the limitations of travel by car are becoming ever more apparent. Average commute times have increased to 33 minutes as the city's main arteries struggle to keep up with the more than 1.1 million (2011) vehicles on city roads each day. While the rhetoric around change has been positive, action has been achingly slow.
An increased investment in bike lanes in the city is taking shape, but still represents just a small percentage of the population. Growth in public transit capacity continues to be at least a generation behind and while there are no quick fixes, a car-free day, say along a main artery such as Yonge Street, could be a valuable pilot. It would open up the city's most central downtown artery and set a refreshingly new tone in determining how areas of the city can function better when cars are not part of the equation. Importantly, a car-free Toronto would encourage us all to walk more.
Our harsh winters might not help, though people tend to walk more in extreme low temperatures than in higher ones. Moscow averages a lower temperature than Toronto, and yet Moscovites walk more. This is too bad, as walking checks so many of the boxes that Jacobs described including community, urbanism, sustainability, civic pride and economic well-being.
As in so many areas of life, we need some motivation to walk. Health programs, which have focused on fear of chronic conditions, now aim to reward.
Canada's iconic fitness program ParticipACTION recently launched UpnGo, a workplace-based program to encourage and reward activity. U.K.-based fitness reward app Bounts will even pay you to walk, with points redeemable at retailers Amazon, John Lewis, Marks & Spencer and, strangely, Pizza Express. Arguably, the rapid rise in health trackers such as Fitbit has done more to get us walking the magic 10,000 daily steps than a generation of advocacy.
When Jacobs famously said, "Not TV or illegal drugs but the automobile has been the chief destroyer of American communities," she had in mind the social fabric of urban society. Car-free urban centres, in Toronto and elsewhere, offer a valuable contribution to achieving the ideals set out by Jacobs, while improving the mental, physical health and well-being of its residents.
As Dustin Hoffman famously said in the iconic movie Midnight Cowboy, "I'm walking here!" Now it's time we all did the same.
Follow HuffPost Canada Blogs on Facebook