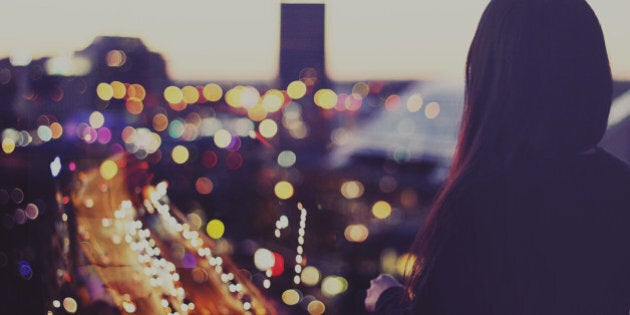 As warmer spring weather finally arrives, many of us long for the great outdoors with walks, bike rides and the Holy Grail -- cottage getaways. The notion is that if we could only spend more time out of the city, we'd be both happier and healthier. The reality though is somewhat different.
A recent report on life expectancy from the American Journal of Preventive Medicine makes clear that if you want to live longer, your chances improve if you live in a city over a rural area. How can this be? With pollution, congestion, higher cost of living and overall increased stress levels, surely living in a city cannot be good for you.
These are the facts. The U.S. study reveals city residents had an average life expectancy of 79.1 years versus just 76.7 for those living in rural areas. Further, this trend is on the rise, with the gap between city and rural life span increasing by a remarkable 400 per cent since the late 1960s. In 2000, Canadian life expectancy was 74 in rural areas versus 76.8 for those living in urban centres.
If we break down the report, it does start to make some sense.
If you need access to the best medical care, a city is the place to be. It's where the most sophisticated research and specialist hospitals are found. From Sick Kids Hospital in Toronto to Moorfields Eye Hospital in London, investment in medical care is overwhelmingly city-based. Clearly there is a role in understanding how to better serve rural communities, but medical care is experience-based, meaning that the greater number of patients seen in a city will inform the research and understanding of care today and into the future.
Want to make some money? You'd better head to the city because that's where the jobs are. In 2012, employment across Ontario increased overall by 0.4 per cent, yet city jobs actually increased by a healthy 1.4 per cent. This was offset by a large decline of 4.2 per cent in small towns and rural areas.
The correlation between income and wellness is best captured in the Preston Curve. This shows that if you can move people out of poverty their lifespan will increase. The curve does level off, so that high net worth individuals will not necessarily live longer than middle-income earners, but a level of income improves lifespan influencers such as nutrition, education and medical care.
While life expectancy is generally on the rise worldwide, among some it is actually in decline - even here in North America. Young adults in the US leaving school without a high school diploma can expect to see their life expectancy reduced by four years, according to a University of Illinois at Chicago study.
Poor education reduces employment options, and increases unhealthy habits such as smoking, drugs and harmful food choices. These are all identified factors in a reduced lifespan.
Educators mention an Urban Advantage to describe why students in cities have better outcomes than their rural counterparts. A wealth of cultural and social opportunities have an impact, as does the greater resources that are usually applied to urban schools. City schools have a higher percentage of qualified teachers and higher teacher-pupil ratios ensure graduate rates are higher.
As much of Eastern Canada was in a deep freeze this past winter, our infrastructure was sorely tested. Blackouts and burst water pipes became the topic of the day. It was a reminder of just how important a reliable infrastructure is to city life. Troubling though it was, access to essential support ensured that not a single life was lost during the disruption.
Here again, cities offer more to improve our wellbeing than rural areas. Clean water, efficient transport and comprehensive communications keep us safe, healthy, close to support and connected to others.
Yet worldwide, more than 1.4 billion people lack access to electricity, many of those in rural communities in the developing world. In India, where almost 70 per cent of the population live in rural areas, an urban female can be expected to live almost eight years longer than a male living in a rural area.
Surely rural living is healthier than city dwelling when measured by environmental metrics. Well, maybe not as much as we think. Cities have historically taken a bad wrap as environmental stewards -- think smog-filled London of the early 20th century and the congested Chinese cities of recent times.
It's not all good news for city dwellers. As the size and number of large cities has grown, some environmental problems and significant issues of urban poverty persist. Yet improvements are being made.
Until the 1980s lead was present in motor fuel. It made car engines efficient but had a major environmental impact as urban areas grew. Studies point to it also affecting mental behaviour in ways which we now better understand may have contributed to rising urban crime rates. However, since the mandated removal of lead from gas more than 20 years ago, documented crime has dropped across the worlds major cities.
Like the too vocal guest at a dinner party, cities are seen as a bit too brash, overpowering and generally full of themselves. This may be true, but there is tremendous potential in urban growth to advance so many areas of our lives from culture, to healthcare, standard of living and education. Plus, we'll also live longer to enjoy the benefits.