Ryan Lewis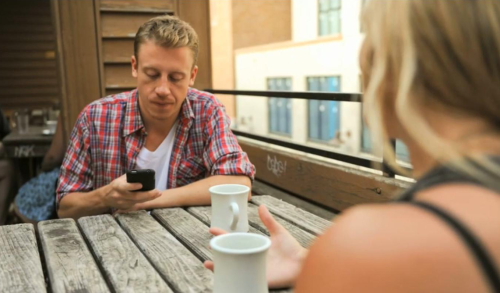 Still from Ryan Lewis' stop motion short Fake Empire which depicts the effects of technology on our daily lives.
Colin Drummond's post 'The Gift of Attention' speaks to how the devices that connect us are actually creating distance between us. For many people, our connection to technology has gone too far. By replying to that email, text, Tweet or wall post, we're missing out on real conversations with people in the same room as us. And worse -- we're saying 'I'm more important than you.' It's time to reel it back in and connect with the people that matter in our lives.
I believe the quick hits, instant responses and multiple streams of constant information create an addiction-like condition. The stimulation releases dopamine, a neurotransmitter similar to adrenaline, the New York Times reports. Repeated exposure leads to desensitization and the urge for greater levels of exposure. We crave the flashing Blackberry, vibrating iPhone or the audio cue that sends us running to check the latest message. Remember Pavlov's dog?
People are overwhelmed by the daily deluge and even advertisers are picking up on the growing need to disconnect. The article referenced at the beginning of this post wasn't written by a sociologist or anthropologist. It was written by Colin Drummond, former director of cultural and business insights at advertising "agency of the decade," Crispin Porter + Bogusky. Drummond now heads up planning at Ogilvy & Mather West. Advertisers know great work comes from exploring the tensions that already exist within our culture. Here in Canada, the 2009 GoRVing campaign featured the television spot below. 'Never confuse the devices that connect us with the moments that keep us together.' Good advice.
My parent's summer home is a dead spot. There's no signal. Just kayaks, the boat and bonfires. It's off the grid. No signal means no interruptions or distractions. Without your smartphone, emails, texts, BBMs and Tweets don't exist. Without the blizzard of noise there's room in your head for new thoughts. Things you'd normally be too busy to ponder. And more importantly you're focused on the friends and family with you. You live in the moment.
This coming weekend happens to be Labour Day. Seems the summer is over. So what are your plans? You don't have to hike the back country or kayak in the North Atlantic. Pitch a tent in the backyard with the kids, head to the local campground or just spend an afternoon in the park. Whatever you do, create some memories with those close to you this long weekend. Just make sure you turn off that phone.
Go RVing Commercial - 'Too Wired'
Photos from Labour Day Weekend 2010