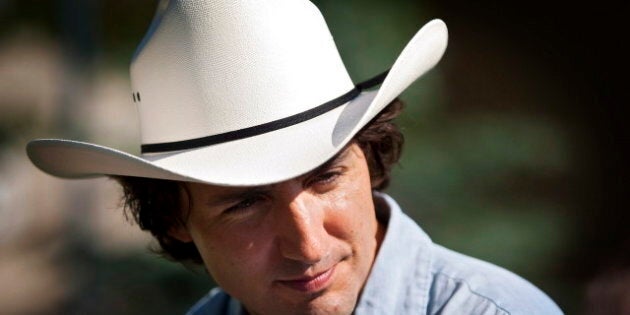 Reading week (actually, it's a mere two days off at UofT) is a quiet time on campus. But still Justin Trudeau managed to draw a crowd of 400. I had the privilege of moderating a discussion between Mr. Trudeau and the assembled students, with my friend, recent UofT poli-sci grad, Semra Sevi.
We asked some general questions about Mr. Trudeau's time growing up in the nation's capital -- "We had a big house, but knew, if my dad lost an election, we lost our house," -- and about his time as a teacher in British Colombia.
We also -- according to the assembled press pool -- asked some tough questions, including about his background as a teacher.
When asked what lessons he learnt as a teacher that are applicable to politics, Mr. Trudeau answered, "A good teacher, like a good politician, is not someone who stands up in front of people and says they have all the answers." Indeed, a good politician is someone who listens, he argued.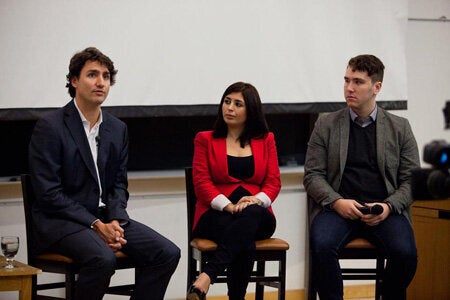 Justin Trudeau, Semra Sevi and author Jonathan Scott at the University of Toronto.
Photo Credit: Ryan Keplin
That honesty and humility is what has always impressed me about Justin Trudeau. I first met him in 2004, following a speech he gave at the Gryphon Theatre in Barrie, Ontario.
I was a high school student on a field trip to hear the son of a prime minister. I didn't really know anything about the 30-something speaker. But I remember being moved to volunteerism and action by his speech. He talked about how the impending climate crisis was an ecological issue and a question of political engagement on the part of my generation.
His argument carried nearly a decade later into yesterday's discussion at UofT.
Youth need to be engaged in politics in a way like never before. The issues we care about -- climate change, youth unemployment, inter-generational equity and the challenges of aboriginal education -- are what animate his campaign for Liberal leader.
He spoke about engaging youth, not by making politics "cool," but rather by embracing the reality that casting a ballot is decidedly part of the system -- and the only way to change it. Being engaged, Mr. Trudeau suggested, is necessary if my generation wants a government that shares our values.
He found a way to make a pitch for his Liberal-leadership candidacy, in between very direct and open answers to the audience's questions.
Justin Trudau wants to be a different kind of politician, one accountable to the grassroots of Canadian politics, who, like Obama (though he is careful to cite the difference between the comparison) connects with youth and progressive voters.
What did UofT students leave the event knowing? Justin Trudeau is a politician who listens to questions, engages and gives honest answers.
You could say he's a teacher we trust.