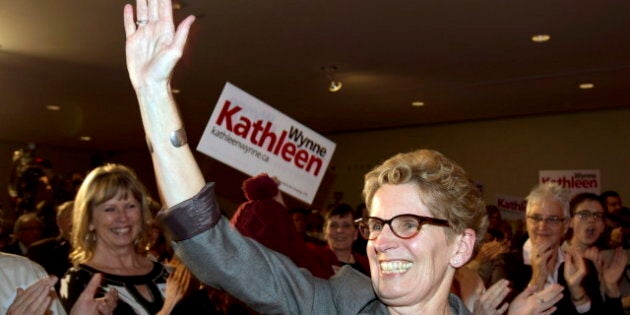 "I'm running to govern; I'm ready to win." That simple statement has been Kathleen Wynne's pledge in the Ontario Liberal leadership race.
There is critical work ahead of us to confront global challenges. Wynne has proposed a plan to govern, one that continues economic recovery in the face of a stubbornly weak economy worldwide. She plans to stay on the Liberals' fiscal plan to balance the budget and create jobs across all regions of the province.
But, Wynne stresses, we have to remember the "why" of a strong economy and that creating a stronger society means building a fairer economy. This means continuing to invest in Liberal priorities like public education, healthcare and infrastructure.
Having worked to make schools great -- as a mum, as a teacher, as an activist and as a politician -- and through her work as a mediator, many Liberals look to Wynne as the candidate to bring people together, including by repairing the relationship with teachers and school support workers so that students can continue to succeed.
While she's running to govern, she's also ready to win an election should the Opposition force one. But it's important to realize the people of Ontario in every riding have no interest whatsoever in yet another election. They expect MPPs to work together, to bring ideas to the table and to keep moving forward -- not to be subjected to the vagaries of campaigns.
It's no secret Tim Hudak wants an election. He wants to implement an agenda imported from the worst elements of the Tea Party. He wants to attack unions, fire teachers and nurses, close hospitals and stop progressive policies that help our students succeed.
Wynne isn't about to let him get away with his radical, right-wing plans.
The best way to beat Tim Hudak in the next election is to govern well and earn the trust of Ontarians. The best way to beat Tim Hudak is to govern Ontario well.
Faced with a Premier who works to bring people together to find common ground and a divisive Leader of the Opposition, Ontarians will chose a leader they can trust. The measure of trust is the ability to govern well -- with purpose, principle and for progress.
Our next Premier needs to be ready to govern on day one. We don't need elections now. We need to move forward with a plan to cut the deficit, create jobs and invest in priorities like healthcare and education. That's Wynne's plan.
It's also the way Liberals will win the next election: we'll earn it through hard work on behalf of Ontario families in the Legislature. The next Premier must bring back the Legislature on schedule because no one is comfortable with prorogation; MPPs need to be doing the peoples' business at Queen's Park as soon as possible.
Our focus needs to be moving forward, not electioneering. Because Wynne has a seat in the Legislature, she's ready to govern on day one.
Having governed well, having earned the confidence of all Ontarians, the Party will be ready to win on a progressive plan once again.
Wynne, the Liberal lioness of caucus, got into politics to fight Mike Harris and protect schools. She beat one of his cabinet ministers to represent her community at Queen's Park. Then she beat John Tory when everyone said her political career was over.
She's ready to beat this Conservative Leader of the Opposition too.
But first, her priority is to do the peoples' business at Queen's Park without delay.
She's ready to govern the province -- and having governed well, that's how Kathleen Wynne wins.