On March 6, 2017, Canada announced that it has extended Operation UNIFIER until the end of March 2019. When Foreign Affairs Minister Chrystia Freeland and Defence Minister Harjit Sajjan announced the extension of the deployment, the first reaction was to point fingers at Russia's aggression in Ukraine.
"The Government of Canada is committed to Ukraine and the Ukrainian people as they work to build a more secure, stable and prosperous country, and Canada continues to be at the forefront of the international community's response to Russian aggression in Ukraine," said Sajjan.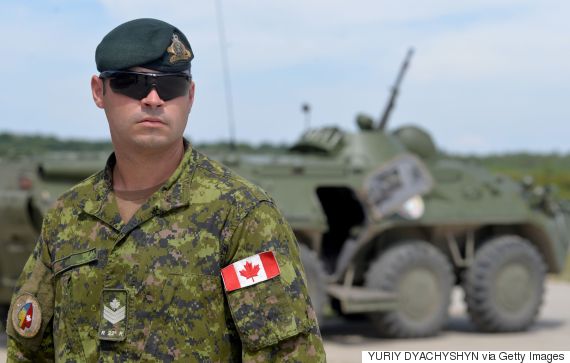 A Canadian military instructor looks on during Ukrainian military exercises at the International Peacekeeping and Security Center in Yavoriv, near Lviv, on July 12, 2016. (Photo: Yuriy Dyachyshyn/AFP/Getty Images)
Operation UNIFIER's mission is to provide military training and capacity building to Ukraine forces' personnel to support Ukraine in its efforts to maintain sovereignty, security and stability. Basically, Canada has sent troops to Ukraine to engage itself in a proxy war against Russia by training Ukrainian troops.
In response to the extension of Canada's deployment in western Ukraine, Russian Foreign Ministry spokeswoman Maria Zakharova raised Moscow's concern of seeing Canadian ammunition end up in the conflict zone in Donbass.
"We took seriously the decision of Canada to extend by two years the military mission in Ukraine... Instead of exerting pressure on Kiev to compel it to fully implement its obligations under the Minsk agreements, Ottawa frankly plays into the hands of supporters of a military solution of the situation in Donbass, and also condones the continuation of the bloodshed," Zakharova said.
By providing training to the Ukrainians, Canada is putting itself in a delicate situation.
Let's not forget that Canada hosts the world's third-largest Ukrainian population, behind Ukraine itself and Russia, and the first wave of sanctions after Crimea voted to rejoin Russia was a political move aimed at winning the Ukrainian-Canadian vote in the 2015 elections.
Adding to that, Canada was always a strong supporter of NATO -- and an original member of the alliance --and whilst the U.S. was already drafting a plan to influence NATO -- after Crimea reunified with Russia -- in an eastward march by stationing troops in the Baltic States, Canada quickly joined the coalition by providing CF-18s for the Baltic air-policing mission and ground troops in Poland to deter Russia's aggression in Eastern Europe.
The problem is that Russia's aggression in Eastern Europe is non-existent -- let alone against any NATO members. Many will argue that Russia was behind Crimea's reunification and it was all orchestrated by the Kremlin. Others will claim eastern Ukraine is all Russia's fault. Although they are clear evidence of Russian support to both the DNR and LNR, both regions are living in similar conditions that Crimea was prior to the reunification. When the Crimean reunification happened, it was pretty obvious that other regions in Ukraine would try and break off from a country who were actively trying to steer its population from their Russian roots and culture.
However, Crimeans have been suffering under Ukraine as the region was always pushed aside due to language issues. While Ukraine was introducing bills to make all official paperwork written in Ukrainian -- even in regions where the spoken language is Russian -- it is totally normal that the population of Crimea felt oppressed. The Ukrainian government was also trying to pass a bill to cancel Russian as the second language of the country.
For many Crimeans, Russian is the language they have been talking all their lives, and the Ukrainian initiative was clearly taken to slowly erase the second-most spoken language in its country.
So, shortly after Crimea rejoined Russia, Canada was the first to introduce a series of sanctions against certain individuals in Russia. By doing so, Canada thought it would make those individuals suffer and try to convince Russia to return Crimea to Ukraine. However, the people who were clearly affected by those sanctions are the Russian population itself due to a sharp decrease in the value of the Ruble and a failing economy.
The political message it sends is clear: Canada wants to destabilize the regions that share a border with Russia to cut its influence.
That said, the real issue here is the Canadian military response. By providing training to the Ukrainians, Canada is putting itself in a delicate situation. Ottawa decided to join the United States and the United Kingdom in western Ukraine with 200 soldiers who are actively training Ukrainian soldiers in NATO-oriented tactics. Indirectly, Canada and its allies are influencing Ukraine's doctrines and aligning them more towards the western standard.
By doing so, I believe the coalition has the intention of slowly integrating Ukraine into NATO -- a move that will completely destabilize the region and fuel a possible global conflict. For many Canadians, 200 soldiers are not a real menace and they are right. However, the political message it sends is clear: Canada wants to destabilize the regions that share a border with Russia to cut its influence.
When Canada reaffirmed its support to Ukraine recently, it basically affirmed that future dialogue with Moscow was not in the plans of the Liberal government. Even worse, by appointing Chrystia Freeland as the foreign affairs minister, Canada shut the door closed to possible reopening in dialogue.
Pleased to announce extension of Op UNIFIER, deploying 200 Cdn Armed Forces to #Ukraine to develop Ukrainian Armed Forces' capacity #cdnpolipic.twitter.com/HeCzq5lUJZ

— Chrystia Freeland (@cafreeland) March 6, 2017
At the height of the Cold War, Canada was still holding periodic diplomatic talks with the former Soviet Union and although both countries strongly disagreed with each other, they kept talking. Nowadays, Ottawa has decided to dispose of the diplomatic option and send a message of strong opposition and unwillingness to make the situation less delicate.
In 2019, Canada will most likely renew its engagement with Ukraine with the idea of getting the Ukrainian-Canadian vote for the election held during the same year. The decision was not a wise one, but one aimed at gaining votes and interfering in geopolitics between two countries who were once friends.
Follow HuffPost Canada Blogs on Facebook
Also on HuffPost: