 Exercise stopped being fun the minute it became something we had to do. It's human nature, and it's also the reason I decided to start my blog, One Fit City. Right now we need to figure out how to make exercise something that just happens. Sports and simply playing stopped being our main source of fitness years ago, and the overweight and obesity levels jumped to 25 per cent in Canada. My goal is to bring back fun and create a healthy nation, One Fit City at a time. It's the start of operation: find your fun by doing what works for you.
This is a story about how Dana White, Twitter, and MMA are going to save the world, and help my goal.
My 32nd birthday is kind of a big one for me. Although I don't have the top rated TV fitness show like I thought I would by the time I turned 30. I do have a radio show, blog, and tons of TV appearances under my belt. All of them revolving around the philosophy that athletic training, having fun, and sweating a little more will get this nation back to healthy.
BLOG CONTINUES AFTER SLIDESHOW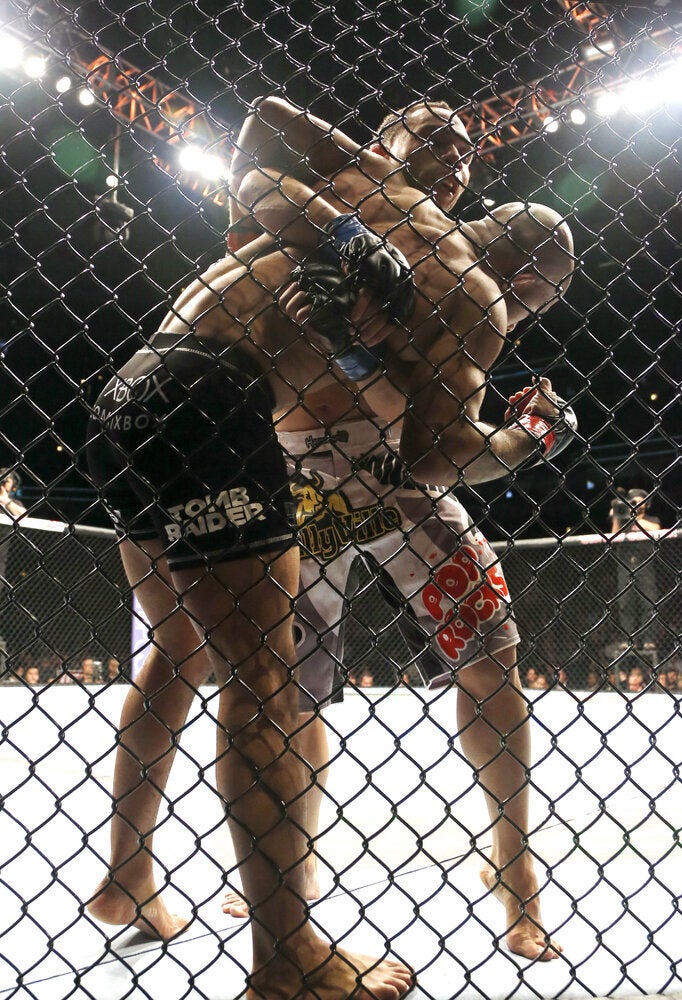 The problem is excuses. Excuses on time, finances, and plain not wanting to do it. Why can't we make time for fun, and find ways to do it inexpensively. That's what I want this to be about. Fun, and learning new skills with the body.
Dana White is the President of the UFC. If you head to twitter you will see him interacting and influencing over 2-million people. What's the message? All things MMA. He's getting his fans to watch UFC, try it before you talk trash about it, and everything I see the guy doing looks like fun. Do I want the youth of the nation to swear as much as this guy? No. Do I want them to get out there, have a dream and see it come true? Yes.
The UFC's promotion of MMA has kids very aware of the sport. It's starting to make its way into movies, television and mainstream clothing. Why is it good? Every pro MMA athlete I have trained, and been around does two things with meticulous precision. Eat clean and exercise regularly. The youth that have found Dana White, MMA, and the UFC are also finding local kickboxing schools, circuit training, and a sport to dream about being involved in.
After being diagnosed with Leukemia, and battling asthma I begin to gain weight. In fact, in Grade 8 my waist was 38 inches. I couldn't play hockey for a multitude of reasons, and now I get mad at the pros who refuse to play for the kind of money most people try to accumulate over a lifetime. All I wanted was to play the game, but couldn't. That led me to start into Taekwondo at 14 years old. The classes were cost effective, the uniform was easy to keep clean, and I practised for hours on a heavy bag or my brother. Those hours of punching, kicking and jumping helped me shed the weight that all the drugs/pharmaceuticals from being a sick kid put on. Later, I moved to kickboxing and after watching the UFC tried jujitsu. All of it has made me as fit as you could want to be in one life.
That weight loss, discovery of fitness, and a wake up call young that health is everything guided my career. That career has me training people with weights to be functionally fit, and promoting the use of kickboxing for fun and high intensity cardio. MMA helped me beat the fear that cancer would come back, and it got me lean enough to be comfortable without a shirt on.
The more I am around the sport of MMA the more I realize it has a partial answer for the obesity epidemic. Of course not every single person will fall in love with kickboxing, wrestling or the functional training that the athletes use to get stronger, but even reaching a few people is better than none. With the pay-per-view numbers of the UFC, there is a lot of people who know about the sport. Now to get them to try it.
Most fighters come from average backgrounds, not a lot of money to sink into typical sports. Most people can get a heavy bag, gloves and start getting to work easily. Then its finding the gym, and in most cases, new friends. Martial arts takes in all kinds, all levels, and all people. I have been in classes with Pro Fighters, grandpas, and single moms. I even have pro football players boxing in the off season for fitness and something completely different to challenge them mentally. Also, it gives the dream of pro sport to guys that genetically can't play hockey, football, or basketball. The UFC has a men's division for 125-pound fighters.
The point of this long winded post is this. You have to find your fun. Kickboxing, wrestling, jujitsu, karate, all of the martial arts will challenge you mentally and physically. They are simple to begin, and impossible to master. There is no better sweat, then the sweat that comes from an MMA-based circuit workout. If you have searched all the gyms out there and still hate exercise, do me a favour and try MMA. It's the reason I got involved with Nexersys. I want to bring Cardio Kickboxing into everyone's home. Kick your workout into high gear, it works for me. Dana White, if you are reading this, thanks. My fitness level and career took off because you slaved away to create the UFC. I hope it really does change the fitness of the Nation.