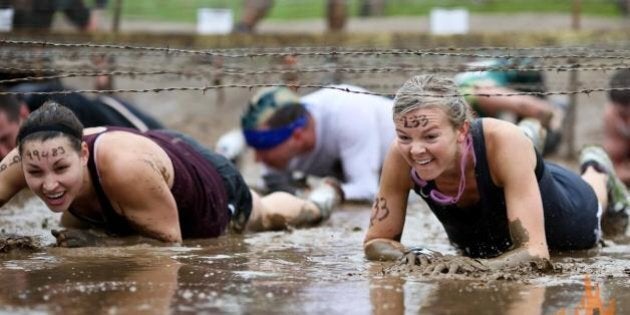 The answer to our inactivity crisis lies in the great outdoors. It's something that I am becoming more sure of with every passing day. We need to get back to being human. Maybe not every working day, but ladies and gentlemen, we have forgotten who and what we are.
I can not begin to describe my excitement for the onslaught of people who are putting together things like Tough Mudders, Mud Runs, and anything else that has people outside, running and performing obstacles. This is what we were designed to do. Have fun, be outside, and get messy. I'm going to give some training tips on mud runs and outdoor event training. But first, here's the background on the Manitoba Mud Run.
August 9 marked the second annual Manitoba Mud Run in Dauphin Manitoba. The event was designed by Dr. Kevin Steinbachs, Clayton Swanton, and Steve Sobering to raise funds for the Rotary Club of Dauphin, those funds go towards active living initiatives in Dauphin. How cool is that?
It was amazing to hear the stories from the first annual run, and the lives changed to active living and health. Not people going to the gym to change their physique. These people that I had met who lost 30-80 pounds did it accidentally. They were out getting active, having fun, and doing it at their pace. This event is designed so you can finish, and it's designed to encourage people to explore Manitoba. There were almost 1,000 participants, every single one of them raising funds for MS, and every single one of them outside to run 10km and get over, around and through 22 obstacles. The event doubled from last year, so yes, there will be a third annual.
You need a great team! Thanks Mick, Rod and Brennan for helping Tess and I rock the run
You will get dirty -- 22 obstacles that put you deep in the dirt.
Running in the mud is completely unique, it's not like running on pavement. Here's some tips to make your run as fun as possible.
1) Train by finding some local trails, get off the pavement as much as possible. It's better on your joints, and a treadmill just won't cut it. It's not the distance, it's the terrain that gets you.
2) Incorporate some pushing and pulling exercises into your training. You don't need a gym, just somewhere to do some chin ups, push ups, and other body weight exercises. Ideally, mix these into a run. Try jogging a mile then finding a place to do 10 push ups, and five pull ups. Do that four times in a four mile run and you have a great 50 minute workout routine.
3) Put some sprint training into your workout routine. Typical pace work outside isn't going to cut it for an outdoor adventure race. By that I mean, simply running for 45min to an hour straight and covering four or five miles is totally different than a race like this. Run at different paces, sprint between trees, then slow down. Keep the variety going. There are times during the races where you are going up steep hills, and times where you are running through thick mud. Keep that in mind while training.
4) Rest and stretch. I find that anytime people take up running they forget to relax and recover. I prepared for this event with Elite Performance in WInnipeg. As a personal trainer, I'm a big believer in working with other trainers to ensure a solid total body program. Having someone else tell you to rest, or remind you to focus on stability exercises sets the tone for success. Have the best put together your best training program. I also visited Yoga Public in Winnipeg to take time to stretch completely. I wasn't looking for more exercise, I was looking to unwind. They have a program called Yin Yoga. It was about breathing, relaxation and releasing muscles. The two together made for an amazing run.
The way you prepare sets the tone for how you enjoy your event day. It's the reason we had so much fun, we were well prepared. This is also the reason that I've been telling people to ditch the before and after fads. I want to see photos on the Internet that have people doing things. Do yoga, go swimming, go kayaking, get out and hike. Show off your health, and make memories. There are so many things out there to see and do. The fitter you are, the healthier you are, the more you can enjoy the moment. Those photos are inspiring. Feel free to put up your accomplishments, but let's stop trying to sell each other products and pills with our amazing transformation photos.
I have to say a big thank you to Tourism Dauphin, and The Manitoba Mud Run, it's been a while since I have felt the sense of accomplishment I did after doing that run. It was a big rush, and I can't thank everyone enough for the work they put in.