Sean Kulchar
Nestled along Spadina sandwiched by a series of Chinese bakeries and dim sum restaurants lies a little gem that seems like it would be more fitting one street over in Kensington Market. ARTarium, a brand new art space owned by Sean Kulchar and his wife Emily, brings a creative twist to the oft predictable Chinatown.
This is not your standard art gallery that features one artist at a time with an entire exhibit. Instead, ARTarium aggregates a wide variety of different artists, even showcasing drastically different mediums. The space is intriguing and overwhelming all at the same time.
While the spot was preparing their debut early this summer, anyone walking by couldn't help but look inside and wonder what was becoming of the space. Sean's vision has now come to fruition, and he was kind enough to let me peek behind the curtain.
The concept is rather simple, as explained to me by Sean.
'If someone is interested in getting their art in ARTarium, whether it be paintings, drawings, jewellery, apparel, body care, music, photos, videography, literature, it's all the same process. You can either send us a sample, or a link to your portfolio...the process is really just about showing us what you have, and then we see if it's a good fit for the store...and the next step is once the artwork is approved we can talk about budget and talk about what kind of spot in the store would be a good fit for you.
They also allow artists to sell novels and greeting cards on consignment.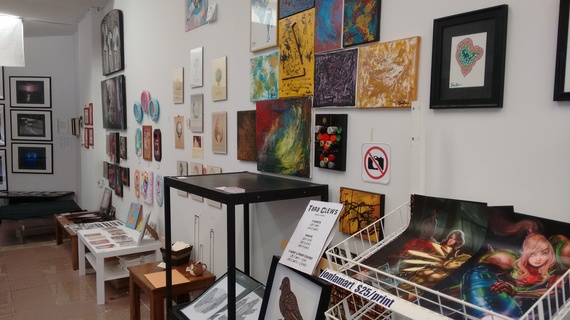 The location really is brilliant. Smack in the middle of OCADU, the University of Toronto, and Kensington, ARTarium has creativity plastered on every border. As if showcasing artistic talent every day isn't enough, they also host an event on the last Friday of every month called Fun Zone Time. On Sept. 25, there will be an opportunity to artists and musicians to perform live and showcase their work to the crowd. It's truly a win-win for both venue and artist --  the website cleverly states "ARTarium won't charge you to perform, and you won't charge ARTarium either." The venue is working on attaining their liquor license in the near future, so that patrons and artists can enjoy a beverage while taking in the exhibits and performances.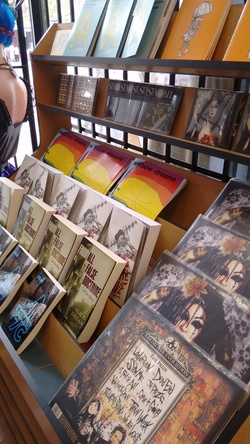 One of the things I eventually noticed about this spot is something that will keep both artists and visitors coming back regularly --  everyone involved in the project is friendly, warm, and welcoming. My conversation with Sean was genuine, and he spoke like a man with good intentions and absolutely nothing to hide. It became increasingly clear that this concept wasn't for personal gain or financial betterment, but instead for the progression of the Toronto artistic community at large.
His direction is truly divine. I asked where he wants to see the place in two years, and he responded quite simply, "In two years I don't want to see any white walls."
If he keeps up with this passion and dedication, in two years he's going to need more walls.
Photos by Sean Kulchar
MORE ON HUFFPOST:
Art Gallery of Ontario Is Art Alien Project