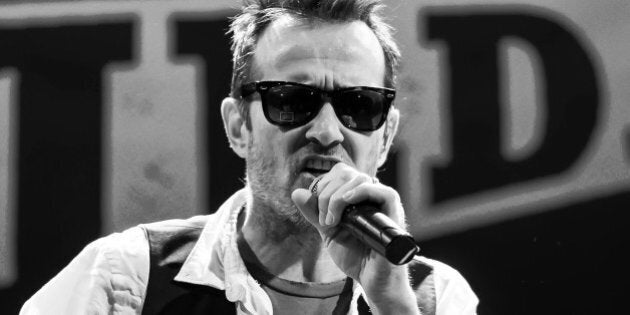 "Mary wanted out of the marriage -- the agony of our divorce went on for years -- but Mary still took an interest in my career. Always has. Always will. Ka-ching. Ka-ching."
The music community is once again in shambles, mourning the loss of another creative genius. It has happened numerous times before, and no doubt will happen again.
The concept of the tortured artist, riddled with mental illness and drug addiction, is a trope that seems all too familiar in the rock music community. It takes more than two hands to count the number of musicians that have been swallowed by their demons. Scott Weiland lost the battle with his. Cobain before him. Bonham before him. Hendrix before him. The list goes on.
Dave Navarro, founding member of the band Jane's Addiction, broke the news first via Twitter. "Just learned our friend Scott Weiland has died. So gutted, I am thinking of his family tonight." And with that single tweet (which has since been deleted), the world lost another great. Apparently, while the world was reeling in shock trying to comprehend the news, his ex-wife was writing a letter.
Mary Forsberg Weiland, a model, was married to Scott Weiland from 2000 until 2007, and they had two children together in that time. Evidently she fancies herself a bit of a writer, since she wrote a memoir back in 2010 entitled Fall to Pieces: A Memoir of Drugs, Rock 'n' Roll, and Mental Illness.
This time around, the letter she chose to pen was a scathing, poignant piece, pleading with Scott's fans not to glorify his death. The death of a man with a mental illness. The death of a man who struggled with drug addiction for the better part of his life.
While I don't disagree with her sentiment, I truly believe the way she went about it was harsh, vilifying and very poorly timed. The world is mourning the loss of a talented artist, remembering the albums, the concerts and everything he has contributed to the music community. Now we're being told not to.
Mary says, "In reality, what you didn't want to acknowledge was a paranoid man who couldn't remember his own lyrics and who was only photographed with his children a handful of times in 15 years of fatherhood."
What she fails to realize is that as fans of his music, his personal life is not only largely unknown to us, but also largely irrelevant in the grand scheme of things. Did she spend day after day hoping that the world would boycott the Stone Temple Pilots and Velvet Revolver (largely her idea) in order to shock him into sobriety?
She goes as far as to say that all the years immersed in Scott's multiple mental illnesses led to her own depression, as if he woke up one day and decided that mental instability was a path he wanted to take willingly. Her memoir talks about how she slipped into addiction alongside Scott -- again, as if this were his fault. The woman who was a model decided to marry a rockstar with a known drug addiction, and was surprised and appalled by the end result. She decided to bear two kids for this man who struggled with mental illness and drug addiction, and was shocked when he didn't change.
Mary mentions that he often missed child support payments, when in reality Scott was coughing up $60,000 a month according to an interview with the musician. She mentions that his two children have never been to his house, and they were not invited to his wedding when he remarried. Is it unfathomable that he didn't want to involve his kids in the struggles he faced?
I can empathize with her to a degree because I'm a reasonable human being. I really can. The man has just passed away, though. Mere days ago he was found dead on his tour bus. I loved Scott Weiland. I loved the Stone Temple Pilots, and later Velvet Revolver. I was not married to him or involved in his day to day life, I'm just one of millions of fans. Am I not allowed to mourn?
Days after his death, his former wife released a letter in the beast that is Rolling Stone, begging us not to glorify or romanticize the death of a rockstar who struggled with mental illness and drug addiction.
Do you not think it's even more detrimental to vilify this man? A man who wrestled with paranoia and bipolar, a man who repeatedly battled severe drug addiction?
Maybe he wasn't a perfect father, but who are you to tell the world how to feel about the loss of Scott?