In the interest of full disclosure, Rob Ford used to be a colleague of mine.
Not in the traditional "just us gals", bento box sharing, Friday power lunch kind of way. But on paper, we go way back.
I chatted with him three times, worked with him once and nearly soiled myself more times than I can remember when his promotional faux cardboard cutout seemed to animate among the unlit hallways of morning radio.
Now, I have a muffin basket with Rob Ford's name on it as he is the most unlikely of inspirations which lit my creative fire.
I left my job at a top Toronto radio station two weeks ago because I wanted to create a TV show that shifts power from the suits to the people, a show that harnesses the power of the millions of incredible ideas floating around the heads of all of us from soccer moms to Joe the Plumber to Paris Hilton. Wait, except that last one.
After watching Gawker's Indiegogo campaign successfully raise enough money to purchase what was thought to be a video of Rob Ford smoking crack cocaine I was in awe. To think that thousands would fund the unproven with their sole reward being intrinsic, well, that set my gears grinding.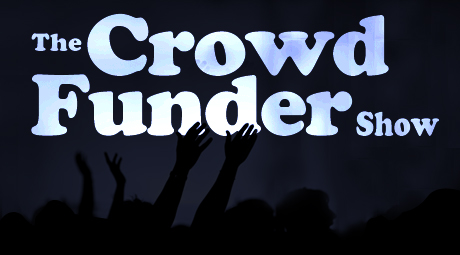 But this show had to be different. The show had to move beyond campaigns bubbling around on cyberspace and towards a symbiotic relationship, one that had to include the reigning platform and magic of television.
Secondly, the next great idea had to be free from financial constraints, donor fatigue and karate chop all of the negative things I have read about the industry.
Those stigmas mostly come from disgruntled campaigners that don't have the resources to parade their ideas to a large audience. According to industry stats, many crowd funding campaigns are only able to achieve about 20% of their funding goal, mostly from friends and family. Getting them to the proverbial masses was my elusive goal.
But the biggest hurdle is driving campaigns forward is the associated perks. For projects that offer intangible perks such as a 'thank you' on Twitter or a credit in a movie, contributions rarely tally more than a token dollar or two...and you'll need a lot of contributors at those levels to crack your funding goal.
That's where sponsored funding perks make sense. People will contribute more, even to a stranger's project, if there's added value connected to the positive feelings they'll get by helping make someone's dream come true.
Basically, a supporter can contribute $50 and receive a $50 gas or grocery voucher that has been purchased by us at a discount from one of our show sponsors -- the difference between the discounted cost and the face value of the voucher goes into the campaign's funding bucket.
Contributors will feel good about helping launch a great idea they believe in, and can do so by simply contributing a sum of money in return for a gift card or voucher of equal value they can use to make everyday purchases they already intend to buy.
Most individuals have a budget for this kind of giving, so if you make contributing a no-brainer, then people can afford to support any project they believe in.
Many are predicting crowd funding could eclipse the role of venture capitalists in the coming years.
The power is shifting from the "suits" to democracy and the people and it's going to be one hell of a ride.
The Crowd Funder show will launch in Southern Ontario, Toronto and Western New York on the local Fox affiliate to an estimated 3 million households starting September 22nd, with the rest of Canada and the United States rolling out right after.
Those interested are invited to apply on our website at: www.crowdfundershow.com