Anatoliy Babiy via Getty Images
Brand. It's an abstract concept surrounded by many myths and much misinformation. Chief among them is the assumption that a brand is first and foremost about a logo, tagline, or mission statement. Yes, these things matter, but not nearly as much as you might think.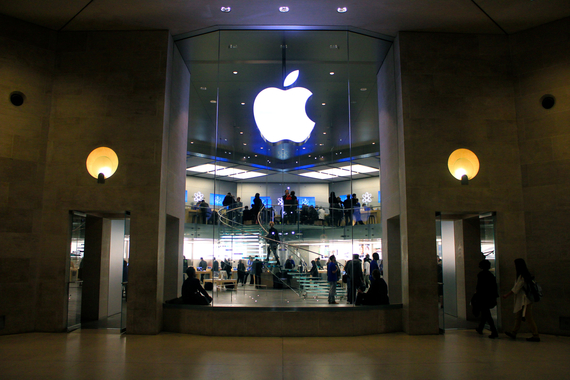 What many fail take into account are the innumerable other touch points with consumers that define their impression of an organization. Every touchpoint is a unique opportunity to differentiate yourself -- to show what makes you different from the rest.
Your brand, and the experience it produces, is about how you make your customers feel. Do experiences contradict each other and confuse potential and current consumers, or are they consistent and positive?
Which leads me to content, an increasingly used brand experience tool. Both the demand for, and the quantity of content produced over the last few years is staggering. According to eMarketer, in 2014 71 per cent of marketing professionals indicated that they would increase their investment in content marketing.
How much of this investment, however, will be dedicated to better identifying touch points and meeting the needs of individuals at those touch points through better content, rather than simply increasing the frequency and quantity of content produced? To do so would ignore the popularity of services like AdBlock, Netflix, and satellite radio. This, friends, is what the unfollow and block features were made for. People don't like being bombarded with irrelevant or useless information.
Conversely, people are exceptionally grateful when content is both relevant and insightful. One brand that realizes this is HubSpot, which blends both quantity of content with quality.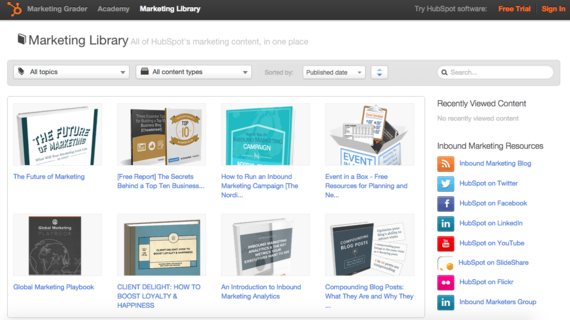 There are numerous videos, blog posts, whitepapers, and slides on virtually every topic of interest to their market -- and each and every one of these provides utility of some sort. The content is interesting and practical, contributing to the consumers' perception of the organization as one that understands its markets' needs.
To stand out from the rest and to produce a consistent and favourable brand experience, you will need to be purposeful, consistent, and responsive.
With those guidelines in mind, you should think outside the box when it comes to content. There are numerous types of content, and depending on your organization, its markets and its goals, each presents its own opportunities and risks. Below, you'll find some inspiration.
Brand-Produced Content
Brand-produced content can take many shapes and forms. Videos, blog posts, whitepapers, ebooks, email newsletters, photos, case studies, infographics and slides are all examples. Ultimately, no matter the form, there should be some utility value to the content -- that is the say, it should be useful and offer the consumer some kind of value, for free. Some brands choose require email addresses or other contact information for content that requires more labour-intensive preparation, or which provides exceptional value.
The goals of brand-produced content are varied, but usually aim to prove one's expertise in a given area, to offer information to markets, to prove an understanding of the market, and/or to establish rapport. To do so, make it clear that your brand is producing the content -- but don't be too pushy or needy with the sale. The idea is to let the content speak for its self, and when that individual is ready to buy, they will remember you.
User Generated Content
User generated content (UGC) is content that is produced by the public. With the increase in branded content, it is thought that this is really the future of content and social marketing. As people become increasingly bombarded with and weary of branded content, the best way to stay in the conversation will be by creating experiences offline that get people talking, rather then by talking about yourself and hoping others will join or share what you have to say.
UGC can be produced through campaigns, whereby a brand asks the public to create some form of content to enter a contest, for example. But the best user generated content is that which doesn't need to be asked for. Extraordinary offline experiences produced by a great product, service, or customer service experience will usually do the trick. And it's far more authentic than a campaign with UGC calls-to-action.
UGC is easier for some organizations to generate more than others, but a bit of creativity can create situations where your current and potential customers are eager to share their experiences with their peers online.
Consumer/Brand Collaborations
Content collaborations between consumers and brands are fairly new. It took a while before brands were willing to accept that they no longer had full control of the conversation around their brand, and co-produced content requires a degree of comfort in, and confidence in ones' brand more than other strategies.
Examples of co-produced content include Q&A sessions, or webinars with participative components. While the brand may steer the overall direction, they also invite discussion from the public. These types of sessions offer several benefits, including the ability to generate direct feedback from your markets, as well as piggybacking on the power of multiple personal networks, rather than just the brand's own network. Social media-based Q&As, such as those on Reddit, or Twitter are particularly useful in that regard, since the session requires participation across multiple users' accounts -- not just the brand's.
Beware though, as this type of content is less controllable than others. Depending on your industry and your organization's reputation, this may or may not work for you. Consider the possibility that someone may ask questions that you don't want to answer, and that those questions will be public. If you're conducting an AMA on Reddit, you might want to consult NPR's Social Media Help Desk guide.
And here's some advice from Twitter.
Brand/Brand Collaborations
Collaborations between brands are nothing new, but collaborations on utility-oriented content are. If you work in an industry where buyers of your product or service often collaborate with, or consult with other organizations who are not your competitors, why not offer them a one-stop-shop? Not only does it make you both look good, it allows you to capitalize on each other's networks.
You'll want to ensure that you and the other brand share similar values of course. Take co-branded content as seriously as you would any other partnership.
Much like single-brand content, co-branded content can take many forms. The only difference is that you will both be contributing to its development. As always, ensure that the content offers some kind of value to your prospects, or at the very least is highly entertaining.
Above all, remember that the experience your brand produces will have a direct correlation with the value consumers attach to your brand. So focus on quality above quantity, and give people a reason to care!
Joseph Donia is a digital marketing consultant with a passion for social technology and a knack for finding meaning in numbers. He creates digital experiences for brands that produce serious results. Follow him on Twitter, connect with him on LinkedIn, or email him at joe@connectonline.ca.
ALSO ON HUFFPOST: