r_drewek via Getty Images
A portmanteau of "pink" and "whitewashing," pinkwashing is sometimes used to describe organizations who tout support for LGBTQ causes to distract from less ethical endeavours, or who do so without backing their messages through appropriate actions or policies.
In the corporate world, it's easy to get excited by cause marketing. It's a historically unique time to be engaging the LGBTQ community. But not doing your research beforehand can result in a catastrophic embarrassment.
Think Coke, McDonald's and Visa's multi-million dollar, hijacked Winter Games campaigns.
So how can you as an inclusive, diversity-loving organization reach LGBTQ communities in the right way? Here are five tips:
1. Align Your Messages and Policies
A campaign supporting equal marriage by an organization that doesn't offer employment benefits to same-sex couples sends the message words are more important than actions.
Take the time to review your organization's policies and procedures to see where improvement can be made. Consider working on those discrepancies before launching your campaign, to minimize liability. Knowing how inclusive your organization is in relation to others will help you decide whether you need more time to reach minimum standards.
Human Rights Campaign offers a handy tool called the Corporate Equality Index which measures corporate inclusiveness. In Canada, some companies have partnered with Pride at Work Canada, an organization dedicated to improving the climate of inclusiveness for LGBTQ employees.
2. Choose Your Visuals Carefully
LGBTQ individuals come in all shapes and sizes, colours and creeds. Your visuals should reflect this. Think beyond stereotypes to include include men, women and trans-identified individuals of different subgroups. Nobody likes to feel left out!
Better still, go beyond LGBTQ-specific ads to include minorities in your regular communications materials. This sends a subtle but powerful message that you're not afraid of showing your support for equality.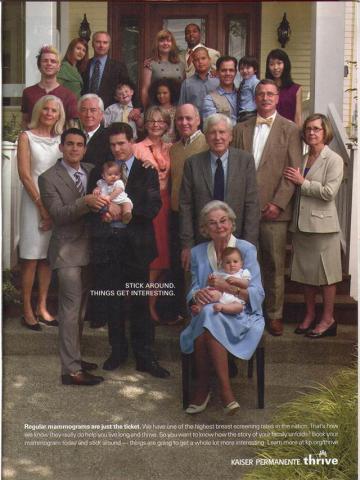 3. Address an Important Issue
Put your money where your mouth is. There are plenty of causes to support within the LGBTQ community. Homelessness, self-harm, drug dependency and HIV/AIDS are just a few of the issues the community regularly struggles with.
Go beyond words to show your support through awareness and fundraising campaigns, sponsored events, or partnerships with LGBTQ organizations.
4. Start From the Top
Campaigns targeting LGBTQ communities will only be successful inasmuch as leadership wants them to be. Fostering an inclusive culture from the top down is key to success.
Diversity has a positive cultural impact on an organization, and your employees are among your best brand ambassadors. The more enthusiastic and supportive they are, the easier it will be to launch your campaign.
TD Bank's former CEO Ed Clark isn't shy about his support for LGBTQ causes. He's engendered trust and loyalty among his staff and the LGBTQ community alike.
5. Avoid Ties With Anti-Gay Individuals or Organizations
This takes some sleuthing. Organizations that embrace LGBTQ causes must ensure that they don't have any political, economic or social ties to anti-gay individuals or organizations. Organizations have often done so unknowingly.
The bottom line? Always do your research, match words with actions, and be authentic.