Shutterstock / Kostenko Maxim
Recently, you may have come across the term "disposable content" or "disposable social media." Although the terms have been around for years now, the popularity of platforms like Snapchat, Meerkat and Periscope have given it increased exposure.
Disposable content is intended to be less permanent than content shared on other platforms like Facebook and Twitter. It encourages users to share without thinking too much. It's fleeting and fun; sometimes naughty -- all contributing to its popularity among teens.
Users of Snapchat, Periscope and Meerkat are more flippant about what they share -- they're empowered by its fleeting nature. And anonymity is built right into the platforms. There is no Timeline, no place to access archived posts, and very little room for personal information. No educational background, no workplace history, no favourite films or music.
The power in this is that it allows people to express themselves in ways that they might not otherwise be comfortable. It gives recipients an opportunity to see a version of the sharer that they wouldn't usually be privy to. As summed up by Ad Age, it's not a post, it's a gift.
One might argue that disposable content is a more pure iteration of social media -- representations of people are raw and unfiltered. You wouldn't pose in front of a backdrop for a Snapchat photo. You wouldn't have a production crew for a Periscope video (we hope).
In my first week on Periscope, the early adopter of social media and famed Canadian astronaut Chris Hadfield answered my question about space suits. I watched the electronic rock duo Phantogram back stage at Madison Square Gardens preparing for their show. It was exciting. It felt personal. It was real.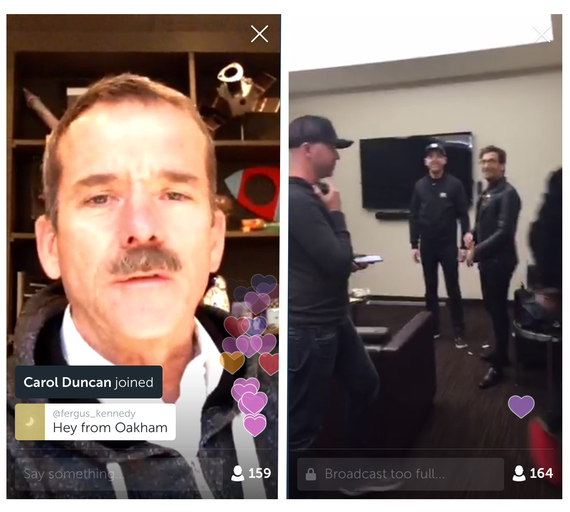 Perhaps disposable content is a reaction to the highly curated Facebook, where seeing people's most polished moments repeatedly, has been associated with depressive symptoms.
For some time now, marketers have been talking about the importance of brands being authentic on social media. However, on most platforms, this is easy to fake. Cleverly cut videos don't fool anyone, but we are used to seeing them, and brands get away with this approach. But not with disposable content, which might explain brands reluctance to adopt the incredibly popular Periscope.
Social media is evolving. The trend toward disposable content, perhaps, isn't a trend toward the disposable, but a trend toward the authentic and real.
Claims that social media is dead aren't just pessimistic, they're naïve. People are dynamic and so is the Internet. If brands and agencies want to stay in the game, their approach to social media will need to evolve. So-called conversations will increasingly and disproportionately take place between fans, rather than just between brands, or between brands and fans.
Just as in real life, people prefer to interact with others who show vulnerability and authenticity. That means that we will need to give people something to talk about.
This is worth talking about:
And this:
Not this:
The promises of social media democratizing communication aren't dead yet.
ALSO ON HUFFPOST: