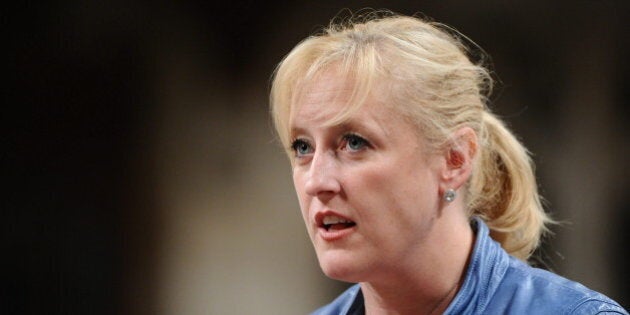 The Government of Canada does not have a high-speed rail (HSR) policy. Surely it's time it considered one.
Clearly the Government of Canada doesn't have an HSR policy, but surely it's time it did the minimum? A basic and badly-needed step would be to lay the policy and political tracks for a future ''blue sky'' proposal regarding high-speed rail.
Lisa Raitt, Canada's Minister of Transport, could commission a discussion on high-speed rail, a generous round table of national and international experts, including policy experts, elected officials, public servants, and/or potential investors -- surely she would obtain some useful and actionable advice. Considering the Minister's background, she may be the smartest person around that table. This is why she should be all over this.
In light of our strategic relationship with our partners to the south, the Minister could also consider a separate bi-national round table with the appropriate stakeholders in both our countries, to consider transnational issues of mutual interest. On the passenger side of the equation, to reflect on a high-speed passenger rail in North America; between Vancouver and Washington; Toronto and New York, and/or Chicago, based on the London-Paris-Brussels model in Europe. On the freight side, how could HSR play a larger role in meeting some of our combined challenges? Read oil transportation.
Using a new HSR infrastructure to transport more crude in a safe and sustainable way could kill two birds with one stone, and anyone looking to fund the building of passenger HSR could possibly find friendly investor ears in the Alberta Oil Path. Alternatively, China has paid and built infrastructure in resource-rich Russia and Africa in exchange for better access to the natural resources.
The Canadian Chamber of Commerce estimates that our oil transportation infrastructure deficit is costing the Canadian economy 50 million a day. The CIBC recently said Canada will lose even more, as much as 15B per year, in lost revenue opportunities for producers and government royalties. These loses alone could significantly contribute to offset the cost of implementing passenger and freight HSR.
Some American refineries are now installing high-speed rail unloaders. Innovations in the field have reduced the cost of rail transportation per barrel, making it much more competitive with pipelines. It is critical for Canadian oil producers to extend their market reach, particularly to Asia, and high-speed rail could be the answer.
To stay competitive, Canada needs more multivalent, better-performing and strategic rail assets. If HSR hasn't been on the Minister or Government's radar, it needs to be. Canada has the technology and the know-how. Now, what we need is some political leadership.
Joseph Soares served as a communications issues advisor to the Prime Minister of Canada (2008-2010), as well as a Policy Advisor to the Minister of Transport, Infrastructure and Communities (2006-2008). This article is the last in a three part series on the state of passenger rail in Canada.