 It's not everyday where locals in a foreign land greet visitors by welcoming them to the middle of nowhere. But I was in the middle of nowhere, the most middle of nowhere I'd ever been, in a village without power, without anything but mud really, in 110 degree heat, talking to my guide about the world. He turned to me and said, "I don't get all this fighting and everything you do for economic reasons. Once you have what you need to live off, that's all that matters."
Almost two years later those words seem so tragic, for they were spoken to me in Mali.
Mali, unfortunately, is all over the news these days. This situation did not happen overnight. The day I landed in its capital Bamako the U.S. embassy put out an emergency terror alert warning of an immediate potential attack on westerners throughout the country. I had known that Islamist extremists and Tuareg militants had made large swaths of Mali too dangerous for me to visit, including the famed Timbuktu. That threat went unchallenged, and today we are witnessing what happens when we fail to confront the obvious.
But I do not wish to use this space to lament where we have been, where we are, or where we are going in Mali. Instead, as many of us struggle to locate this country on a map, or associate it with anything but more images of Africans who can't put their house in order, allow me to digress, and as best I can introduce you to the Mali I saw, one of the most enchanting places on earth.
Ours is a crowded planet. Untouched swaths of nature abound and the solace of the natural world is, for the time being, still quite accessible. Less accessible, however, are swaths of the natural world, as it once was, inhabited by a people living as it once was as if it still is. The ability to witness this was one of the main reasons I went to Mali.
In Djenne, the birthplace of Mali's Islamic history and predecessor to Timbuktu, I strolled its labyrinth of mud lanes until I reached its legendary Monday market at the foot of the even more famous Grand Mosque, the largest mud building the world. I've been to many markets in many countries, but never had I seen something like this. It wasn't the baskets, the spices, dried fish or clothing, but the setting that grabbed me. Strolling Djenne's market with the Grand Mosque staring down at you, as you look into faces of the traders arriving from afar, and vendors selling their goods, you get the impression that you really are staring at faces and scenes frozen in time. But for soccer jerseys, what has really changed?
BLOG CONTINUES AFTER SLIDESHOW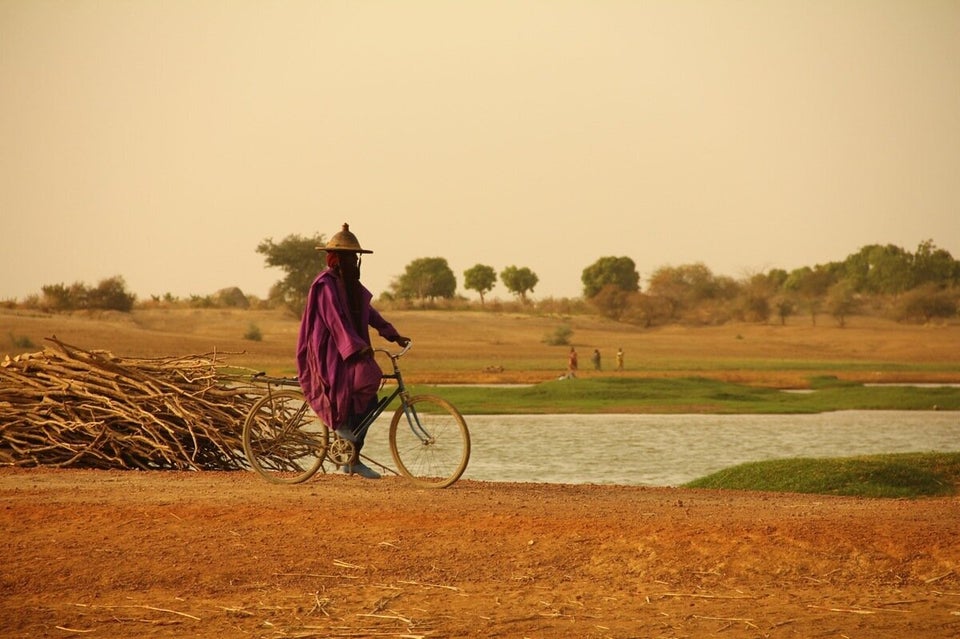 My next stop was Mopti, which today is a major strategic town in the war. But two years ago, Mopti, a major trading post on the Bani river was my starting point for a trek into Dogon country, an area of south-central Mali inhabited for nearly 1,000 years by the impoverished but rich Dogon people, who until 90 years ago lived in mud huts perched half-way up a giant rock escarpment. It is a land of barren rock and desert, dotted with mud-bricked villages that turn golden as the sun rises and sets, filled with women grounding millet, men sleeping (let's be honest...), and children who don't always realize that they are playing with nothing.
Walking between the villages during the day, I spent my nights listening to Malian music under the stars before going to sleep under a nearly full moon on the roof of a mud hut, patiently waiting for a breeze. As the sun rose I would make my way over the well to watch the women fetch water, carrying it back home on their heads. I was a witness to a way of life that does not have to be any more, but it carries on. The people were kind, warm and generous. There was Gabriel, the laughingstock of his friends because he helps his wife with the cleaning (I defended him, and while doing so offended my guide). And then there were the children with their smiles, who you wonder what will happen to them and what they're growing up to. And that was yesterday.
After recently suggesting that people listen to Malian music, which is extraordinary, a friend chastised me for drawing attention to something so trivial while the country fell apart, saying music is not a priority. I don't accept that.
As we speak of bombs and intervention, of geopolitics and national interest, we cannot be blind to everything else. Mali is not just a strategic concern; it is a nation and a people. And in Mali, music, which is now banned in areas controlled by the Islamists, is everything. It plays from tapes, CDs, computers, cellphones on their last bar of battery, and vehicles too broken to be driving. Mali's musicians have provided a soundtrack to a spirit. It both breaks and adds to the silence and vastness, to the heartaches and happiness. So for the time being while its soundtrack is muted, let us remember and celebrate Mali for its music.
As I wandered between the Dogon villages, far away, Japan was cracking at the seams after a tsunami threatened its nuclear reactors at Fukushima. When I told one of the village chiefs what was happening there he was stunned. He paused and looked at me, "Life is very challenging." Yes, it is.
Travelling through Mali is a lesson in life. It's a lesson in living history, in resilience in the face of incredible challenges, and of values that refuse to give way. And it's a reminder that in this small world of ours, where we take for granted that our way of life is what matters most, we don't know everything and we certainly do not have a monopoly on being.
When calm is restored I hope you will have the chance to experience all this and more, in Mali, the land before time.