Slavery is real. According to Boko Haram, the terrorist group wreaking havoc in Nigeria, the nearly 300 girls that it abducted from school are to be sold in a market. This is an outrage, an affront to every notion of our individual and shared humanity. But it's only a drop in the bucket.
Today it is estimated that 29.8-million individuals live in some form of slavery.
The brazen manner in which Boko Haram abducted these girls -- almost 300 girls aged 12-15 seized from their school and loaded onto waiting trucks before completely vanishing, has sparked a global response. Nigerian police are currently offering a $300,000 reward for information leading to their safe return. The United States is sending a team to help with their rescue. #BringBackOurGirls has galvanized international attention on this heinous act.
We can only hope that the girls are safely reunited with their families very soon. However, we must be prepared for the worst -- for as this episode reminds us, in 2014 it is still possible to sell human beings in a market. The slave trade isn't over.
According to the first ever "Global Slavery Index," published in 2013, slavery is far more ubiquitous than one may have thought. The highest prevalence of modern-day slavery is found in Mauritania, Haiti, Pakistan, India, Nepal, Moldova, Benin, Ivory Coast, Gambia, and Gabon. The countries with the highest number of slaves are India, China, Pakistan, Nigeria, Ethiopia, Russia, Thailand, Democratic Republic of the Congo, Myanmar, and Bangladesh.
Enslavement, including sexual slavery, is a crime against humanity. If the statistics are true, and nearly 30-million individuals are in some form of slavery, that would make the institution of modern-day slavery one of the, if not the, most widespread international crimes ever committed. Yet, like all mass atrocities, it takes individual stories -- this time nearly 300 stories -- not statistics, to galvanize our attention and direct our focus on this issue.
Crimes against humanity are international crimes subject to universal jurisdiction, making it incumbent upon all of us to work towards their eradication. The situation in Nigeria should provide a catalyst for that.
First, the international community must impress upon the Nigerian government that it needs to rescue the abducted girls, and that the international community is standing by to provide it with the necessary manpower and material assistance it might need. The U.S. team is a good first step. Satellite imagery should be shared and the same satellite program documenting crimes in Sudan could be used to search for the missing girls.
A very strong message needs to be sent not only to Boko Haram, but to all human traffickers out there: the international community will not stand idly by while human beings are sold into slavery.
Second, the international campaign to rescue these girls cannot end with their hopeful rescue. The kidnapping and entry into the slave trade of 300 more girls has revealed revulsion towards the existence of modern-day slavery. If we really do feel that way, we owe it to the tens of millions living in some form of slavery to develop a coherent public strategy to end slavery once and for all.
The prosecutor of the International Criminal Court is vested with the authority to launch investigations if she suspects that crimes within the Court's jurisdiction are being committed. Prosecutor Fatou Bensouda has an opportunity here to work towards making history. In addition to the Court's large focus on bringing justice for past crimes, she can make it her mission to try and end an ongoing one. Governments must also feel the heat. States with poor track records in combating slavery within their borders must, like Nigeria, be made aware that going after those who sell human beings needs to be a higher priority, and that we stand ready to assist them.
A crime against humanity is just that, and we all become the victims. The outpouring of grief and anger at the kidnapping of the Nigerian school girls has reinforced this fact. We have all been affected. Now that we realize that in an era of modern-day slavery we are all in some part victims, it is incumbent upon all of us to help seek justice.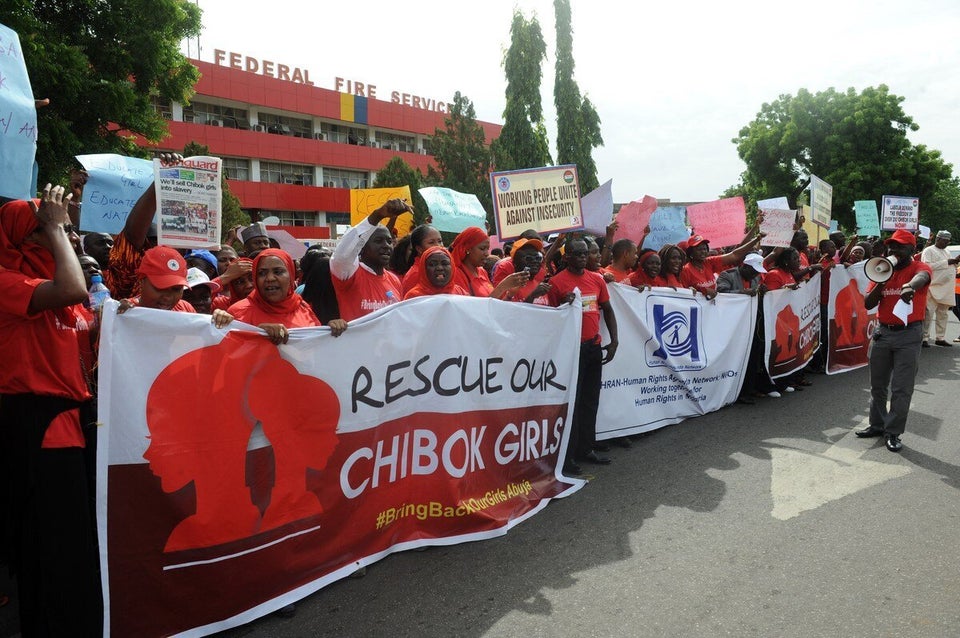 Nigeria Unrest - Boko Haram Kidnap