AP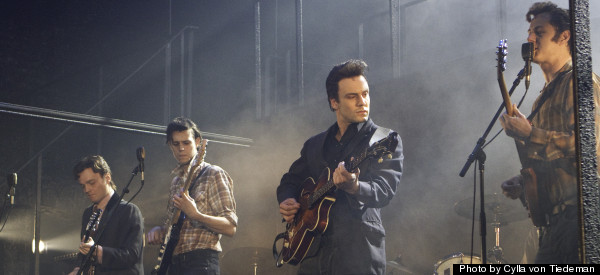 Barack Obama made waves recently when he said "if you've got a business, you didn't build that," a phrase taken wildly out of context, of course, by the Republicans. But what he meant was that for every genius idea or initiative an entrepreneur has, many unhearalded moments before that have to happen to make it possible, from someone building roads that a newly-invented car would drive on to becoming a teacher that gave their students the tools they would eventually use in said business.
In many ways, Obama's idea also represents the heart of Backbeat, a musical currently enjoying its premiere North American run in Toronto and purporting to tell the "birth of the Beatles," but which really tells the story of the forgotten folks who helped make the Beatles possible.
This was something that fledgling British film director Ian Softley realized back in the mid-'90s when he wrote and directed the Backbeat movie. Which is why his cinematic origin story of the world's most famous band put its central focus not on John, Paul, George and Ringo, but on Stuart Sutcliffe, a Beatle so forgotten that he's not even the "Fifth Beatle." (That would usually be producer Sir George Martin or perhaps drummer Pete Best, whose brief pre-Ringo tenure is also covered here.)
The movie, a minor indie hit, was best known for its soundtrack which slipped alt-rockers into the proto-Beatles' shoes: Nirvana drummer Dave Grohl, Sonic Youth's Thurston Moore on guitar, R.E.M.'s Mike Mills on bass, and vocals shared by Soul Asylum's Dave Pirner and Afghan Whigs' Greg Dulli. This all-star alt-rock band was a way to viscerally demonstrate how metaphorically "punk rock" the pre-fame Liverpudlians were, what with their teddy boy leathers and amped-up takes on '50s rock 'n' roll.
That Softley's film has now made it to the stage as Backbeat: The Birth of the Beatles -- initially at Glasgow's Citizens Theatre in early 2010, followed by a six-month run at the Duke of York's Theatre in London and currently at Toronto's Royal Alexandia Theatre where it has Broadway now squarely in it sights -- would seem to indicate the opposite of punk rock.
After all, just look at what Broadway did to Green Day's American Idiot, draining an epochal album of all its anti-establishment fervor by reducing terror-era anger to a mere "jukebox musical," the term sometimes derisively used to define that money-hungry musical genre that exploded in the wake of the ABBA playlist play Mama Mia.
American Idiot: The Musical was bereft of plot, empty of emotion and absent of character development. Rather, it was a chance to watch a group of people not as good as Green Day sing Green Day songs. It was a cash-in in a way that the band's recorded output has never been.
Of course, the cast of Backbeat -- with the major roles in Toronto carried over from the London production -- aren't as good as the Beatles, but for the most part they don't even play Beatles songs, as at this point the band was primarily covering early American rock 'n' roll like "Long Tall Sally" and "Johnny B. Goode." But they do play.
This is a musical about musicians, after all, and so rather than having people inexplicably burst into song, the band plays live onstage, thereby supplying the endorphin rush of a proper concert that's missing from these other jukebox musicals.
The other secret to its success is that it has a cracking story that is both familiar and foreign -- consider it The Day Before Yesterday. The play, like its source film, is set during the Beatles' poverty-stricken and amphetamine-fueled sojourn in Hamburg, Germany between 1960-1962 where they played six-hour sets in seedy bars, honing their chops on the Reeperbahn to world-conquering sharpness.
But it's primarily the tale of Stuart Sutcliffe, a peripheral figure in pop culture (played here by Nick Blood) who came up with the Beatles name and influenced their style. A charismatic art-school classmate and man-crush of Lennon's (Andrew Knott), Sutcliffe was brought in as a barely competent bassist when the band was still called the Quarrymen. But his musical skills took a backseat to the chain-smoking, sunglass-adorned painter's innate James Dean coolness, a trait that Lennon adored (which, of course, made McCartney jealous).
For all its wonderful Beatles mythology, including several songwriting scenes capturing the creation of "Love Me Do" and "Twist and Shout," Backbeat's heart is Sutcliffe's love affair with German photographer Astrid Kirchherr (Isabella Calthorpe), who conceived the Fab Four's famed mop tops and took a series of iconic B&W portraits of the band that helped kick off The Beatles inexorable rise. (I actually had one on my residence wall in university without knowing anything about it beyond how badass the young John and Paul looked.)
In an eerie case of real-life foreshadowing, Kirchherr was a proto-Yoko Ono, pulling Sutcliffe away from the Beatles before they got famous. His sudden departure forced McCartney to take over bass duties, while Sutcliffe soon died of a brain hemorrhage and was mostly written out of the Beatles mythology.
But Backbeat is all about these butterfly flaps -- if that Hamburg club owner hadn't hired an unknown bunch of Liverpudlian ruffians, if local fanboy Klaus hadn't introduced his girlfriend Astrid to Stu, if Stu hadn't taken her style advice back to the band and then later quit, so that Paul could play bass and establish his writing partnership with John, if a German producer hadn't hired them to be the backing band for Tony Sheridan's "My Bonnie" single, which was later ordered in Brian Epstein's record show, if Epstein hadn't asked to be their manager and then hooked them up with George Martin, who requested they replace Best with Ringo, and so on... then maybe The Beatles as we know them might never have happened.
And so, as Obama might say, the Beatles may not have 'built it' all on their own, but because all these people, the famous and the obscure, came together, the band was indeed born and we are still enjoying their backbeat today.
Backbeat runs to Sept. 2 at the Royal Alexandra Theatre, 260 King St. W. Tickets: $29 to $130 at mirvish.com or 416-872-1212.