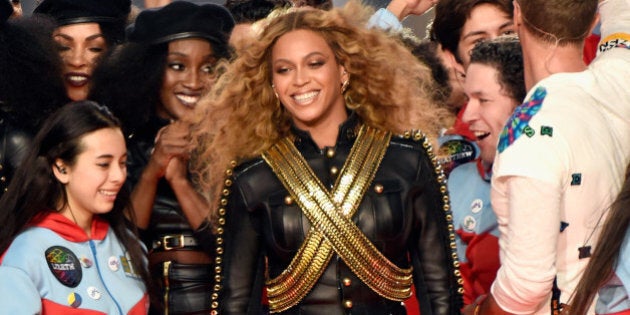 From the moment Beyoncé walked off the Super Bowl stage, halftime show sticking out of her back pocket after broadcasting black power imagery and black pride lyrics to an audience of 112 million people, the backlash began.
Actually, it took off on Twitter even beforehand with a #BoycottBeyonce hashtag response to the powerful imagery of her new music video, "Formation," released the day before the Super Bowl. It features a boy in a hoodie dancing in front of riot cops, "Stop shooting us!" graffiti and Beyonce atop a New Orleans cop car sinking in Katrina floodwaters.
But the halftime performance pushed it into overdrive. "I thought it was really outrageous that she used it as a platform to attack police officers," fumed former New York mayor Rudy Giuliani on Fox News. "You're talking to Middle America when you have the Super Bowl."
Congressman Peter King chimed in on Facebook that "Beyoncé may be a gifted entertainer but no one should really care what she thinks about any serious issue confronting our nation."
Even Toronto city councilor Jim Karygiannis joined the attack, calling her performance "disturbing" and wondering if "perhaps Immigration Minister John McCallum should have her investigated first?" before she's allowed to tour here.
"Are you offended as an American that Beyoncé pulled her race-baiting stunt at the Superbowl? Do you agree that it was a slap in the face to law enforcement? Come and let's stand together. Let's tell the NFL we don't want hate speech & racism at the Superbowl ever again!"
The goal here is to intimidate the pop star into silence because she holds power.
It's not the first time she's caused a stir on a big stage. Remember this?
Now celebrity activists are an easy target. Who doesn't like a good joke about Bono's latest Jesus Christ pose, cringe when they hear "Do They Know It's Christmas?" or just generally gripe about our celeb-obsessed culture?
But here's the thing; celebrity activists matter. Being an artist does not mean that you cannot speak out about injustice, but critics push that agenda because having a following for your art does mean that people might actually listen when you do.
Sure, it doesn't compare to street-level activists like Black Lives Matter leader DeRay Mckesson, but it's a different job, it's about raising awareness, speaking truth to power and using cultural influence to point people toward a cause, movement or idea.
Consider the power of peak-era Public Enemy -- which Chuck D has dubbed the group's "war years" -- as they reached kids from the streets to suburbs with agit-raps about police brutality, 911 failing the black community, fighting the power and the establishment's "Fear of a Black Planet."
Or let's go further back to John Lennon, whose anti-war activism had him surveilled by the FBI and nearly deported. Professor Jon Weiner explained why to NPR:
"The '72 election was going to be the first in which 18-year olds had the right to vote. Before that you had to be 21. Everybody knew that young people were the strongest anti-war constituency, so the question was, for Lennon, how could he use his power as a celebrity to get young people into the political process? And also, this is a time when kids are very alienated from, you know, mainstream politics. So to get Lennon out of the country, the strategic countermeasure is to deport Lennon so he won't be able to take this tour that would register young voters."
Further back we had Muhammad Ali going to jail because he refused to fight in Vietnam: "Why should they ask me to put on a uniform and go 10,000 miles from home and drop bombs and bullets on brown people in Vietnam while so-called Negro people in Louisville are treated like dogs and denied simple human rights? I ain't got no quarrel with them Viet Cong."
Back further still to the 1950s, Harry Belafonte used money from hits like the "Banana Boat Song" to help bankroll the civil rights movement and his fame to help bring people and media out to rallies and marches. He was blacklisted by McCarthy for his efforts. If there had been an old-timey Twitter no doubt #BoycottBelafonte would have been trending.
"The point is Beyoncé is black and this is her message. It's what artists do." - Jessica Williams
Belafonte also organized "We Are The World" back in 1985, the same year that Willie Nelson founded Farm Aid with Neil Young and John Mellencamp, which has since raised over $50 million to help farmers.
George Clooney and celeb friends Don Cheadle, Matt Damon and Brad Pitt founded Not on Our Watch, a human rights advocacy group "drawing upon the voices of cultural leaders to protect and assist the vulnerable, marginalized, and displaced."
Pitt's better half, Angelina Jolie, has long used her celebrity to draw attention to the plight of the dispossessed which led to her being named a Special Envoy for the United Nations High Commissioner for Refugees. Leonardo DiCaprio and Mark Ruffalo have also worked hard to raise awareness and money for environmental causes.
Rapper Killer Mike has helped boost Black Lives Matter and Bernie Sanders, Canadian actress Ellen Page took on Ted Cruz over LGBTQ issues with a Vice camera crew in tow and "Harry Potter" star Emma Watson changed minds with her viral gender equality speech at the UN and "He for She" campaign.
Critics of celebrity activists feel these famous folks should "shut up and sing," as argued in the 2003 book by conservative radio host Laura Ingram, a title co-opted by the Dixie Chicks for a doc about that time they got death threats and banned from country radio for opposing the Iraq War.
These same critics, of course, seem to have no problem at all with billionaires or corporations using their financial influence to affect the political process.
The reason why her video and halftime show are important, and why similar efforts by celebrity activists over the decades have mattered, is because they can leverage their fame to help sway public opinion, which is key to changing public policy. Sure, some celebs may be cynically building personal brands, but if they are educated and dedicated they can inspire people to look deeper, to do research, to get involved and affect change.
Oh, and if that doesn't convince you, wouldn't you rather have the Kanye that blurted out "George Bush doesn't care about black people" back?
Follow HuffPost Canada Blogs on Facebook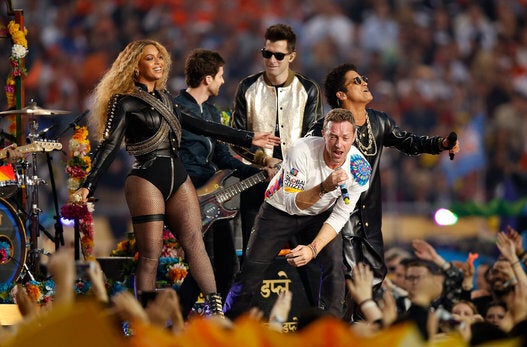 Super Bowl 50 Halftime Show: Beyonce, Bruno Mars, Coldplay