Ken Pagan, the man charged with mischief for throwing a beer can at a Baltimore Orioles player Hyun Soo Kim during a high-stakes Toronto Blue Jays wild-card game, was back in the news this week.
And so it would seem that this terrible tale was resolved with a combination of cops, karma and a ban on beer cans at the Rogers Centre.
Except beer wasn't the only thing thrown at the Rogers Centre that night.
Largely glossed over due to the anger over the potential physical danger from the beer can was the fact that racial slurs were also hurled at Kim and Orioles teammate Adam Jones.
"For most of the game, it was just garden variety obscenities, but not always," reads a letter obtained by The Huffington Post Canada. "When Adam Jones raced toward Kim after the beer can was thrown someone yelled 'N***er thinks it's a can of Colt 45.' Earlier in the game someone was yelling at him, asking how many illegitimate children he had."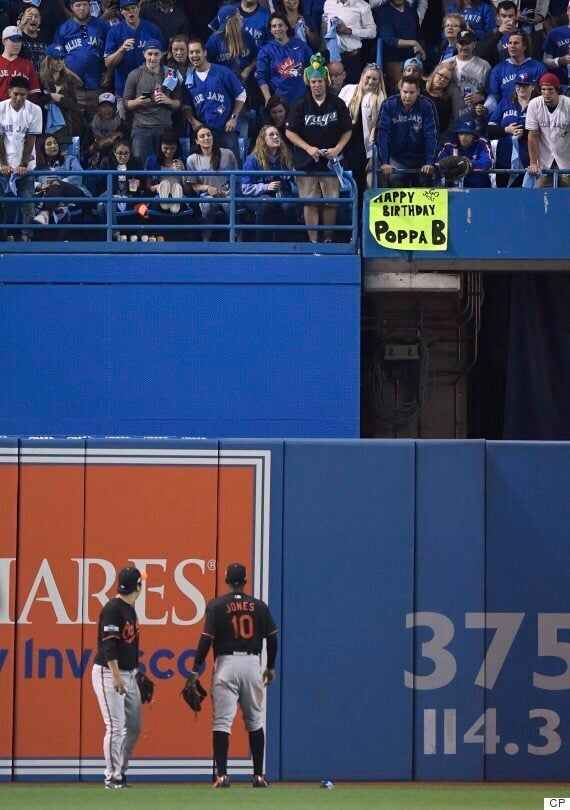 The letter was sent to Rogers, the corporate owner of the Blue Jays and the Rogers Centre, by two baseball fans who are disturbed by such increasingly common behaviour.
"We sat in centrefield for that game and what we saw and heard went beyond one incident or one individual, and was in fact not out of character for what we have witnessed time and again at Rogers Centre.

People feel comfortable shouting flagrant racism at your family environment. We heard a lot, but only saw the person who made the comment about illegitimate children and called him on it. Nothing else happened. All these fans will be back."
But they shouldn't be back.
But now that the post-season is over for the Blue Jays, this needs to be addressed, and it needs to be addressed immediately.
The letter-writers, who requested anonymity due to their work, agreed to share the letter with HuffPost Canada. The pair want to see the company actually do something, according to the letter, about the "culture problem" of "rowdiness, drunkenness and violence" at Rogers Centre. (They say so far, no one from Rogers has gotten back to them.)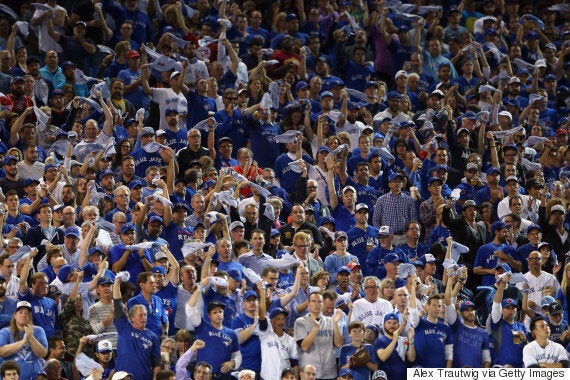 Given that fights broke out in the stands during this week's game three of the ALCS against Cleveland as seen in this video, it would be hard to argue with that claim.
By looking the other way, the people who run the Rogers Centre have fostered an atmosphere where people apparently feel comfortable shouting the N word.
That Toronto Blue Jays fans can act like British football hooligans is bad enough, but this bad behaviour becomes far worse when fans resort to racism, as the letter reveals.
Blue Jays management appeared to ignore reports of racial slurs from the wild-card game to focus exclusively on the beer-can throw as "the irresponsible actions of one individual."
Jones himself put the emphasis on the suds over the slurs in post-game interviews:
"I've heard that so much playing baseball, call me what you want, I don't care. You hear everything, we can hear everything, people cussing you, flipping you off, that's fine, but to go out of character, put us in harm's way ... we're here to play baseball, nothing more, nothing less."
But maybe Jones was blasé about the slurs because back in 2013 he actually had a banana thrown at him. This summer, he was criticized -- and even called racist by people with "deplorable" in their Twitter handle -- for telling USA Today that "baseball is a white man's sport."
A response piece in SB Nation supported this assertion: "Baseball is a sport that's predominantly owned by white men, who've chosen mostly white men to manage everything. The audience is predominantly white men, which means that's the likeliest demographic to be catered to."
Well, that's even more reason to have a strong anti-racism policy. One of baseball's greatest players is Jackie Robinson, a legend who broke the then-segregated sport's colour barrier back in 1947 and also had to endure racial slurs being thrown from the stands.
The fact that this is still happening in 2016 is an embarrassment to major league baseball, to the Blue Jays, to Rogers and to the vast majority of fans who decry this behaviour.
The Blue Jays can't just bunt and hope the issue goes away. They need to make a public statement against racist fans, and they need to enforce zero tolerance from the stands.
It's time to step up to the plate.