Once upon a time, anti-Semitism was theoretical for me. I did once see neo-Nazi skinheads in Berlin and occasionally heard kids complain about being "Jewed out of money" when I was young, but mostly I learned about it by studying the past.
Nowadays there are bomb threats against Jewish community centres and swastika sticky notes on condo doors in my Toronto hometown.
Yes, right here in Not-America.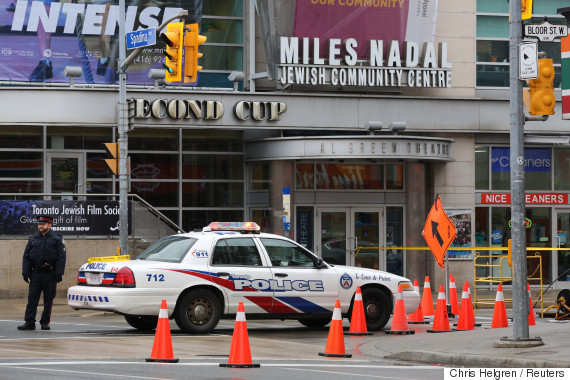 Police officers block the street after a threat was made to the Miles Nadal Jewish Community Centre in Toronto, Ont., Canada, March 7, 2017. (Photo: Chris Helgren/Reuters)
The bomb threat was called into Toronto's Downtown Community Jewish School, a kindergarten-to-Grade 6 school located inside the Miles Nadal Jewish Community Centre, which also houses a daycare. It is part of a wave of anti-Semitism that has rocked North America in recent weeks, including 20 bomb threats Tuesday and early Wednesday.*
Even as the Toronto community centre was being evacuated Tuesday morning, the same was happening at a JCC in the nearby city of London, Ont. and across the U.S. at JCCs, a Jewish day schools and Anti-Defamation League offices across seven states.
Later that night and into the morning hours, there were bomb threats to JCCs in three more states and a in Vancouver.
All of the threats turned out to be false, but the state of affairs has gotten so bad that HuffPost U.S.'s article began "More Jewish institutions received bomb threats Tuesday, ending a short lull in incidents since Friday when the FBI arrested a man accused of making eight threats."
But there have been 122 bomb threats on Jewish organizations, according to the Times of Israel, "in three dozen states since Jan. 9 as well as a rash of vandalism at Jewish cemeteries, including in St. Louis, Missouri; Philadelphia; and Rochester, New York."
This is what one of those recordings sounds like: "In a short time, a large number of Jews are going to be slaughtered. Their heads are going to be blown off from the shrapnel. There's a lot of shrapnel. There's going to be a bloodbath that's going to take place in a short time. I think I told you enough. I must go."
Two weeks ago, Jewish residents in a Toronto condo had their mezuzahs vandalized and found notes on their doors reading "no Jews" and with hand-drawn swastikas.
"There is no place for these acts of hatred, the acts of discrimination, these acts of anti-Semitism," Toronto Mayor John Tory said at a subsequent press conference. "When this happen, we have to stand together with the men and women of the Jewish community and say this is not who we are, this is not acceptable in the place where we live together."
The same time this was happening to Jewish residents, anti-Islam protestors were surrounding a Toronto mosque.
And just this past weekend, anti-Islamic protests and counter-protests sparked clashes over the weekend in Toronto, Calgary, Edmonton and Montreal, while last Thursday CTV reported that a man in Oshawa was reportedly yelling racial slurs at an 11-year-old Muslim boy in his schoolyard.
And we're still only weeks from the horrific mosque massacre in Quebec, and a subsequent pro-Islamophobia rally in Toronto sponsored by wannabe Brietbart website The Rebel and attended by wannabe Trump Conservative leadership candidate Kellie Leitch, infamous for her desire to give new immigrants a "Canadian values" test.
"It's good to be in a room with severely normal people," Kellie Leitch told the crowd. https://t.co/Pp15Vv9cW1 Another bizarre Rebel event.

— deBeauxOs (@deBeauxOs1) March 6, 2017
Maxime Bernier, another Conservative candidate who this week, unintentionally or otherwise, tweeted out a popular alt-right "red pill" meme, argues "Our immigration policy should not aim to change the cultural character and social fabric of Canada, as radical proponents of multiculturalism want."
Then there's Trump.
That these incidents of anti-Semitism and Islamophobia -- along with xenophobia, anti-black racism, homophobia, transphobia and misogyny -- have been surging since Trump announced his presidential campaign is a fact. A CBC Marketplace investigation of the "Trump effect" found that "in the last year, the amount of intolerant and racist language Canadians use online -- in places like Twitter, in comments sections, web forums and blogs -- has increased 600 per cent."
The first time I was ever harassed on Twitter by alt-right Nazis was a year ago when I wrote "A Jewish Response To Trump Being Called Hitler."
My concern at the time was that Trump "is exposing a racist ugliness, and dangerously inflaming it. Who knows how big the fire might get?"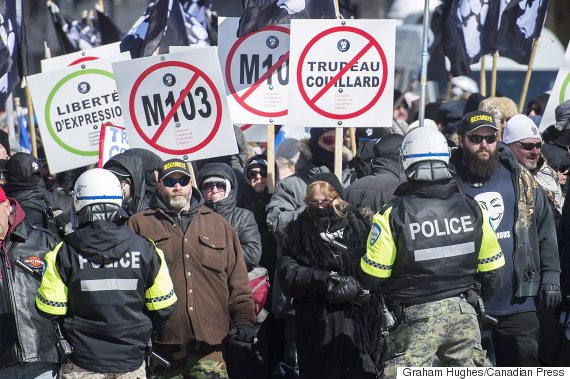 Police hold back protesters during a demonstration against motion M-103 in Montreal on Saturday.
That fire has grown a lot since Trump took power, and has been flanked by far-right Canadian politicians and publications, because hate begets hate.
When CBC asked Jewish resident Helen Chaiton, daughter of Holocaust survivors, about the rising incidents of of anti-Semtism, racism and Islamophobia, she said, "It's the tip of the iceberg. We don't even know the extent that it goes down deep."
That's the scary part. And, indeed, instilling fear is their goal.
We need to come together to extinguish this hate before it consumes us all.
In the past, people with these opinions were discouraged from openly exhibiting such hatred. Now that they've been encouraged by like-minded leaders, they revel in it at rallies, in comment sections and on social media, eager to show off how not "politically correct" they are by denouncing marginalized minorities.
And as we are increasingly seeing, some are taking this white nationalist fervour further than words. People are getting hurt. People are being killed.
We know this is how it starts. We know our history. There's no more looking the other way.
But here's the thing to remember -- people who hate minorities are themselves a minority. We have the numbers and we need to come together to extinguish this hate before it consumes us all.
*This post has been updated
Follow HuffPost Canada Blogs on Facebook
Also on HuffPost:
24 Reasons To Challenge Islamophobia