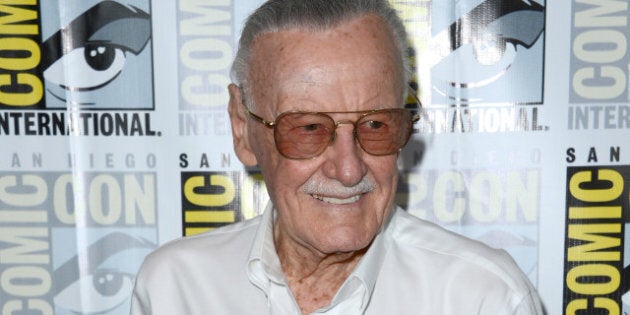 Back in the mid-to-late 1980s, after I'd grown out of liking action figures but before I'd grown into liking girl's figures, I was a regular at comic conventions. The old-school ones that focused on, y'know, comics, and were mocked by the mainstream, if they were noticed at all.
I'd been a fan of comic books since I was a little kid, thanks to a stack of ratty old back issues my dad gave me that included the 1973 Amazing Spider-Man story arc where Green Goblin kills Spidey's girlfriend Gwen Stacy by throwing her off the Brooklyn Bridge.
It was a then-unprecedented narrative decision, and perhaps a bit too adult for me at the time, but it presaged a darker, grittier comics era that kicked off in earnest in 1986 with Alan Moore's epochal 12-issue Watchmen and Frank Miller's four-part Batman tale The Dark Knight Returns. Both dystopian miniseries not only deconstructed superhero mythology by exposing the psychopathic subtext driving these masked vigilantes, they were also written specifically for older audiences who began gathering in ever-greater numbers at comic conventions.
Comic-Cons became ground-zero for the slow, inexorable invasion of geek culture that now manifests itself each summer in blockbusters like The Avengers, The Amazing Spider-Man andThe Dark Knight Rises as well as annual conventions like San Diego's iconic Comic-Con International and Toronto's Fan Expo Canada, which is kicking off its 18th edition from Aug 23 - 26.
The size and scope of these modern conventions is still somewhat astounding to me as a veteran of the original-recipe ones. Comic-Con International has become a vital launch pad for film and TV, attracting well over 100,000 fans in front of whom Hollywood now pays annual fealty in hopes of spreading advance buzz.
Meanwhile, Fan Expo, the NXNE to Comic-Con's SXSW, is a less industry-oriented affair than its San Diego cousin, but still attracts 80,000 as well as geek-pop icons, ranging this year from Buffy's Spike and X-Files' Scully to comic god Stan Lee himself.
As an avid consumer of "genre" culture, I love how huge these conventions have become, even if it has been somewhat at the cost of their original raison d'etre -- comic books -- as they've expanded over the years to incorporate other fandoms of anime, gaming, horror and sci-fi en route to their current wild popularity.
Back when I first started attending, as a kid transitioning from bright childhood reverie to the darkness on the edge of adulthood, conventions were a rare way for us to feel part of a greater movement, even if it was a hopelessly uncool one. At the time I was an avid collector, with a dozen or so monthly titles put aside at my local comic shop, including various Spider-Man series, Bat books and mutant monthlies.
But though every trip to the shop involved several hours of in-store socializing, there were rarely more than a handful of regulars at any one time. The basement-dwelling convention ancestors to today's flashy, celeb-studded cosplay-filled cons were where awkward tweens, pimply teens and potbellied 20-somethings got to realize how big their community actually was.
Comic-Con began all the way back in 1970, during comicdom's so-called "bronze age," as the books began taking on more serious issues like drugs, alcohol and environmentalism -- and, yes, the first sci-fi convention was way way back in 1939 (Ray Bradbury was a featured guest at both!) while Star Trek had its own con culture in the '70s.
But it was the 1985 - 1993 speculator-fuelled comic-book boom that truly laid the groundwork for today's geeksplosion, despite its subsequent bust, by building a modern fandom blueprint and instilling a love of geek-culture into a host of young men and women who would go on to claim power positions across the broader pop-cultural industry.
In Vancouver, comic conventions were held in a hall deep underneath Robson Square, a literal underground representation of our scene. The tables were lined with writers and artists who were obscure up at street level but veritable superheroes down below. My prize issue at one point was Amazing Spiderman #298 signed by Calgary artist Todd McFarlane, which was like a secret handshake -- if you knew why it mattered, you were one of us.
In pre-Internet times, these face-to-face gatherings were vital. Yes, we were there buying, selling and trading Mylar-wrapped comics, but we were also, more importantly, cementing a fan-oriented subculture that would eventually go mainstream -- an end-result presaged by Tim Burton's fandom-fuelled Batman movies.
What mattered wasn't the breadth of a fanbase, but its depth -- and that would increasingly important once post-millennial pop-culture settled into its new narrowcasting business model, both in terms of understanding the power of intense niche audience and realizing their buzz-building influence on the broader audience.
Even as comic-collecting itself declined in the 1990s, its fan-oriented subcultural set-up spread to other groups who began joining forces for broader genre cons like Fan Expo while slowly turning their favourite things, be it The X-Files and Lost, Halo and Grand Theft Auto or Lord of the Rings and the contemporary comic-book movie, into mainstream success stories.
While I have fond memories of the dingy, underground comic-cons of yore, I'm couldn't be happier that my superhero-obsessed two-year-old, who will be attending his fifth (!) con this weekend, will only know fandom as a powerful cultural force and not a dismissive SNL sketch.