Anadolu Agency via Getty Images
David Bowie may have died in 2016, but he lived outside of time.
Just three years ago Bowie dropped a surprise single -- "Where Are We Now?" -- that broke the Internet a year before Beyonce pulled the same stunt. Following a decade of relative silence after a 2004 heart surgery, Bowie answered his song's question with the acclaimed album, "The Next Day," which London's the Independent newspaper posited "may be the greatest comeback album in rock'n'roll history."
This also coincided with "David Bowie is," an acclaimed art exhibit that began in London before kicking off a world tour at Toronto's Art Gallery of Ontario. The curator told me at the time, "The thing about Bowie is he manages to be a cult and massively popular at the same time, which is quite a difficult thing to pull off. So we think we're in a very select club, but actually we're in an enormous club."
And the size of that club is due in large part to Bowie's refusal to be frozen in amber. Over his 50-year career, Bowie had an unparalleled ability to remain relevant by giving each generation its own moment with him.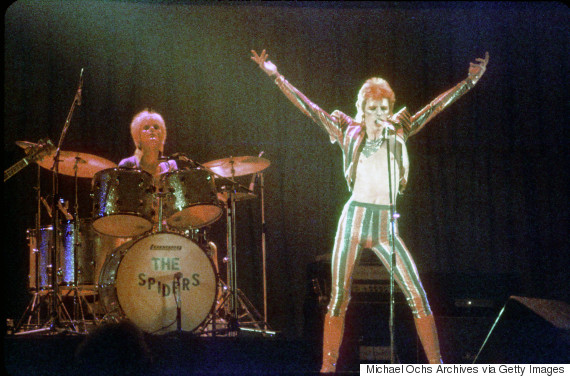 David Bowie performs during his Ziggy Stardust era in 1973 in Los Angeles. (Photo: Michael Ochs Archives/Getty Images)
The 1970s kids got to enjoy his most prolific and influential period as it happened while the rest of us eventually discovered it as a pop cultural rite of passage, regardless of our entry point. He kicked off the decade a year early with his non-hippie hit "Space Oddity" before unleashing his Ziggy Stardust and Thin White Duke personae, collaborating with John Lennon, Lou Reed and Iggy Pop, and moving to Berlin to record his groundbreaking trilogy, "Low," "Heroes" and "Lodger."
I'm an '80s baby, so my first childhood memories of Bowie are of him "Dancing in the Street" with Mick Jagger and as the Goblin King lording over Jim Henson creatures in "Labyrinth."
In the wake of "Under Pressure" and "Let's Dance," Bowie became a full-blown pop star, for better or worse. He dabbled in new wave, moved into music video and then pushed concerts into the avant-garde with his Glass Spider tour. It may not have compared artistically to his '70s output, at least toward the end, but it was no less current.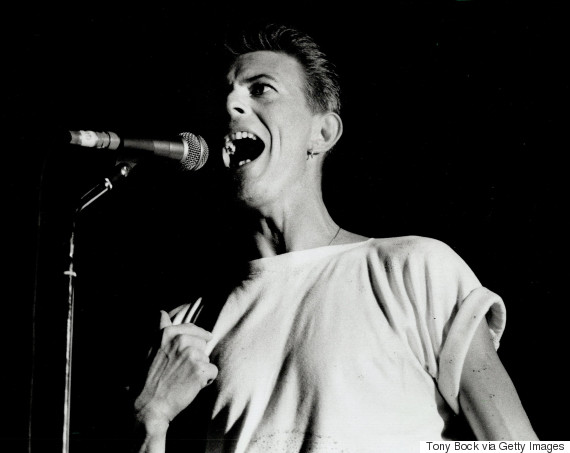 David Bowie is seen performing in Toronto. (Photo: Tony Bock/Toronto Star via Getty Images)
But for those of us in our teens and twenties during the '90s, Bowie became that rare legacy act who lived on the cutting edge rather than off radio royalties.
His Pixies-inspired experimental hard-rock Tin Machine project paved the way for grunge, though he himself moved on to electronic and industrial music. By the time he released "Outside" and the drum'n'bass-influenced "Earthling," his 19th and 20th albums, he had escaped the gravitational pull of nostalgia. Hell, he even brought Nine Inch Nails on tour.
Bowie's status as alternative culture godhead -- thanks to his own musical experimentation and his ability to push his underground music into the mainstream -- was further cemented when Nirvana covered "The Man Who Sold The World" on their "MTV Unplugged" album in 1994. Then a few years later, Bowie found himself being chased (and remixed by) NIN's Trent Reznor in his radio hit "I'm Afraid of Americans."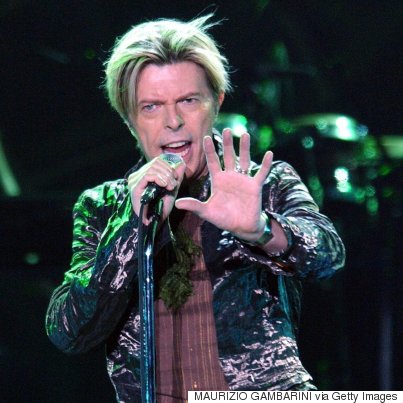 He entered the 2000s with the acclaimed post-9/11 album "Heathen," and then even though his own musical output slowed after his heart problems, he still managed to maintain cultural currency. His final performances mid-decade were with indie rock's biggest band, Arcade Fire, in 2005, and he contributed back-up vocals for TV on the Radio.
Though he largely laid low until his 2013 comeback -- which also included singing on Arcade Fire's "Reflektor" and being covered in space by Canadian astronaut Chris Hadfield -- Bowie's influence was still felt as his penchant for reinvention and pulling influence from avant-garde art was adopted by pop stars like Lady Gaga.
And now, in 2016, Bowie has left us with one of his most powerful works, a farewell in the form of a universally acclaimed album "Blackstar" released on his 69th birthday, two days before his death, and especially the music video for the single "Lazarus," with its now-heartrending lyric, "Look up here, I'm in heaven."
But in that opening stanza, Bowie also sings, "I've got drama, can't be stolen / Everybody knows me now," and that is just as true.
Everybody, no matter their age, knows David Bowie and his musical drama will always be ours, even if, sadly, the stars look very different today.
Follow HuffPost Canada Blogs on Facebook
Related On HuffPost:
David Bowie's Personas Through The Years (SLIDESHOW)