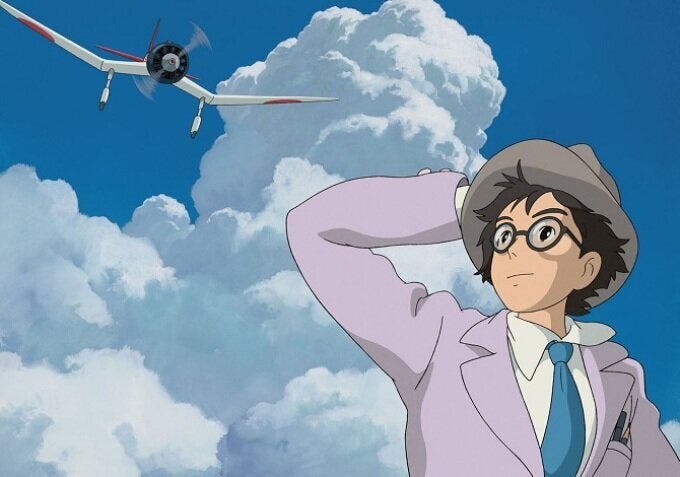 Just a few days before Hayao Miyazaki's animated film The Wind Rises arrived at TIFF, its legendary director announced he was retiring, even adding, "This time I am quite serious." It sent shockwaves through the animation world as Miyazaki is widely considered the Japanese Walt Disney.
Considering Walt delegated writing and directing duties, I'd argue Miyazaki is even better. But there's no argument that Miyazaki's Studio Ghibli has amassed a similarly timeless collection of hand-drawn films, from pastoral fantasy My Neighbour Totoro and girl power parable Kiki's Delivery Service to Oscar-winner Spirited Away and Little Mermaid reimagining Ponyo.
Miyazaki has directed 11 films all told, but ending his career with The Wind Rises is a curious choice for this purveyor of childhood fantasy as it is an adult film rooted in reality. It also skirts around its wartime subtext in a way that the 73-year-old writer-director has rarely done. His films may be fantastical, but they've also always delved deeply into humanity's penchant for wanton violence and environmental degradation.
The Wind Rises is a biopic of Jiro Horikoshi, the brilliant designer of Mitsubishi fighter planes used extensively in the Sino-Japanese War and WWII (his famed A6M Zero was used in the Pearl Harbour attack and later by kamikaze pilots). Yet despite Miyazaki being an avowed pacifist -- see: Princess Mononoke and my personal favourite of his films, the pre-Ghibli Nausicaä of the Valley of the Wind -- who has even spent recent months campaigning against proposed changes to Japan's anti-militarist constitution, the film glosses over Horikoshi's culpability in making war machines.
Any Japanese-made film set in WWII is going to be complicated given how dramatically different their experience was (though one can not recommend enough the tearjerker Grave of the Fireflies by Ghibli partner Isao Takahata, a tragic tale of two siblings on the wrong end of a U.S. firebombing).
This complexity is especially true of Miyazaki, whose father managed an airplane parts factory during the war, which made, among other things, windshields and rudders used on Horikoshi's Zero.
But as much as both the filmmaker and his subject have an emotional devotion to aviation, these particular planes were used exclusively to kill -- a fact the film glosses over. By mostly avoiding war scenes, the movie also mostly avoids the atrocities of the Japanese military in Asia and their German partners in Europe while minimizing Jiro's complicity.
The beautifully animated film begins in spectacular fashion with the 1926 Great Kanto Earthquake, which arrives like a tsunami while Jiro and his future bride, then still a stranger, are riding the rails. It causes a massive fire that destroys much of Tokyo, killing 100,000, and acts a precursor for the final scene which echoes the inferno, but is a result of the war.
In between, the focus is on Horikoshi's two loves -- flight and his wife Naoko -- and how both take tragic turns. The storylines are lovely in execution, as are the fantastical dream sequences peppered throughout the film. And the refreshingly relaxed pace, painterly animation, exhilarating flight sequences, and Miyazaki's signature microscopically subtle touches give the movie a power that only a master can provide.
And for anyone fascinated by Japanese culture, the period detail of that era's mix of traditionalism and modernism is fascinating -- fedoras and kimonos, test planes pulled into position by oxen, the massive metropolis of Tokyo built mostly of wood.
But by avoiding politics, the film becomes undone by it. When the film came out in June, Miyazaki said "It was wrong from the beginning to go to war. But it's useless...to blame Jiro for it." Perhaps, but that doesn't absolve him of his contributions, either.
Jiro, adorned in Harry Potter glasses while doing slide rule calculations and figuring out that flush riveting will decrease drag, may be be ensconced in aeronautic geekery, but he's also shockingly incurious about or indifferent to what his planes do once they're handed off to the navy.
Late in the movie, Horikoshi's partner even tries to argue that they are merely engineers, not "arms merchants," and certainly the movie lets its protagonist come off like the former while barely exploring the later. These weren't passenger planes they were working on but fighters and bombers for the Emperor's brutal military campaigns. It almost feels Miyazaki is arguing, guns don't kill people, bullets do. (Or maybe inventors of guns don't kill people?)
Because he does not even consider the deaths that his love of aviation helped cause, at least until the film's final scene, Jiro seems somewhat reprehensible despite the film's efforts to keep his love pure. "Airplanes are a beautiful dream," he says early on. "I want to design beautiful airplanes." Sure, but for many others they were a nightmare.
There is one short scene where a German expat mentions that Dr Hugo Junkers, a famed German airplane designer whom Horikoshi met during an earlier trip to the Fatherland, is in trouble with the Hitler government. Research at home revealed to me that Junkers had fought to keep his technology out of Nazi hands and died in 1935 under house arrest. Unlike Jiro, he realized how his life's work was going to be used and that contrast is something I shouldn't have had to Google.
The wind may rise, but it would have blown stronger if Miyazaki had spend a little more time admitting that it falls, too.