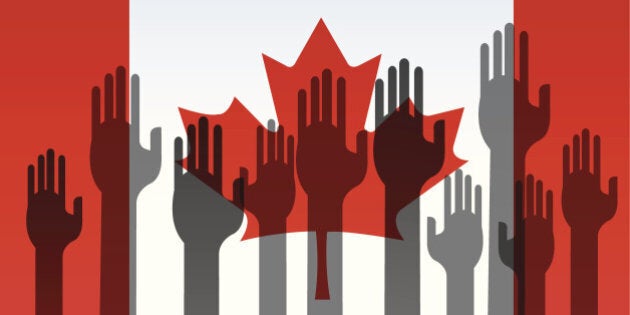 O Canada, we stand on guard for thee.
While on Kenya's south coast last week, I got a preview of the eventual Brexit vote when a couple blonde British ladies began ranting about immigrants. They took offence when I pointed out their views were kinda racist. Polish people are white, they argued, and while they had a semantic point I'm not convinced they would've known what xenophobic meant if I'd used the more accurate term.
To wit, they also didn't take kindly to my pointing out the irony of a Brit blasting unwanted immigration WHILE IN KENYA, a former colony that only received independence from the U.K. in 1963.
So I wasn't that surprised about the rise in anti-immigrant hate crimes in the wake of the vote. The Leave movement always seemed fuelled by fears of refugees from the Middle East and Africa, economic migrants from eastern Europe and, especially, Turkey's eventual inclusion in the EU.
Then there's Trump, whose entire presidential candidacy is about weaponizing anti-immigrant sentiment via his promised Mexican wall and ban on Muslims.
"The politics that scapegoats others, the immigrant, the refugee, someone who seems different than us, we have to call what this mentality is: a threat to the values that we profess," President Barack Obama told our Parliament this week. "We have to stand up to the slander and the hate."
Trudeau amplified the sentiment, adding "the North American idea that diversity is strength is our greatest gift to the world. No matter where you are from, nor the faith you profess, nor the colour of your skin, nor whom you love, you belong here. This is home."
Indeed, it is. Toronto, my adopted hometown, was recently declared the world's most diverse city by the BBC with 51 per cent of residents born outside of Canada and 230 different nationalities represented.
Here's something to think about this Canada Day: everyone in this colonized land that is not First Nations or Inuit is an immigrant.
My neighbourhood is full of Portuguese, Nepalis, Vietnamese, Jews, Tibetans, Ethiopians, Angolans, Italians and pretty much everyone else. It feels like the future here.
Some of Canada is still living in the past, of course. I read the comments here on HuffPost -- which can rend hearts, especially on otherwise uplifting refugee stories -- and I recall the Conservative attempts to use Islamophobia as a campaign tactic in the last election and during their previous decade in power.
Anti-immigrant xenophobia is usually tied to nationalism, and nationalism tends to spike during independence celebrations. So here's something to think about this Canada Day: everyone in this colonized land that is not First Nations or Inuit is an immigrant.
I'm fourth generation myself. Three of my four grandparents were born here, and the other was born in Paris before setting off on a steam ship as a toddler, but my great-grandparents all immigrated from Russia and the Ukraine after their villages were burned to the ground in anti-Semitic pogroms.
My wife's relatives immigrated to North America from Denmark and Scotland. Every single other citizen that is not indigenous immigrated here, too, be it from Europe, Asia, Africa, the Caribbean, South America or wherever else.
In fact, 7.2 million Canadians, 22 per cent of the population, were born outside Canada and 5.7 million, or 17.4 per cent, were born here but have at least one parent born outside Canada.
We are a nation of immigrants. Past racist policies aside -- Pierre Trudeau only removed racial categories from the Immigration Act in 1976 -- we now take people in from around the world to help them make better lives and they, in turn, help make this one of the best nations on the planet to live.
To paraphrase Trump in a way that he'd hate, immigration is how we have made our country great, and that is what we should be celebrating this Canada Day.
Follow HuffPost Canada Blogs on Facebook