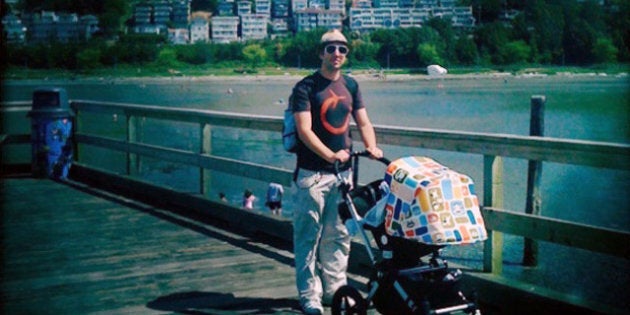 We finally decommissioned our son's stroller a couple of months ago. It had sat largely unused in our back room -- blocking our dish cabinet and generally being in the way -- ever since Emile, who recently turned three, grew old enough to walk decent distances... and old enough to decide he was a big boy and that strollers were, like, totally for little babies.
Yet for those first 20-some months of his life, it was our most-used possession. It was also one of our most expensive and most controversial.
Strollers, ironically, come with a lot of baggage. These days, they can cost upwards of $1,000 and are seen as symbols of status and sources of derision. They even comprise their own battle division in the Mommy Wars. My wife may have loved our stroller, but she felt a lot of hating from other moms, online and off. As the New York Post described the stereotype in a strollers vs. slings piece: "stroller moms are corporation zombies with pimped-out rides that cost more than their first car."
Now, I must make a disclaimer: our Bugaboo Cameleon, with its gratuitous-yet-gorgeous, limited-edition Paul Frank fabric, was a generous gift from my mother-in-law. Being thrifty by nature, I may not have bought this particular stroller -- and definitely not new -- and surely wouldn't have shelled out extra for the primary-coloured print of monkeys, puppies, and pirate skulls. But damn, I'm sure glad we had it -- and, considering the countless hours we spent pushing Emile around and rocking him to sleep in it, I like that it was nice to look at, too.
But mostly I like how useful this marvel of modern engineering was, how it broke down into a small, easily packed item and transformed from a baby bassinet into a toddler chair while also being compatible with our car seat. I was able to take it into restaurants and fold it up out of the way. It navigated snow, sand, and forest trails, could be forward- or rear-facing, store plenty of groceries, and was lightweight, too -- a plus for my wife when she was out with Emile on her own. These so-called SUV strollers get a lot of grief for their size, but ours was a relatively compact 60 cm wide and 82 cm long.
Babies sleep a lot, so a stroller that doubles as a bassinet meant our baby was in it a lot, whether parked at the foot of our bed overnight, behind the couch in the evening, or in the kitchen while making dinner. It was so much more than a transportation device -- it was E's headquarters. Even after he moved to a crib at night, he still napped in it until last spring.
Sure, these strollers are totally overpriced and most fancy features add nothing but corporate profit -- the Bugaboo Donkey, released in Canada last year, costs between $1,200-$1600. No wonder many believe they represent the worst excesses of modern, materialistic parenting. The Globe and Mail's recent "Conspicuous Parenting" feature leads with an anecdote about a Thornhill man and his beloved $900 Origami stroller, which charges his Smartphone, measures his speed and distance, and even has headlights. "It's kind of an ego-booster," he said, embarrassingly out loud. The New York Times wrote a similarly themed feature on stolen strollers last year in which the author, and former owner of a $400 stroller, described it as an item "that epitomized privilege, and all that is loathsome about urban bourgeois parenting to begin with."
But let's put this into perspective. A thousand dollars for a stroller is a lot of money, but serious cyclists can also spend up to the same amount on their bikes. I'm not saying this Origami stroller and its ego-boosted owner aren't ridiculous, but its price point is an issue because it's a kid's stroller, not some expensive adult item like an iPad or a car. Is everyone who's not using an Android tablet or driving a used Tercel loathsomely bourgeouis, too?
As per the Globe's example, the typical response is "maybe they should go out and buy a less expensive, smaller stroller." I get that. I bike (a $200 beater, if you were wondering) and feel the same way about actual SUVs hogging the streets. But unlike a downtown SUV, we used all the figurative horsepower our stroller had.
When people think of strollers, they tend to think of the tiny, fold-up umbrella variety, and that may be why these big ones are so hated. But those cheap strollers aren't suitable for babies and can be a nightmare to navigate. We did buy one for times when we wanted something smaller, but barely wound up using it because it was such a piece of crap.
We live downtown and we walk, a lot, and for those first couple of years our kid couldn't. When my wife was on mat leave, the stroller became her lifeline to get him around the city (and served the same purpose for me on weekends). This was especially true in the winter. If you drive everywhere, or usually use a sling, or live somewhere without snow, then an inexpensive stroller is fine. But that is not our life.
There's a curiously intense judgement surrounding these strollers, which are indeed unnecessary if you're primarily using it as a status symbol. But if you're using it as multi-functional device for hours and hours every single day, including sleep, naps and transport, it's a worthwhile investment.
Look: the billion-dollar parent-industrial complex is a terrible thing that scaremongers parents into overspending on their kids. In hindsight, we would have bought much fewer (and cheaper) items for those first two years. But this stroller more than came through in the use department.
Of course, stroller parents need to share sidewalks, be mindful on transit, and generally be more conscious of their surroundings, but so does everyone else. And, as for the high cost, well, just buy it used. I know of at least one that's up for grabs...