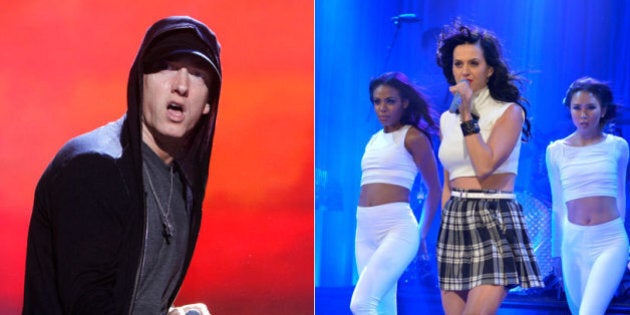 A week after 20-year-old Miley Cyrus used "Saturday Night Live" to show-off her vocal chops, even stripping away the surrealist party audiovisuals for an acoustic version of "We Can't Stop," Katy Perry roared in wearing a schoolgirl outfit and a me-Tarzan-you-Jane tiger-print minidress, surrounding the latter with a ridiculously overdone jungle set.
The accessory to both of her outfits: an embarrassed expression.
I wore the same expression for her. Katy Perry is only 28, but a 28-year-old in a schoolgirl outfit is as pathetic an attempt to seem young as your Dad's new dubstep side-project. Even Britney hasn't rocked that look since she was 16.
I guess it's not surprising for someone who named her last album "Teenage Dream" when she was 25, but at least back then she still seemed to buy into her whipcream-spouting, fireworks-blasting boobs shtick.
Now having lived through a tumultuous failed marriage with Russell Brand, who broke up with her via text, she's not the feather-light pop star she once portrayed herself to be. Her new album, "PRISM," largely reflects this. Her go-to songwriters Max Martin and Dr Luke added more emotional depth to the music while the lyrics are drawn from the recent turmoil in her personal life.
Largely, I say, because she also includes a very Miley-like song about partying called "This Is How We Do," which even features her saying: "Shout out to all you kids buying bottle service with your rent money. Respect!"
Respect? More like pathetic pandering, especially coming from someone who recently professed her desire to be like Joni Mitchell. Joni, of course, still has a career because she evolved as she aged rather than chasing after her original youth audience. besides, it's totally possible to still look fun and sexy while making effervescent pop music -- "Til The World Ends," one of Britney's best-ever songs, came out when she was 28 and three years later she's still clocking radio hits -- without trying to compete with Miley. And she's not the only artist with a new album out refusing to act her age.
Eminem is considerably older than Perry -- he turned 41 this week -- but he, too, has run aground this week by unfortunately emulating his young self. More specifically, the worst impulse of his younger self: to get free publicity by shocking with homophobic lyrics.
I am a huge defender of "The Marshall Mathers LP," despite its rampant misogyny and homophobia, because the 2000 album was an artistic statement from the perspective of a deranged individual (or rather, individuals). I even think it was a landmark that should have won the best album Grammy it was nominated for.
But I'd also hoped that Mathers had moved on -- not just because of he performed "Stan" with Elton John way back when but because in 2010, he actually came out in favour of gay marriage in the NY Times saying "I think if two people love each other, then what the hell? Everyone should have the chance to be equally miserable," he said, adding "I think I've calmed down a bit. My overall look on things is a lot more mature than it used to be."
As you would hope, considering that so many years have passed. Hip-hop is a genre so "new school" focused it doesn't have a long history of aging rap icons. Jay Z has navigated this by rapping about being a "business, man," his daughter Blue Ivy and his collection of Basquiats.
Eminem has similarly expanded his repertoire in recent years, writing more considered songs about gender relations like "Love the Way You Lie" rather than his former go-to wife-murder raps and even self-help songs like "Not Afraid." His first single from the upcoming "The Marshall Mathers LP 2" was "Berzerk," a rap-rocker which even paid tribute to old-school heroes the Beastie Boys, an unspoken acknowledgment of Em's age.
But then came "Rap God," in which he boasts: "I'll still be able to break a motherfuckin' table/Over the back of a couple of faggots and crack it in half." In the next verse, he goes even darker: "Little gay-looking boy/So gay I can barely say it with a straight face-looking boy/You witnessing massacre like you watching a church gathering taking place-looking boy/'Oy vey, that boy's gay,' that's all they say looking-boy."
There's just no excuse for that kind of homophobia in this day and age -- I mean, Macklemore's "Same Love" is a radio staple! -- but especially coming from a 41-year-old man who does actually know better. Not to mention that as a childhood victim of bullying, his continued instance on this sort of musical bullying is unconscionable.
"Rap God" does also demonstrate that Eminem's rhyming abilities are as sharp as ever, but his hateful lyrics seems like a pathetic attempt to seem young by recapturing that bygone era when he was most popular.
I get why they're doing it. Pop and rap both favour youth -- see: Miley -- but artists of the stature of Katy Perry and Eminem don't have to pretend. We have eyes. Ears, too. They'd earn a lot more respect by acting their age and winning us over with their music. After all, that's why we're still listening to them.